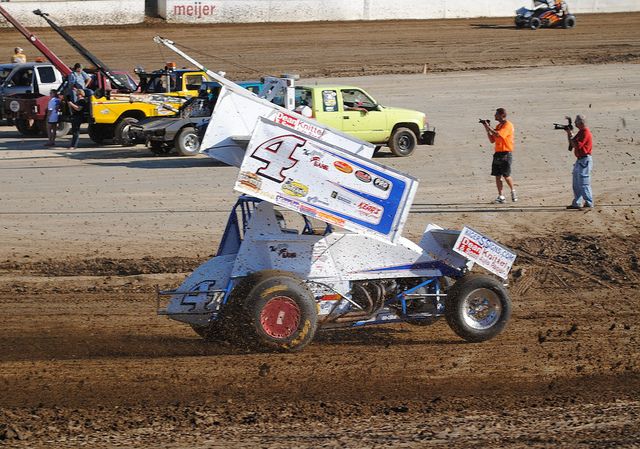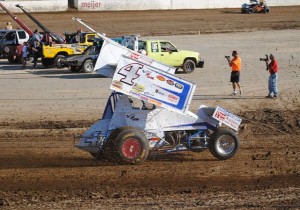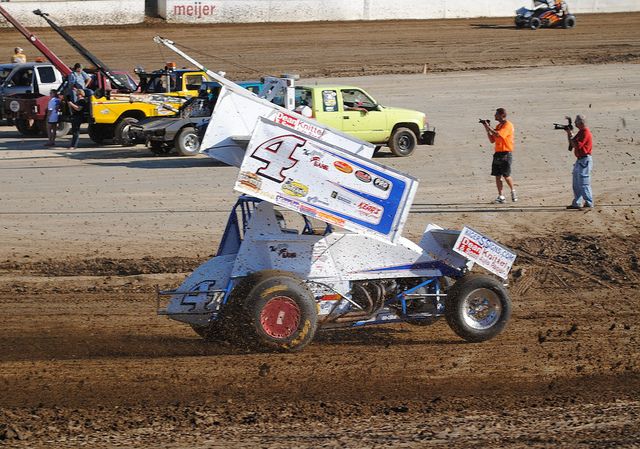 From Skyline Speedway
Stewart, OH — (July 13, 2012) — It was a typical Friday the 13th, but the mythical gloom and doom couldn't overshadow the good racing at Skyline Speedway Friday night where Chillicothe, Ohio's Danny Smith out-foxed the competition in the 410 $1,500-to-win Ohio Valley Sprint Car Association outlaw sprint feature.
Although officially Danny Smith led every lap, the battle between the Danville, Indiana native and Mineral Wells, WV driver Wayne McPeek was a classic. Twice McPeek took the lead in turn two only to have Smith come back with a vengeance to lead at the start-finish line.
Due to the Century-mark temperatures over the past several days, some dust started to kick up on the speedway, but the conditions didn't hamper the on-track action. McPeek dogged Smith wildly over the first six laps and pulled up alongside the leader on several occasions.
McPeek actually took the lead the first time on lap seven, then Smith made a great comeback move to lead once again. McPeek continued his charge as Smith's mount became increasingly loose, while the West Virginia Invader entered the turns hard, but scrubbed off speed upon the exits.
Once again, McPeek got by Smith ever-so briefly and nearly clipped Smith's rear nerf on multiple occasions. A Nick Forcum spin brought out the caution on lap 15, tightening the field. McPeek gave chase once again.
All the while Josh Davis ran a strong third, but Greg Mitchell began to charge with Nathan Skaggs in tow. Davis fended off much of the field, but began to slow somewhat late in the race with Mitchell in third.
On lap 18 another restart bunched up the field. McPeek, Mitchell, Skaggs and Davis battled while all huddled under a blanket for a shot at second. When all was said and done Smith brought home his sixth Skyline win of the year. Rounding out the top ten were Danny Smith, Wayne McPeek, Nathan Skaggs, Greg Mitchell, Josh Davis, Eddie Slone, Jesse McCreary, Bob Tucker, Dave Dickson, and Nick Forcum. Jesse McCreary won the first heat and Smith won the dash.
410 Sprint Cars (14)
Fast Time: Danny Smith 11:34
Dash: Danny Smith, Josh Davis, Wayne McPeek, Nathan Skaggs, Greg Mitchell, Dave Dickson
Heat One: Jesse McCreary, Jimmy Stinson, Eddie Slone, Bob Tucker, Brian Benson, Nick Forcum, Eric Martin, Lance Webb
Feature: Danny Smith, Wayne McPeek, Nathan Skaggs, Greg Mitchell, Josh Davis, Eddie Slone, Jesse McCreary, Bob Tucker, Dave Dickson, Nick Forcum, Brian Benson, Jimmy Stinson, Eric Martin, Lance Webb