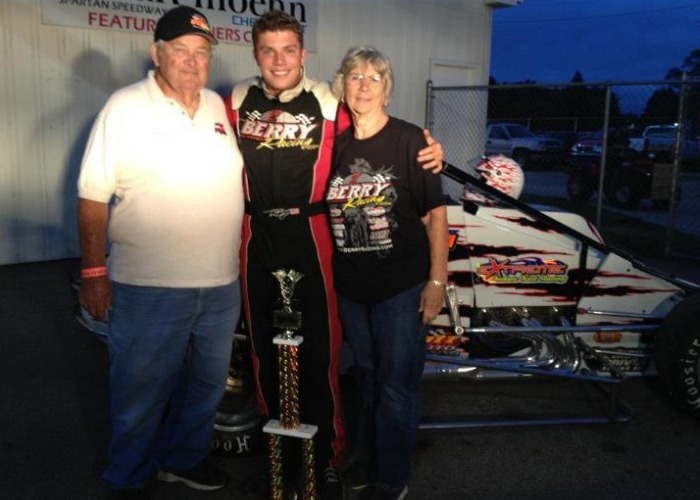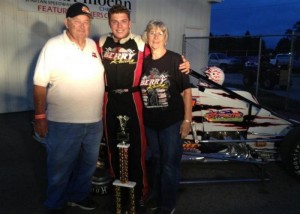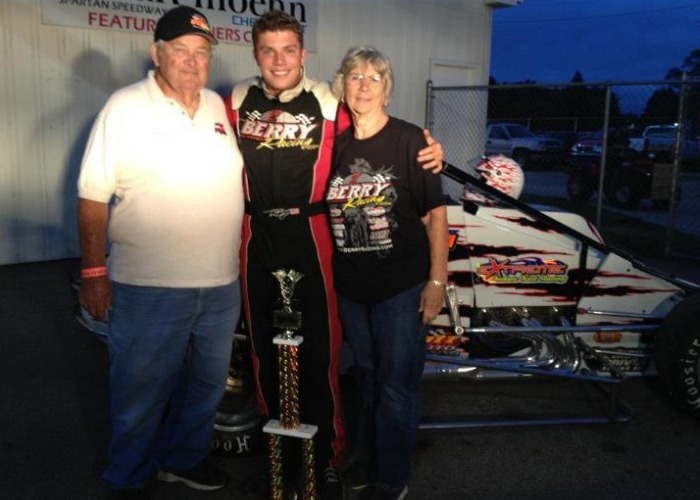 From Matt Pieur
Clio, Michigan (Tuesday, July 31st, 2012): The Non-Winged Sprint Cars division at Spartan Speedway, located south of Lansing in Mason, Michigan saw veteran Tommy Fedewa sweep the entire season by winning every Feature in 2011. Fast Forward to 2012 and although Fedewa himself hasn't visited victory lane, his new teammate has picked up the slack by winning four of the six main events conducted this season.
19-year-old Trevor Berry has had a dominating Rookie season and on Friday, July 27th, the Clio, Michigan driver scored win #4. The freshman sensation started the day by winning his fifth Fast Qualifier Award in six outings. Then after finishing second in his Heat, he would fight off fellow rookie Hayden Reeves to score the win which was huge on many levels as he put more distance in the points between himself and Reeves in the rookie battle while also pulling away from second place overall, Gary Sherman.
"It was a surreal day, after being told earlier in the day that my Grandma had begun her fight against Cancer. I really wanted to get the win for her and we were able to do so." Berry relayed in victory lane. "It was a great day for my family and we are going to make sure to stay positive in this rough time." The stout Freshman pilot added.
There are now just two points nights left at Spartan Speedway in the chase for the 2012 Track Championship and Rookie of the Year titles. The next event is on Friday, August 3rd and Berry now has a commanding lead over Sherman for the Overall Track Championship and an even bigger lead in the rookie battle over Reeves. Berry's #7 machine merely needs to show up for the last two points nights and both titles are his.
The next day on Saturday, July 28th, Berry and his Berry Racing Incorporated Team unloaded the Sprint Car, loaded the Open-Wheeled Modified and made the trip down to the Buckeye State and to the ½ (0.500) mile semi-banked paved oval of Sandusky Speedway in Sandusky, Ohio for the Top Speed Fabrication Modifieds Tour event and for the second time in 24 hours, Berry would once again win the Fast Qualifier Award over the 24-car field.
In the 50-lap Feature, which was part of the tracks prestigious Hy-Miler Nationals, Berry drew a 10 for his starting spot and steadily worked his way up into the top five and finish in fifth place. "Sandusky is always a great place to race, we had a fast racecar just had a bad pill draw and had to start 10th and starting that far back, you just do all you can do to get to the front." Berry explained. "The guys did a great job in the shop to give me a good car and we had a great points day. Couldn't ask for more." He ended.
The next race for the Top Speed Fabrication Modifieds Tour is on Saturday, August 11th at the fast 3/8s (0.375) mile high-banked paved oval of Angola Motorsport Park, located just south of the Michigan / Indiana state line in Angola, Indiana. Berry is in a dogfight for the 2012 Series Championship with Samantha Jansen and Tom Jewell in the chase for the championship.
For the rest of the 2012 racing season, Berry's #7 Non-Winged Sprint Car from the Fedewa Motorsports stable as well as his #7 open-wheeled Modified with a Port City Racecars chassis has sponsor decals on each machine from; Extreme Indoor Kart Racing, Rat-Tech Engine Service, Davis Racing Equipment, Joe Gibbs Driven Racing Oil, Go Pro Cameras, Monogramming by Martha, Andrea's Place Styling Salon, and M.P.H. Promotions.
For more information about Trevor Berry and the Berry Racing Team and to inquire about any other additional sponsorship opportunities for the rest of the year, log onto the website at: www.berryracing.com. You can also follow Berry on his Facebook Fan Page by going to: www.facebook.com and search for "Berry Racing Incorporated and click on "Like". Finally you can also follow the team on the Twitter page by going to: www.twitter.com/trevor_berry and click on the "Follow" button.