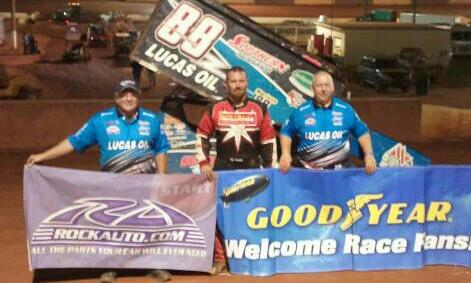 By Pete Walton
Senoia, Georgia – August 17, 2012 – United Sprint Car Series presented by Goodyear National points leader, Tim Crawley from Benton, Arkansas raced from his outside front row starting position into the USCS www.RockAuto victory lane twenty-five laps later in the Sprint Car portion of the USCS Senoia Summer Nationals III at Senoia Raceway on Friday night. It was Crawley's tenth 2012 win in the series. The K&N Filters Pole Position starter Anthony Nicholson from Bartlett, Tennessee raced past defending USCS Champion Terry Gray also from Bartlett, Tennessee after a lap twenty-three re-start into the runner-up position. He then chased Crawley to the finish line but couldn't gain the momentum for a pass attempt. 2010 USCS National Rookie of the Year Morgan Turpen from Oakland, Tennessee followed that trio to the finish line in fourth place. The 2010 USCS Southern Thunder regional serie Rookie of the Year, Eric Riggins, Jr. from Charlotte, North Carolina rounded out the top five drivers.
The next group was headed by 2011 Top Gun Sprint Series Champion, Danny Martin, Jr. from Sarasota, Florida in sixth place. Martin was the evening's Wilwood Disc Brakes Hard Charger after starting eleventh. Past USCS Southern regional series Champion, Johnny Bridges from Cherryville, North Carolina followed in seventh place. Nick DeFeo from Marietta, Georgia finished in eighth place. Clint Weiss from Seale, Alabama rounded out the top ten finishers.
Tim Crawley kicked off the evening's winged sprint car action with a win in the 6-lap Goodyear Speed Dash. Ten -time USCS National Champion, Terry Gray won the 10-lap Engler Machine and Tool First Heat Race. Crawley rolled to victory in the Butlerbuilt Second Heat Race. Jeff Willingham garnered the Goodyear, Rookie of Race honors.
The next United Sprint Car Series event, is the USCS Senoia Summer Nationals III Finale on Saturday, August 18th at Senoia Raceway in Senoia, Georgia. For more information on that event please visit www.senoiaraceway.com or call 770-599-6161. For rules and 2012 schedule info on the USCS please visit www.uscsracing.com or call 770-460-7223 or 770-865-6097.
USCS results for USCS Summer Nationals III Round One at Senoia Raceway 8/17/12:
Goodyear Speed Dash: Tim Crawley, Terry Gray, Anthony Nicholson, Morgan Turpen, Eric Riggins, Jr., Jeff Willingham and
Engler Machine and Tool First Heat: Terry Gray, Eric Riggins, Jr., Anthony Nicholson, Jeff Willingham, Joe Larkin, Danny Martin, Jr. and Derek Hagar DNS.
Butlerbuilt Second Heat: Tim Crawley, Johnny Bridges, Morgan Turpen, Stacey Mashburn, Clint Weiss, Nick Defeo and Matt Linder – DNS.
USCS presented by Goodyear Feature Race results (20 laps) New Senoia Raceway – Friday, August 17, 2012.
1 – 88 Tim Crawley, Benton, AR
2 – 16 Anthony Nicholson, Bartlett, TN
3 – 10 Terry Gray, Bartlett, TN Rookie
4 – 80 Morgan Turpen, Bartlett, TN
5 – 47 Eric Riggins, Jr., Charlotte, NC
6 – 82 Danny Martin, Jr., Sarasota, FL
7 – 07 Johnny Bridges, Cherryville, NC
8 – 96 Nick DeFeo, Marietta, GA
9 – 0x Clint Weiss, Columbus, GA
10 – 33 Joe Larkin, Suwannee, GA
11 – 28 Jeff Willingham, Ripley, MS – Rookie GA
12 – 33m Stacey Mashburn, Newnan,
13 – 1A Derek Hagar, Marion, AR
14 – 1X Matt Linder, Hoschton, GA DNS
GOODYEAR SPEED DASH WINNER: #88 Tim Crawley
K & N FILTERS POLE AWARD: #16 Anthony Nicholson
Wilwood Engineering HARDCHARGER AWARD: #82 Danny Martin, Jr. (11th to 5th passed 6 cars)
ROOKIE OF THE RACE: #
JE PISTONS TOP GUNS AWARD: #16 Anthony Nicholson ( 2nd place)
K&N FILTERS 3RD-PLACE AWARD: #10 Terry Gray
BUTLERBUILT 4TH-PLACE AWARD: #80 Morgan Turpen
Keizer Aluminum Wheels Top Five Award: #47 Eric Riggins, Jr.
DMI/Diversified Machine Top Ten Award: #33 Joe Larkin
ENTRIES: 14
PROVISIONALS: None
LAP LEADERS = Tim Crawley. Laps 1-25
PHOTO #82 and CAPTION:
Tim Crawley from Benton, AR won the United Sprint Car Series presented by Goodyear "Senoia Summer Nationals III" preliminary 25-lap main event on Friday at Senoia Raceway. (USCS Photo)