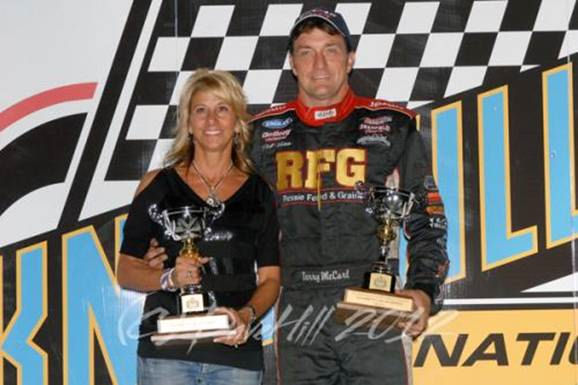 By Bill W,Dave Hill photo
September 4, 2012 – It was a banner weekend for Terry McCarl and the TMAC Motorsports #24 team. They were able to rack up two track championships in one weekend. It was the seventh track championship at both the Knoxville Raceway in Iowa and at the Huset's Speedway near Brandon, South Dakota. The Altoona, Iowa driver cinched the Huset's crown with one week of racing to go, while he did what he had to do to carry out another title at Knoxville.
TMAC came into Knoxville on Saturday just eight points ahead of Davey Heskin in the standings. He would register quick time of the night. "I don't know that we've had quick time all year (he hasn't at Knoxville)," he says. "It was awesome. Davey has done a good job of qualifying this year, and has a lot of points on us doing it. We were down to one engine, and we kind of hurt it, getting it way too hot. Since we got a couple engines back, we've been qualifying better the last month or so."
He would win his heat from outside row three. "It was a fun night," says TMAC. "We just kind of started the night even, and we were able to get quick time, and won the heat race."
With an invert of six, TMAC would line up outside of row three for the main event. "On the first start I came out running third," he says. "On the second, I was back in fifth or so, and I didn't want to take too many chances. I wasn't as worried about the battle as I was the war. I knew Davey would be tough to beat with a brand new right rear tire on starting on the front row."
Heskin went on to win, while TMAC checkered fifth and won the title. "Our goal was to win the war and we did that," he says. "I tried to get around there and stay out of trouble. We were able to do that. It worked out well for us."
It was on to Huset's on Sunday. "It was the same as Knoxville in that we set quick time (his 6th of the season there) and won the heat," says TMAC. "We were able to start fourth in the feature and got by (Mark) Dobmeier for the lead. It laid rubber pretty early."
TMAC would settle for second. "The yellow came out and we had to go back behind him," he says of Dobmeier. "He's a pretty smart racer, so he's tough to beat. I tried to get him in traffic a couple of times, but we weren't able to. Once it laid rubber, I was pretty tight."
TMAC will be back at Huset's for the final night this Sunday night with big money on the line. "We clinched the title there," he says. "To get two championships in one weekend is pretty awesome. One of our goals starting the season was the Knoxville championship. I really hadn't planned on going for the Huset's championship with the one engine. Austin was the crew chief on my car, his car and Carson's car. I'm so proud of him and my whole family. Because of our engine situation, he wasn't able to race at Knoxville, but he worked his tail off all summer long."
TMAC will also compete with the IRA at the Jerry Richert Memorial at the Cedar Lake Speedway near New Richmond, Wisconsin on Saturday.
To check out opportunities to partner with TMAC Motorsports on a nightly basis, visit www.TerryMcCarl.com or call 515 957-0020!
Websites for the McCarl Gang!
Driverwebsites.com develops the websites for the McCarl boys. Check out www.TerryMcCarl.com, as well as www.AustinMcCarl.com and www.CarsonMcCarl.com!
In"Terry"gation
Rick Fleming asks: Where do your championships at Knoxville and Huset's rank for you?
TMAC Answers: Not many can say they captured two in the same year. With the "Apple Dumpling" crew I have, I may look back on this as my favorite year ever. We all worked our butts off, and I think we deserved it. The first one meant a lot, but this one was up there. With the way we did it…we worked so hard. I don't know that I've ever worked this hard…it makes it all worthwhile.
Got a question for TMAC? Send it to us at sprntcar@iowatelecom.net , and we may answer it in this section! Put "? for TMAC" in your subject line.
This Month in TMAC History!
Driving the family #7x, TMAC finished fourth on Knoxville's Season Championship Night in 1989. Rick Ungar posted the quick time of the night in Guy Forbrook's #5 at 16.350 seconds. TMAC was 8th quick with a lap of 16.812. Jerry Richert Jr., driving the Durst/Smith #1x, passed Jeff Tuttle who was in the Jordan Brothers #1 on lap 15 to take the victory. Ray Lipsey was third and Glenn Berkner from Sleepy Eye, Minnesota was fifth. Dean Chadd won the 360 feature after starting 15th.
"Tuesdays with TMAC"!
"Tuesdays with TMAC" is an up close and personal look at colorful sprint car veteran Terry McCarl. To receive "Tuesdays with TMAC", send an e-mail to sprntcar@iowatelecom.net with "TMAC" in the subject line.
TMAC Motorsports would like to thank sponsors "Lord I Apologize BBQ Sauce", Deanfield Farms, Bosma Poultry, Eagle Chassis, DeBerg Concrete, AmeriCashAdvance.com, RFG, Phil and Vivian, Ryan Yager Trucking, 212 The Boiling Point Bar & Grill, Vortex Racing, Hoosier Tire, Chris Spaulding – Attorney at Law, Schoenfeld Headers, K&N Filters, Don Ott Engines, HRP, All Pro Cylinder Heads, Bob and Beulah Elder, Country Builders Construction, Engler Injection, Superflow Technologies, T&P Brothers, Larry Fleck Trucking, Winters, DriverWebsites.com, CM Rock, Jocko's Sprint Parts, Sander, Brown and Miller, Chase Graphics, Pro Shocks, Ben Cook, Bell Helmets, Burnett's Rock and Landscaping, Fatheadz Eyewear, Van Der Brink Designs, Morgan Strawberry Farms, Bulldog Pest Control, Aurora Rod Ends, Crow Safety, Justice Brothers, KSE Steering, Strange Performance, Saldana Racing Products, Scribner Plastics, Waterman Fuel Pumps, Weiland Racing, Butlerbuilt, PBS Bushings.
9335