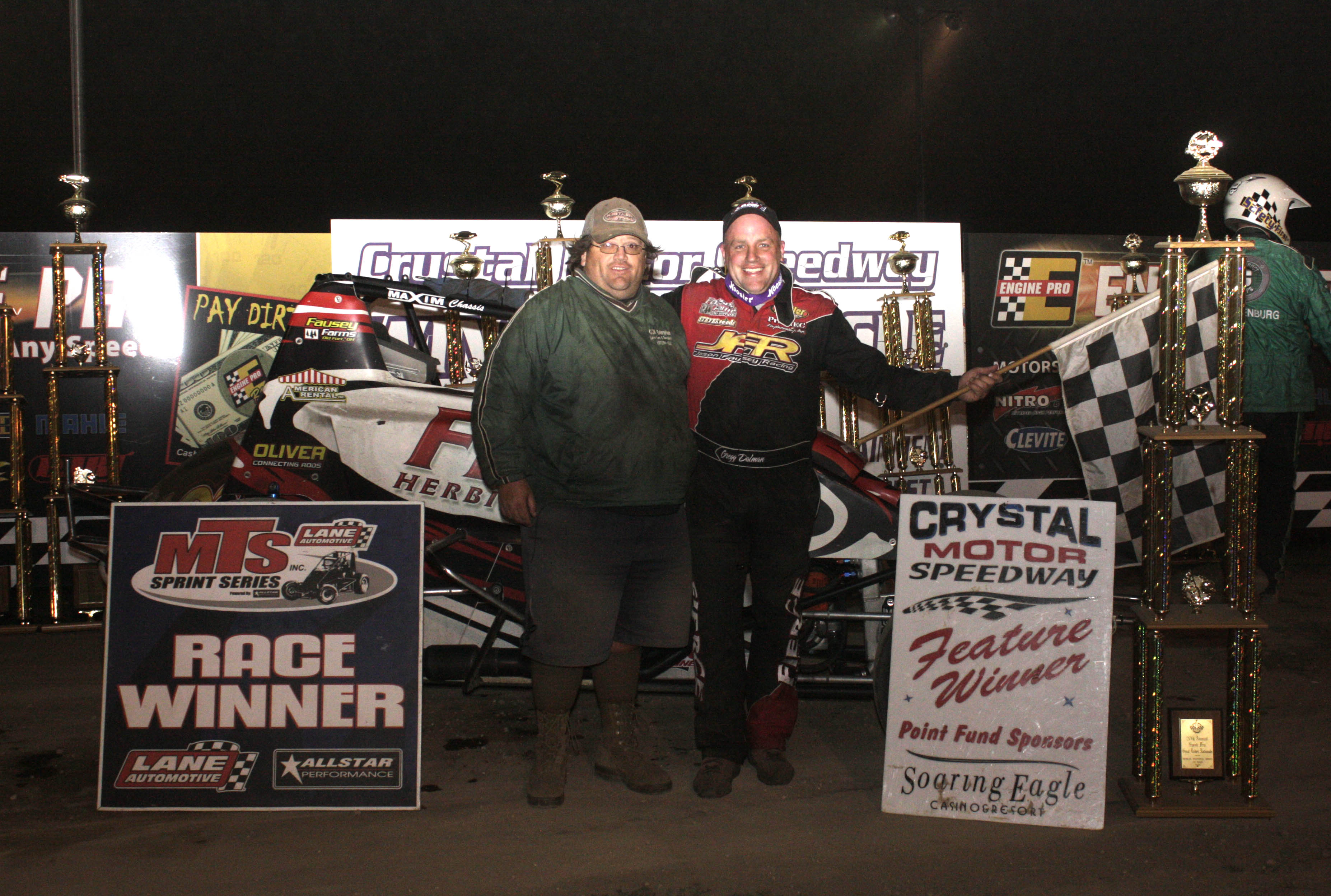 By Trevor Hollis
Perfect racing weather and thirty of the best non-wing sprint cars in the state of Michigan took to the track at Crystal Motor Speedway to close out the 2012 racing season. A packed house was given a great show and Greg Dalman was able to hold off Brett Mann to pick up the win in the 25 lap feature event.
The feature event would see eventual winner Greg Dalman and former Sprints on Dirt champion Brett Mann on the front row. The last time Mann was behind the wheel of a non wing sprint car was 1998 at Crystal and he wound up victorious. Rust did not seem to be an issue however as Mann and Dallman would battle wheel to wheel for three quarters of the race. Dalman would later say that the top grove had started to take rubber and develop a lot of grip about half way thru and sure enough that is when Dalman would start to pull away from Mann. Brett would hold his own on the bottom but in the end it would not be enough to get around Dallman and he would have to settle for a second place finish.
In heat race action Jay Steinebach would pick up the first checkered flag over Tim Evilsizer and Nick Landon. The second heat would go to Joe Irwin with Dalman and Keith Love rounding out the top three. 2011 champion and defending Great Lakes Nationals champion Joe Bares won heat three. John Watson and Nate Bostrom would round out the top three. And in the final heat it was Steve Irwin picking up the checkered flag over Brett Mann and Mark Irwin. The final few spots in the feature would be filled from the b main. Former series champion Mike Galajda, Chris Pobanz, and Mike Baker would move on making up the top three.
With the season in the books Joe Irwin will pick up his first points championship with the series. Joe's consistent finishes in all of the races would prove to be enough to hold off Steve Irwin who would collect a couple wins on the season and third place finisher Mark Irwin. 2011 champion Joe Bares would hold on to fourth and Mike Baker rounded out the top five. The 2012 rookie of the year title belongs to Nate Bostrom.
Everybody associated with the series would like to take a second and thank all of the sponsors that make everything possible. Huge thanks goes out to series title sponsor Lane Automotive, associate sponsors Strpko Engineering, Hoosier Race Tire, Tri-county Equipment, Allstar Performance, Irwincraft Racecars, and Northwest Automachine. Thank you for all that you have done and continue to do to help this series grow. Well, that's a wrap on 2012! Here's to 2013! We'll see you at the track!!!
Great Lakes Nationals full results:
Strpko Engineering
Heat 1 finish. 1.Steinebach, 2.Evilsizer, 3.Landon, 4.Hawk, 5.Pobanz, 6.Gall,7. Hayward, 8.Rutledge.
Hoosier Race Tire
Heat 2 finish: 1.J Irwin,2. Dalman,3. Love, 4.Chuck Wilson, 5.Galadja,6. Baker, 7.Strpko, 8.Chris Wilson.
Tri County Equipment
Heat 3 finish:1. Bares, 2.Watson,3. N Bostrom, 4.Austrauskas, 5.D Bostrom, 6.Ockerman, 7.Brown.
Allstar Performance
Heat 4 finish: 1.S Irwin, 2.Mann, 3.M Irwin, 4.Rogers, 5.Vanhouten, 6. Woorden, 7. Caines
Irwincraft Racecars
B main finish: 1.Galadja, 2.Pobanz, 3.Baker, 4.Gall, 5.D Bostrom, 6.Strpko, 7.Chris Wilson, 8.Brown, 9.Hayward, 10.Ockerman,11. Woorden. 12. Rutledge 13. Caines 14. Vanhouten
Northwestern Automachine
A-Main finish (starting position)
1. Gregg Dalman (2), 2.Brett Mann (4), 3. Steve Irwin (5), 4. Mike Galajda (17), 5. Joe Bares (1), 6. Jay Steinebach (7), 7. John Watson (11), 8. Nick Landon (3), 9. Chuck Wilson (14), 10. Keith Love (12),11. Joe Irwin (9), 12. Chris Pobanz (20), 13. Mark Irwin (10), 14. Tim Evilsizer (6), 15. Mike Astrauskas (15), 16. Kevin Hawk (13), 17. John Gall (19), 18. Nate Bostrom (8), 19. Nick Rogers (16), 20. Mike Baker (18)