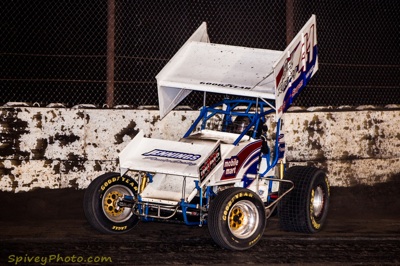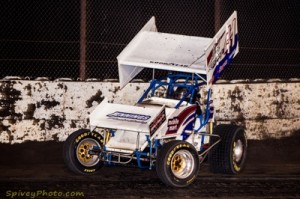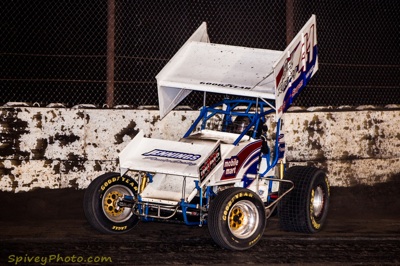 From John Lemon
Tulsa OK — (December 6, 2012) — The twelfth annual schedule for Oil Capital Racing Series sprint car action is beginning to take shape at the OCRS headquarters and 2013 will see an interesting twist for the racing warriors. For the first time since 2008 when Roy Larkin (May) and Mike Goodman (July) took checkers without aluminum foils, Non-Wing style events will dot the schedule and they will be part of the 2013 championship point chase.
Caney Valley Speedway in Caney Kansas, under the guidance of Kerry Gorby, will conduct topless sprinters on Saturday July 6th as part of the Fourth of July holiday weekend. OCRS is actively looking at options to add one to two more Non-Wing shows to compliment the new schedule. "We have had unsolicited inquiries from multiple race teams to mix some Non-Wing racing into our schedule," said series president Barry Grabel. "OCRS had some success with Non-Wing style racing in 2008 but for multiple reasons, we haven't had the Non-Wing style back on schedule until now. We believe that bringing this style of racing to the track will accomplish two objectives:
1) It will present a unique challenge to the teams where they will need to adapt to a different environment that will test their skills to the hilt.
2) Sprint car fans have always enjoyed Non-Wing style racing for their sideways through the corner action and we look forward to bringing this format to them."
In addition to the Non-Wing date, Gorby will have the band of Okies back on Kansan soil twice more. Once on May 25th and again on August 31st. Each of these dates will be with the wings mounted.
As with 2012, Mark and Debbie Brill will begin the 2013 OCRS tour at the Brill Motor Speedway in Meeker Oklahoma. March 30th is the season launch date with May 4th and July 20th   penciled in as return trips for the red clay oval. BMS switches from Friday to Saturday nights in 2013.
George Welch's Oklahoma Sports Park in Ada OK will be the host for three OCRS events including the 5th annual "Harold Leep Jr. Memorial" on May 11th along with a mid-summer stop on July 27th and the ever popular 7th annual "Oklahoma State Championship" on September 14th.
John and Nicky Webb who are entering their second full season as "Emperors of the night" have invited OCRS to Ardmore's Southern Oklahoma Speedway on April 6th and June 22nd.
"The Hummer" (Humboldt Speedway) in eastern Kansas, with Ron and Rhenda Whitworth as Hummer pilots, will have OCRS at their great facility on Friday night April 19th.
Stanley Slader, the man with the biggest oval in the land, will host OCRS events at the historic Thunderbird Speedway half-mile on April 12th and September 6th.
Tri-State Speedway in Pocola OK sees captain Tim Adams still at the wheel. Captain Adams has selected June 15th and September 7th as Saturday night party stops.
OCRS will return to Randy Mooneyham's Monett Speedway in Monett Missouri on June 14th to take to the red clay surface, but on a new night, as the track has switched from Sunday nights to Friday nights.
Salina Highbanks Speedway and Mid-America Speedway are tracks that OCRS warriors conducted battles on in 2012 and each are expected to finalize 2013 dates in the near future. Additional tracks are also being considered for part of the 2013 traveling tour. Race fans and race teams alike can visit the OCRS website at www.ocrsracing.com for updates and future announcements on the OCRS sprint car series.
OCRS 2013: Bringing the spills, chills and thrills to you up front and center. Get Ready!
OCRS 2013 RACING SCHEDULE
(Tentative)
Date                           Location
March 30                               Brill Motor Speedway / Meeker Oklahoma
April 6                                   Southern Oklahoma Speedway / Ardmore Oklahoma
April 12                                 Thunderbird Speedway / Muskogee Oklahoma
April 19                                 Humboldt Speedway / Humboldt Kansas
May 4                                     Brill Motor Speedway / Meeker Oklahoma
May 11                                  Oklahoma Sports Park / Ada Oklahoma
May 25                                  Caney Valley Speedway / Caney Kansas
June 14                                  Monett Speedway / Monett Missouri
June 15                                  Tri-State Speedway / Pocola Oklahoma
June 22                                  Southern Oklahoma Speedway / Ardmore Oklahoma
July 6                                     Caney Valley Speedway / Caney Kansas        (Non-Wing Event)
July 20                                   Brill Motor Speedway / Meeker Oklahoma
July 27                                   Oklahoma Sports Park / Ada Oklahoma
August 31                              Caney Valley Speedway / Caney Kansas
September 6                         Thunderbird Speedway / Muskogee Oklahoma
September 7                         Tri-State Speedway / Pocola Oklahoma
September 14                       Oklahoma Sports Park / Ada Oklahoma