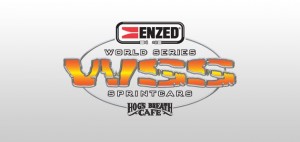 Warrnambool, AU — (January 1, 2013) — Defending Enzed World Series Sprintcars champ James McFadden duplicated his 2012 New Years Day victory with another strong win tonight at Warrnambool's Sungold Stadium. McFadden had to reel in early race leader Kyle Hirst while Danny Pestka confirmed his talent with a solid third place finish. Persistent showers hampered the event late but fans were treated to a great night's action while Nathan Pronger won the Formula 500 Speedweek round.
Presented by Fresha Fruit Juice, Hirst leapt to the lead and kept the field at bay until he was caught out in traffic allowing McFadden to move to the lead and never look back. It was a popular win for the defending Enzed World Series Sprintcars champ while Hirst proved his ability in a runner up finish. Pestka had to withstand challenges from Steven Lines to finish third ahead of Lines and David Murcott who scorched from the tenth row of the grid.
Following Murcott was Grant Anderson, Luke Dillon, Taylor Milling, Trent Pigdon, Matthew Reed and John Vogels and Ash Scott was the finishers.
The opening lap saw a violent flip for Jason Johnson when he and Darren Mollenoyux came together on the back straight. Luke Dillon and Stephen Bell were also involved with Bell getting upside down also. All drivers managed to walk away uninjured.
With 12 laps remaining Danny Smith endured a nasty clash with the wall when something broke sending him careering into the wall. Also failing to finish was Steven Lines following left rear tire failure also Tim Kaeding who pulled infield late in the race.
Heat race wins went to Danny Smith ahead of Matthew Reed while Brad Keller and Luke Dillon were involved in a mid-race incident that eliminated Keller. John Vogels won heat 2 over Eddie Lumbar while Darren Mollenoyux raced from the fifth row to third.
Eighth starting Stephen Bell scorched to the heat 3 win ahead of Adam Sealey and Kyle Hirst in another entertaining heat race with plenty of passing. Ricky Maiolo saluted in heat 4 ahead of Tim Kaeding and Glen Sutherland following Lines' relegation to fifth.
Indiana legend Smith won heat 5 from Matthew Reed and Jason Johnson while Caleb Griffith and Domain Ramsay both rolled. Heat 6 saw Steve Caunt fend off James McFadden and Jack Lee to win while Matt Egel was eliminated when he and Darren Mollenoyux came together in turn 2. David Murcott was also involved with rear end damage forcing him out.
Maiolo won heat 7 ahead of Mark House and Adam Sealey while Tim Kaeding scorched to the win in heat 8 when he run down early leader Shane Stewart. Stewart would finish second ahead of Grant Anderson.
Kris Lacey won the C-main to advance along with Shaun Bradford, Jake Tranter and Quentin Tanner. Danny Smith won the B-main after a great duel with Johnny Vogels who also advanced. Joining the leading pair was Ricky Maiolo, Matt Egel, Jack Lee and David Murcott.
Queensland's Nathan Pronger won an epic Formula 500 feature ahead of Jessica Moulden who led for the entire distance until the final corner. Rookie Chris Bellman was also involved in the three way battle for the lead as he would eventually finish third with less than three tenths of a second separating the leading trio.
Dylan Willsher raced to a great podium finish ahead of Brock Hallet, Kane Cruse, James Aranyosi, Mathew Symons, Mat Turner and Andrew Rae in tenth.
Heat race wins went to Pronger, Lee Hardess, Mathew Symons, Moulden, Kane Cruse and James Aranyosi. Grant Stansfield won the B-main to transfer along with Shane Van Duynhoven, Dale Shilletto, Phil Smith, Jeremy Saffin and Michael Wise.