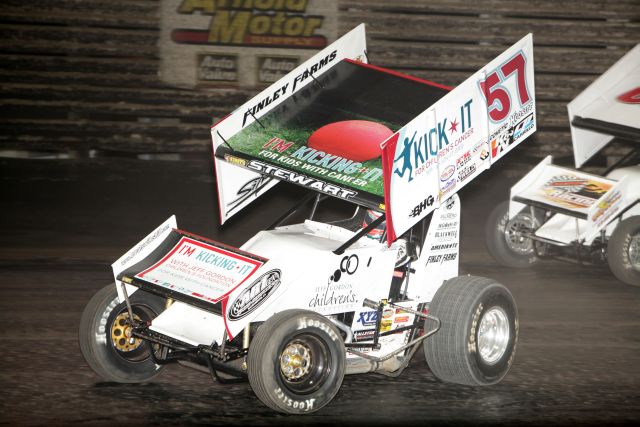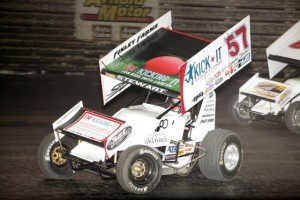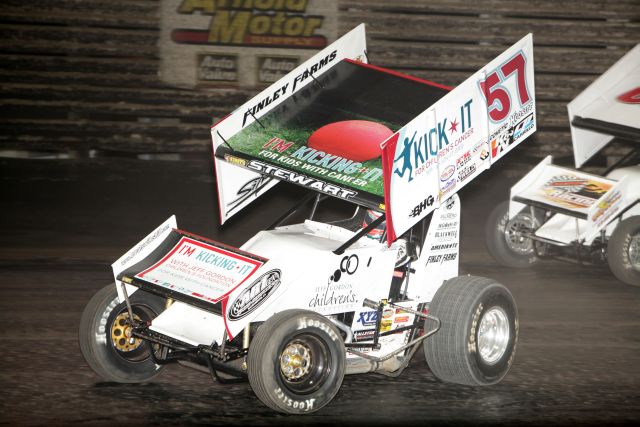 From Kelly Hart
Alger, WA — (June 21, 2013) — Over the years, not only has Shane Stewart won two Jim Raper Memorial Dirt Cups but he has also won more than a few preliminary night features as well. Friday night was no different at Skagit Speedway as Stewart lead all 25 laps for the win.
Two-time World of Outlaws champion Jason Meyers set the mark with quick time in qualifying at 11.266 seconds around the high banked 3/10th mile oval. Winning the five heat races were 4-time track champion Jesse Whitney, Travis Rilat, Stewart, Rico Abreu and Jason Bloodgood.
Picking up the win in the B Main event was Kyle Hirst who also lead every lap of the event. Transferring to the A Main from the B were Hirst, Sam Hafertepe, Jr., Jayme Barnes, Eric Fisher, Brock Lemley, Henry Van Dam and Scott Parker.
In the Main Stewart got the lead coming off of turn two with a rocket launch around Bloodgood to take the lead. Rilat followed shortly thereafter and the two set forth an assault on the field quickly getting into lapped traffic. The first of just two yellows came out on the thirteenth lap for a slowing Barnes for steering issues on the back stretch. Lap 17 saw Trey Starks slow for throttle problems bringing out the second caution. On lap 24 a 3 car tangle in turn four ended the night for Hirst, Chad Hillier and Hafertepe. From the final restart on the race was on for points with Meyers coming from out of nowhere to snag a 6th place finish. The top five were Stewart, Rilat, Peter Murphy, Jonathan Allard and Rico Abreu. Allard was the SpeedMart Hard Charger gaining 10 positions.
The top five in points after night one are Allard, Meyers, Abreu, Murphy and Stewart.
Brandon Berg dominated the Outlaw Tuner Main. Point leader Freddie Vela blew a motor and attempted to swap one out but time ran out and he did not make the event. Rick Young and Clint Meins swapped paint a few times before settling for second and third. Berg and Jon Gunderson won the heats.
There were 30 PHRA Dwarfs in attendance. Once again a full field of cars made for some great racing as the 24 car main featured many passes and positions gained. Congratulations to Rick Taylor for the 25 lap feature win. The four heat race winners were Taylor, Jim Pavel, Jeremiah Hester and Clay Goben.
ASA Member Track Skagit Speedway will run the Thursday night portion of the Jim Raper Memorial Dirt Cup that was postponed on Saturday afternoon at 1pm. The finale will run Saturday night at 730 pm to crown the 2013 champion.
QUALIFYING
1.     21M Jason Meyers 11.266, 2. 0 Jonathan Allard 11.301, 3. 55 Trey Starks 11.320, 4. 24c Chad Hillier 11.336, 5. 33v Henry Van Dam 11.405, 6. 26 Sam Hafertepe, Jr. 11.475, 7. 83jr Kyle Hirst 11.487, 8. 18 Travis Jacobson 11.510, 9. 24 Rico Abreu 11.520, 10. 11 Roger Crockett 11.527, 11. 88w Jesse Whitney 11.528, 12. 1nz Peter Murphy 11.569, 13. 88 Jayme Barnes 11.595, 14. 5d Josh DeWitt 11.596, 15. 21x Carson Macedo 11.599, 16. 2j Jonathan Jorgenson 11.612, 17. 39c Travis Rilat 11.616, 18. 57 Shane Stewart 11.649, 19. 12 Scott Parker 11.669, 20. 6 Jason Bloodgood 11.718, 21. 7s Eric Fisher 117.32, 22. 8 Brock Lemley 11.874, 23. 44 Daniel Anderson 11.906, 24. 7 Kevin Smith 11.927, 25. 23 Steve Parker 12.018, 26. 69 John Tharp 12.134, 27. 9a Luke Didiuk 12.252, 28. 9s Michael Harris 12.307, 29. 31 Colton Akerstrom 12.592, 30. 8s Clayton Sibley 12.967
HEATS: (top 3 transfer to A Main)
HEAT 1: 88w Whitney, 2j Jorgenson, 21m Meyers, 7s Fisher, 26 Hafertepe, Jr., 13gr Reinstra, 69 Tharp.
HEAT 2: 39c Rilat, 1nz Murphy, 0 Allard, 8 Lemley, 83jr Hirst, 9a Didiuk
HEAT 3: 57 Stewart, 55 Starks, 18 Jacobson, 44 Anderson, 88 Barnes
HEAT 4: 24 Rico Abreu, 5d Josh DeWitt, 24c Hillier, 12 Scott Parker, 7 Smith, 31 Akerstrom
HEAT 5: 6 Bloodgood, 11 Crockett, 21x Macedo, 33v Van Dam, 23 Steve Parker, 8s Sibley
B Main: (15 laps) (top 7 to A Main) 83jr Kyle Hirst, 26 Hafertepe, Jr., 88 Barnes, 7s Fisher, 8 Lemley, 33v Van Dam, 12 Scott Parker, 7 Smith, 44 Anderson, 8s Sibley, 23 Steve Parker, 9a Didiuk, 31 Akerstrom, 13gr Reinstra
A Main (30 laps) 57 Shane Stewart, 39c Rilat, 1nz Murphy, 0 Allard, 24 Abreu, 21m Meyers, 11 Crockett, 5d DeWitt, 88w Whitney, 18 Jacobson, 21x Macedo, 6 Bloodgood, 2j Jorgenson, 8 Lemley, 7s Fisher, 33v Van Dam, 12 Scott Parker, 26 Hafertepe, Jr., 24c Hillier, 83jr Hirst, 55 Starks, 88 Barnes
Lap leaders 57 Shane Stewart 1-30
SpeedMart Hard Charger Jonathan Allard +10 positions gained
OUTLAW TUNERS
HEAT 1: 81 Jon Gunderson, 03 Howard Vos, k9 Becky Boudreau, 71 Rick Young, 12 Adam Holtrop, 20 Freddie Vela
HEAT 2: 72 Brandon Berg, 23 Cliff Ballenger, 77mr Clint Meins, 12e Eric Vaillette, 29 Mark E. Toth III
MAIN (17 laps) 72 Brandon Berg, 71 Young, 77mr Meins, 81 Gunderson, k9 Boudreau, 03 Vos, 29b Toth, 12 Holtrop
Lap leaders: 72 Brandon Berg 1-17
PHRA DWARFS
HEAT 1: 18c Rick Taylor, 86k Doug McVae, 81k Charles Millar, 90z Henry Corbin II, 22k Keith Steenslid, 88c Ron Brewer, 09r Renny Marose, 18w Steve Taylor
HEAT 2: 00k Jim Pavel, 8k Chris McCleary, 69k Ronnie Gilmore Jr., 10s Fred Hay, 8w Dale Knutson, 44c Stu Seely, 95k Michael Hester, 72k Janell Schlant
HEAT 3: 94k Jeremiah Hester, 11k Rick Holbert, 0k Kevin Benson, 56k Jeff Quinn, 51c Scott Drake, 7k George Fischer, 71k Chris Schlant
HEAT 4: 88K Clay Goben, 37k Troy Kunas, 68k Eric Berquist, 75k Leo Hechler, 2c Danny Karslake, 39k Tim Hester, 1w Buddy Scheid
B MAIN: (20 laps) (top 8 to main) 88c Brewer, 2c Karslake, 7k Fischer, 44c Seeley, 8w Knutson, 1w Scheid, 22k Steenslid, 72k Janell Schlant, 18w Taylor, 95k Hester, 51c Drake, 09r Marose, 71 Chris Schlant
A MAIN: (25 laps) 18c Rick Taylor, 68k Berquist, 69k Gilmore Jr., 2c Karslake, 37k Kunas, 0k Benson, 88k Goben, 94k Hester, 86k McVae, 44c Steeley, 7k Fischer, 00k Pavel, 8k McCleary, 90z Corbin II, 11k Holbert, 75k Hechler, 88c Brewer, 8w Knutson, 56k Quinn, 1w Scheid, 81k Millar, 72k Sclant, 22k Steenslid, 10s Hay
Lap Leaders: 69k Ronnie Gilmore 1-6, 18c Rick Tayler 7-25