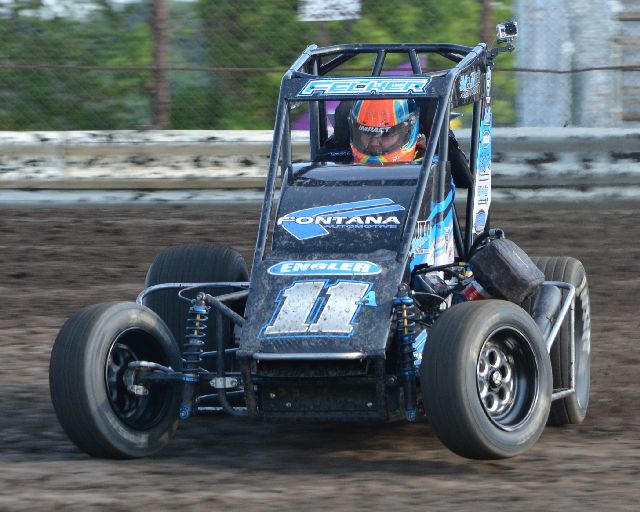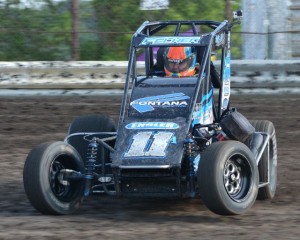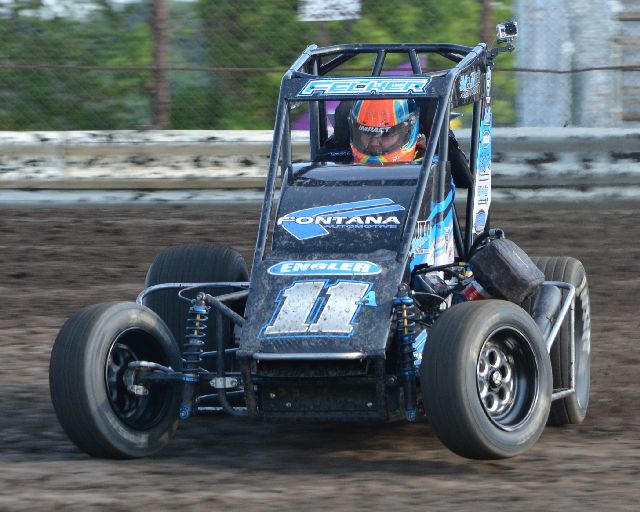 From Inside Line Promotions
Carl Junction, MO — (August 27, 2013) — Andrew Felker is gearing up for a week of marquee events, including a trio with the POWRi Lucas Oil National Midget Series.
The week starts on Wednesday with the inaugural $5,000-to-win Jason Leffler Memorial Race at Wayne County Speedway in Wayne City, Ill. It will mark Felker's first time in a midget at the track where he placed second once in a micro sprint.
"I'm definitely pumped to be a part of the Jason Leffler Memorial," he said. "Hopefully it's a great show in his honor."
Attention then shifts to Angell Park Speedway in Sun Prairie, Wis., for the 32nd annual Pepsi Midget Nationals on Saturday and Sunday, which is capped by a 50-lap, $4,000-to-win feature.
"The Pepsi Nationals is always a big show there with Sunday being a 50-lapper," he said. "Now that I've got more experience running in Sun Prairie I'm hungry to get a win."
The Pepsi Midget Nationals are also the final two races of the season for the Badger Midget Auto Racing Association, which is co-sanctioning the weekend with POWRi. Felker is currently second in Badger points – 109 out of the lead – in his first year competing for points.
"We've got to keep doing what we're doing and hopefully avoid the bad luck," he said. "Starting position is usually pretty huge. Track position will be huge all weekend."
Felker is also second in the POWRi championship standings – 120 points out of the lead.
SEASON STATS –
36 races, 1 win, 13 top fives, 25 top 10s, 31 top 15s, 34 top 20s
UP NEXT –
Wednesday at Wayne County Speedway in Wayne City, Ill., for the Jason Leffler Memorial Race, and Saturday and Sunday for the Pepsi Midget Nationals at Angell Park Speedway in Sun Prairie, Wis., with the POWRi Lucas Oil National Midget Series
MEDIA LINKS –
Website: http://www.AndrewFelkerRacing.com
Twitter: https://twitter.com/AndrewFelker11a
VIDEO –
Here is a link to XSANTV's in-car footage of Felker finishing second at Jacksonville Speedway in Jacksonville, Ill., on April 26: http://youtu.be/tSwLTs5L1Zk
SPONSOR SPOTLIGHT – Momo's Racing Engines
Located in Tulsa, Okla., Momo's Racing Engines rebuilds micro sprint engines. For more information, visit http://www.MomosRacingEngines.com.
"I've been with Momo's Racing Engines for 10 years," Felker said. "I would definitely never run another micro without a Momo's engine in it. I'd like to thank them for their support and help over the past 10 years with my career."
Felker would also like to thank Auto Xpress, 66 Truck & Foreign Salvage, Fontana Automotive, MelMark Pipe & Supply, CSI Shocks, Schluckebier Farms, Pro Powder Coating, All-Pro Auto Interiors, Aggressive Graphics, KBR Performance, Weld Wheels, KMK Enterprises, Heath II, Wilwood, Maxim Racewear and Leading Edge Composites for their continued support.