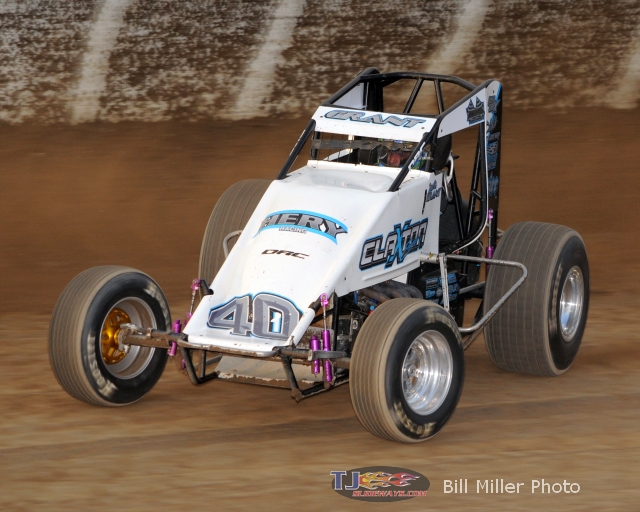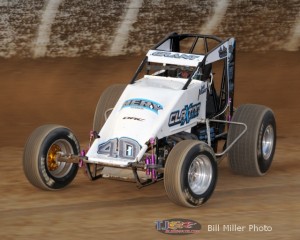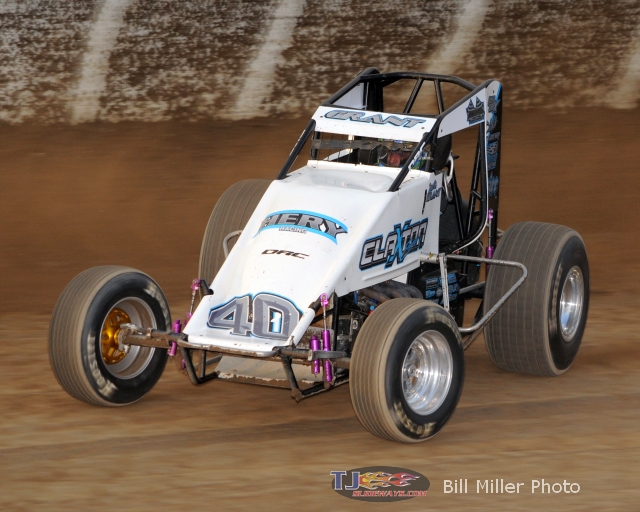 From Todd Fisher
Newberrytown, PA — (June 5, 2014) — Up next at the SSP Big Track will be the USAC Eastern Storm Finale featuring the USAC wingless Sprint Cars on Sunday, June 8. Joining the program will be the wingless ARDC Midgets. There will be no racing on Saturday, June 7. The pit gates will open at 3:30 p.m. Grandstand gates will open at 4:00 p.m. Warm-ups begin at 5:30 p.m. with qualifying following at 6:00 p.m. Racing action begins at time trials followed by consolation races and feature events. The USAC feature will be 30 laps in distance.
General Admission Grandstand ticket prices for Sunday night are Adults (ages 18-59) $25.00; Young Adults (ages 11-17) & Senior Adults (60 & Older) $20.00; Children (10 & under) are free. Pit pass prices are $35.00 with a reduced price of $30.00 for all USAC license holders.
On Friday night, June 6, the eighth round of the Spring Shoot-Out Series will be held at the SSP Outback Track for quarter midgets, karts and Adult Speedcars. The pit gates will open 5:45 p.m. with a driver's meeting at 7:20 p.m. Open practice begins at 7:00 p.m. and racing action begins at 7:30 p.m. The entry fees for each class will be $20.00 per entry for drivers with the seasonal (Spring/Summer) license. Pit pass fees for the driver are included in the entry fee. Non-license driver's entry fees will be $25.00. Participants may enter more than one class on a raceday ($12.00 for each additional class). Trophies will be awarded to the top three in each class regardless of class entry count. No participants will be denied racing as SSP will make every effort to define a class for all drivers who wish to compete.
Pit pass prices for non-drivers at the Outback Track will be $8.00 for everyone ages 18 & older; Teens & Children ages 11 – 17 are $5.00; Children 10 years of age and under are $3.00. Ages 2 & under are admitted free.
The 9-race Summer Shoot-Out Series will begin on Friday, June 20. There will be separate point champions crowned from both the Spring and Summer Shoot-Out Series.
The next Wednesday Night Test & Tune for any type of racecar will be on Wednesday, June 11. The gates will open at 5:00 p.m. with practice sessions rotating for each class from 6:00 p.m. to 9:00 p.m. The cost is $12.00 per person for pit passes and a $20.00 fee for each racecar entering the pit area ($32.00 per car & driver combination). Each session will be 4-6 laps per session depending on car count. The grandstands are open free to the public. Each class will receive 4 to 5 rounds of 4/6 laps each or more if time permits. The fuel pumps from Miller's Racing Parts will not be open. Anyone needing fuel should contact Miller's Racing Parts directly at 717-766-0181. The main concession stand will be open throughout the night.
Also on Wednesday night, there will an open practice session for quarter midgets, karts and Adult Speedcars at the Outback Track from 6:30 p.m. to 9:00 p.m. under the lights. The gates will open at 5:30 p.m. with open practice from 6:30 p.m. to 9:00 p.m. The cost will be $20.00 per driver with no charge for anyone else entering the grandstand and "cold pit" areas. All Outback Track participants should enter the pits from the Kise Mill Road entrance behind turn 2 of the "Big Track."
The Susquehanna Speedway Park is located off I-83 to exit 32, then 1.4 miles NW on SR382 to York Road, then 1.3 miles south. For more information, contact the speedway offices at (717) 292-1696 or visit online at sspracing.net. On raceday, use the track phone at (717) 938-9170 for up-to-date information at the "Big Track" and the "Outback Track."