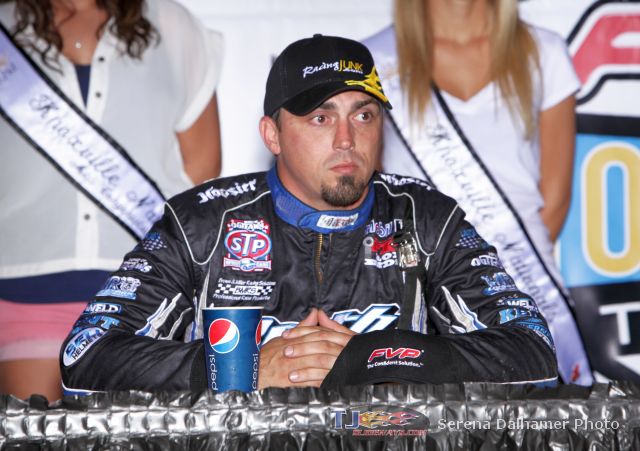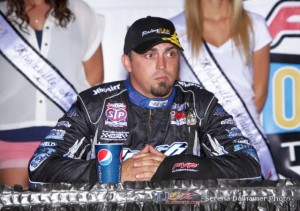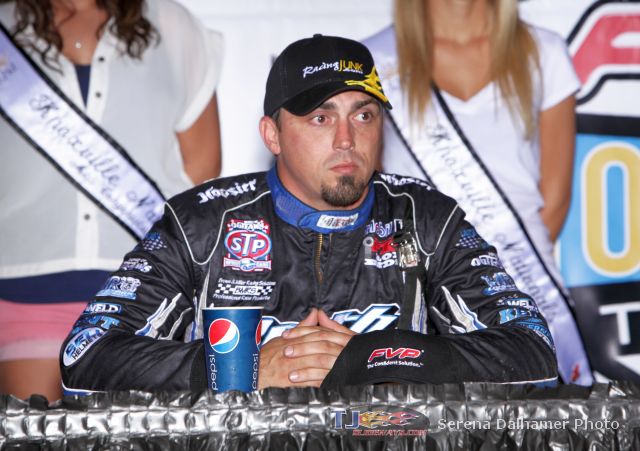 By Gary Thomas
Marysville, CA – June 7, 2014…With two-time Golden State/ King of the West 410 Sprint Car Series champion Tim Kaeding returning to action this weekend he made sure to end it the only way he knows how, in victory lane. The San Jose, CA wheel-man withstood a furious battle with Mitchell Faccinto over a number of laps, before taking the checkered by 1.412 seconds over Willie Croft for his first KWS win of the year.
It marked Kaeding's very first Marysville Raceway Park King of the West 410 win and his 64th career series triumph, which ranks second all-time to his father Brent Kaeding. The victory for "TK" came aboard the always potent Paul Silva owned Probilt Construction No. 57 machine.
"It felt great to be back in a car this weekend doing what I love and to get a win tonight is pretty cool," Kaeding said. "I hope you fans enjoyed that one because it was a lot of fun from my seat. Mitchell Faccinto did an awesome job and you can really tell he's going to be a great driver in the years to come. I really want to thank Paul Silva and this 57 team for giving me the chance to drive the car this weekend. I'm going to be heading back next week to join up with the World of Outlaws in the 59 car so I'm pretty excited."
Hanford's Mitchell Faccinto started on the pole of the 30-lapper by way of his first ever KWS Dash win, during what was just his third career start in a Winged 410 Sprint Car. When the green lights waved Faccinto got the jump ahead of Kaeding and would lead the first three circuits, prior to "TK" getting by on lap-four to grab the lead. Kaeding was able to open up a comfortable advantage over the rest of the field and looked to pull away as traffic came into play.
The tight confines of Marysville Raceway Park always make things interesting though for the powerful 410 Sprint Cars and with some choppy areas in spots, it created hectic action through the slower cars. Just past the halfway point Kaeding began to get slowed up by traffic and it allowed Faccinto to close in rapidly. The 22-year-old driver of the Western Metal Company/ TSG Recycling No. 37 mount impressed everyone during the night and on lap 21 brought the crowd to their feet as he drove by Kaeding for the lead.
The two drivers then proceeded to put on a tremendous display of racing, while trading the lead back and forth on the hooked up quarter-mile. The intense battle came to a crawl on lap 25 when the yellow lights flashed on for Fremont's Shane Golobic, who slowed to a stop on the back stretch. The upcoming double file restart saw Kaeding get a great jump, as did Sacramento's Willie Croft, who climbed to second. Kaeding ran a smooth final few circuit's to drive off and scoop up the win in just his second KWS start of the season.
Croft continued his extremely impressive start to the year by bringing home a runner up finish in the Holey Smokes BBQ/ Amerikote No. 29 Sprinter. The veteran driver now sits just 13-markers out of third and 20-points back of second in the KWS standings going into Hanford next weekend. "We've had a lot of speed to start the year and I really had to work for that one tonight. The car has just been phenomenal this season. I can pretty much put it anywhere on the track and that's what you want as a driver. I need to thank all my guys and we're really looking forward to Hanford next week."
Friday night winner Kyle Hirst was also able to get by Faccinto on lap 27 to earn the final spot on the podium at the helm of his Roth Motorsports/ HR Livestock Transportation No. 83jr machine. The defending KWS champ and current point leader has pushed his advantage to a commanding 89-markers with seven events down and 11 remaining. "It's nice to get up here on the podium again for Dennis & Teresa Roth & this whole Roth Motorsports team. I want to congratulate Tim & Willie on great runs as well and we'll now move on to Hanford to try and get another win."
Faccinto crossed the stripe in fourth to earn to his best career King of the West 410 Sprint Car Series finish, while Campbell's Brent Kaeding rounded out the top-five. Princeton's Mason Moore came home sixth. KSE Hard Charger Award winner Jason Statler of Grass Valley charged from 19th to seventh. 17th starter Jonathan Allard of Chico finished eighth, Scotts Valley's Evan Suggs was ninth and 21st starter Sean Becker of Roseville finished 10th.
Rookie driver Jarrett Soares had an impressive drive to win the 12-lap Last Chance Showdown, with Faccinto claiming the six-lap dash. The three 10-lap heat races were captured by Kyle Hirst, Faccinto and Willie Croft. Fair Oak's Chad Compton began the evening by earning his second career King of the West 410 Sprint Car Series fast time award. The 2012 series Rookie of the Year toured the Marysville bullring in 12.278 seconds for the honor in the 25-car field.
Full results from the night can be seen by simply visiting www.kwssprints.com and clicking on the results page.
The King of the West 410 Sprint Car Series will now get set for the prestigious Pombo/Sargent Classic this coming Saturday June 14 at the Kings Speedway in Hanford, California. The event will take place in conjunction with the annual Kings County Fair, so please give yourself plenty of time to arrive at the track. Information on Kings Speedway can be found online at www.kingsspeedway.net
Feature: 1. Tim Kaeding, 2. Willie Croft, 3. Kyle Hirst, 4. Mitchell Faccinto, 5. Brent Kaeding, 6. Mason Moore, 7. Jason Statler, 8. Jonathan Allard, 9. Evan Suggs, 10. Sean Becker, 11. Craig Stidham, 12. Bobby McMahan, 13. Chad Compton, 14. Bud Kaeding, 15. D.J. Netto, 16. Dominic Scelzi, 17. Shane Golobic, 18. Gordon Rodgers, 19. Jarrett Soares, 20. Richard Brace, 21. Mike Mohanhan, 22. Mark Tabor.