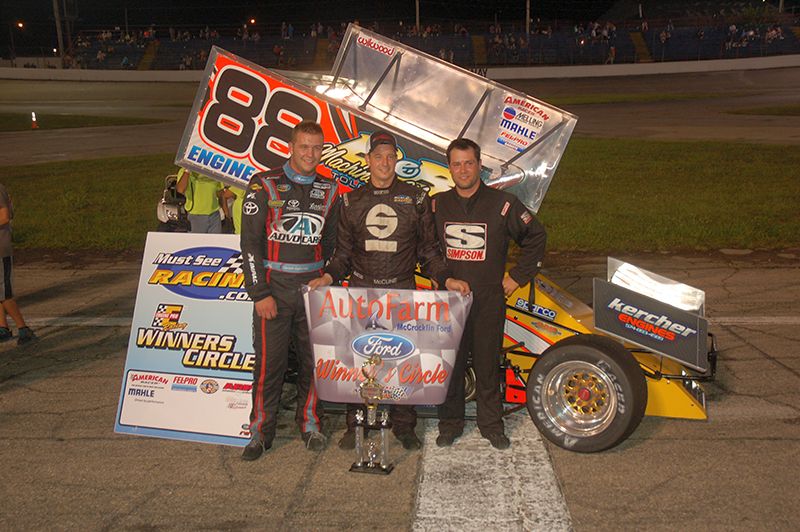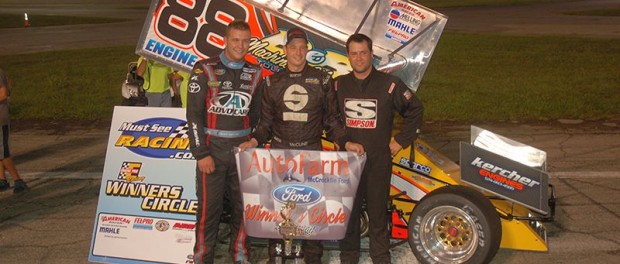 From David Sink
Anderson, IN – (September 5, 2015) – Jimmy McCune captured his third Must See Racing Sprint Series (MSRSS) presented by Engine Pro victory at Anderson Speedway Saturday night. McCune's "Labor Day 100" victory allowed him to complete the Anderson Speedway "Hat Trick" in 2015 by successfully sweeping all the MSRSS appearances at legendary high-banked quarter-mile.
McCune earned the pole position for the 50-lap event by virtue of winning his 25-lap qualifier. Grant Galloway, who also won his qualifying race, started alongside McCune. When the green flag waved, it appeared McCune and Galloway made momentary contact. McCune got the jumped with Galloway close behind. The duo raced through heavy lapped traffic the entire race. Galloway was able to close on McCune several times throughout the event due to lapped traffic, but was never able to get a shot to make a pass for the lead. Galloway was forced to settle for second place followed by Ike Beasley, Anthony McCune, and John Turnbull Jr. rounding out the top five.
McCune, who is having a career year in 2015, picked up his tenth feature victory of 2015 with his "Labor Day 100" victory. "Lapped cars were pretty bad tonight" explained McCune in victory lane. "There were a few times when things got extremely interesting. But it feels good to get the win tonight. I can't explain it. It's just been a heck of a season. We got a couple more to go. We're just gonna go home, regroup, and get this thing ready for two more".
McCune recognized the importance of sweeping the Anderson MSRSS events in 2015."Just to get one here, let alone all three of them; it's a testament to my guys and how hard they work. But you have to have a lot of luck here also. That's one thing about Anderson, you gotta have a ton of luck" concluded McCune.
McCune was also the night's fastest qualifier with a lap of 10.610 seconds.
LABOR DAY 100 OFFICIAL FINISH
1. Jimmy McCune (88) 2.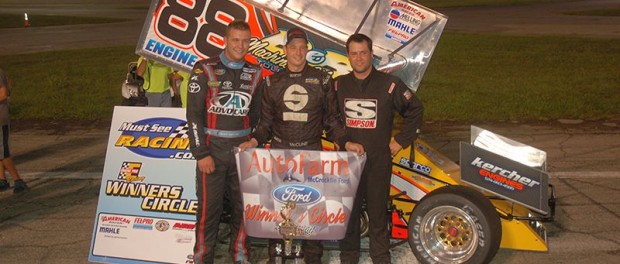 (12p) 3. Ike Beasley (97) 4. Anthony McCune (44) 5. John Turnbull Jr. (12) 6. Brad Wyatt (0w) 7. Don Hamilton (31) 8. Sam Davis (43) 9. Joe Speakman (72s) 10. Christian Koehler (0k) 11. Chris Neusenschwander (10k) 12. Kevin Blue (6) 13. Brian Vaughn (71) 14. Jeff Bloom (26) 15. Ton Neuenschwander (1x) DNS Ron Koehler (10n)