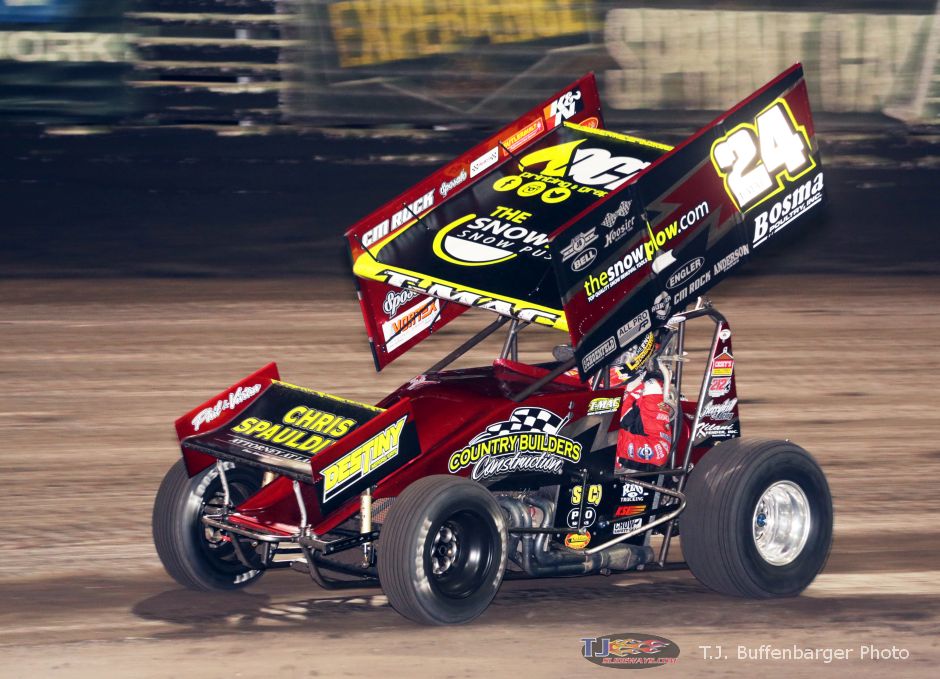 By Bill W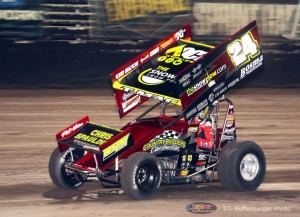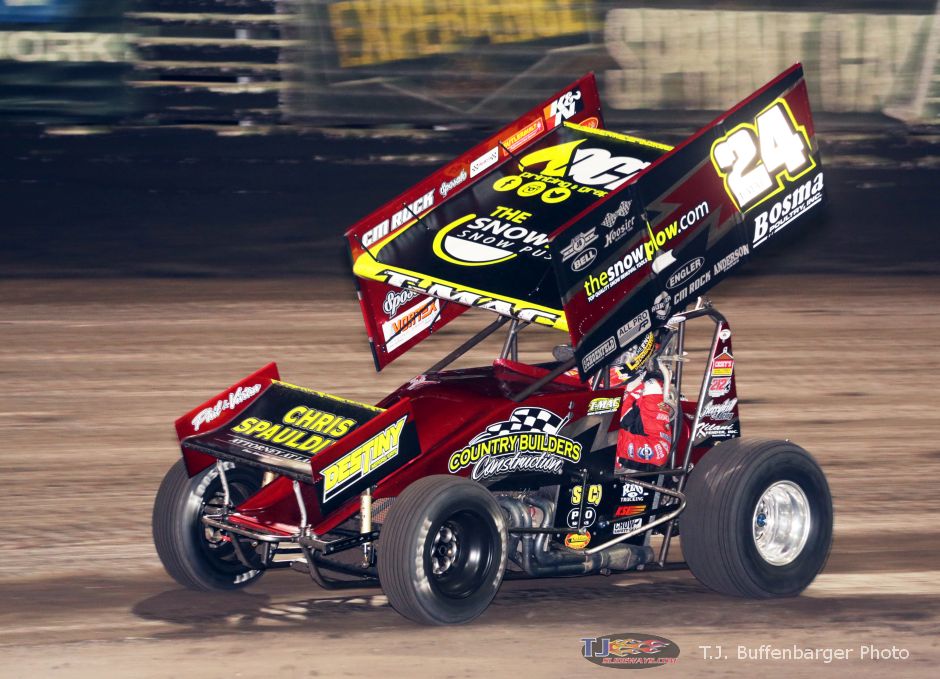 February 23, 2016 – Ten years after claiming the Ronald Laney "King of the 360's" at East Bay Raceway Park near Tampa, Florida, sprint car veteran, Terry McCarl, did it again last weekend. The $10,000 triumph was a good way to cap off a weekend that also saw him win Friday's prelim. This weekend, Texas action with the World of Outlaws will see the Altoona, Iowa driver at Cotton Bowl Speedway near Paige on Friday, and Royal Purple Raceway near Baytown on Saturday.
Things started slow for TMAC at East Bay on Thursday. "We drew like 46 out of 50 and we started towards the back of the heat," he says. "Someone didn't make the call, and that put Mark Smith and Thomas Kennedy in the front row. With two great guys like that in front, it made it difficult. We did the best we could and ran third."
It wasn't enough to qualify for the 20-car feature, so he would start on the pole of the B. "I thought we were o.k.," says TMAC. "I put an old tire on and we tried some different things. I'll tell you what, we got smoked! That's what I love about East Bay. It can be really tricky. I put the wing back and went up top. We were way too tight. I thought we were headed into the fence."
TMAC almost slipped out of a transfer spot. "We dropped back to fourth, and actually, Parker Price-Miller slid me for the fourth and final transfer coming to checkered," he says. "He put a great slider on us. I had to turn back under him to get the spot back. You're so excited when that happens that you just want to flat-foot the thing. You can't though. You have to run the throttle, and we found some moisture down low and beat him to the flagstand by about a foot."
The lessons learned in the B would help TMAC go from 20th to sixth in Thursday's main event. "We learned a lot for the rest of the weekend from that B," he says. "We started twentieth in the feature and came through them there. I was able to get up and battle Tim Shaffer and Seth Bergman, and we ran sixth. I thought that was great after almost missing the transfer in the B."
He would dominate the rest of the weekend, starting with Saturday's heat. "We went back to a basic setup for East Bay," says TMAC. "I've loved the place since we drove for Bob Weikert there back in the day. I started the heat Friday on the front row with Parker. We were able to win by a half lap, so that shows how far we had come since Thursday's B."
TMAC would start fifth in Friday's feature. "The track was awesome," he says. "You could run anywhere. Al (Varnadore) and his guys did a great job with the track. We were able to get up to second pretty fast. We were able to get by Tim Shaffer with about ten laps down. We were gone from there. A lot was our setup, but a lot was the track conditions themselves. I really looked forward to traffic. The car was working so well. The win put us in the redraw for Saturday, which is where you want to be."
With six drivers locked in for Saturday's $10,000 to win finale, he would draw a starting spot inside row three. "You're always concerned with the caliber of drivers you have there, especially when you draw behind them," says TMAC. "Chad Kemenah was up front with Danny Martin Jr., who was really fast there. We were able to get to third right away though, and then we got by Danny for second."
TMAC set his sights on the multi-time All Star champion. "I think it was about lap twelve when we got Chad," he says. "The track was so good again, that I didn't know exactly where to run. The car felt great on the bottom, in the middle and on top. I moved to the top and it got to where it was a little far around and we got loose. Chad got back to us and showed me his nose. There were only about five laps to go, and I didn't want to lose the thing that way. That got me fired up and I put the pedal to the metal."
He would race on to another win at East Bay. "It was exciting," says TMAC. "Races like that, I call 't-shirt races'. To win in the memory of Ronald Laney is a real honor. I'm happy they continue to honor him with that race. The night he won that race, I think he wore the crown all the way back to Texas. I always think about that when we're down there."
TMAC is especially thankful for his power plant built by Jaymie Moyle and supplied by Don Long of Searsboro Telephone Company. "I can't say enough about Jaymie Moyle and Don Long," he says. "Being able to put this deal together has been awesome for everyone. We've run this motor eleven times and won five of those races. Randy and Sheila Burnett from Burnett Rock and Landscaping have been friends of mine for twenty years. They always help us down there. Zac and Angie Creel with Dynasty Stucco helped us out again this year. Myers International Midways and Morgan Strawberry Farms are like family down there every year as well. We have a great time down there."
McCarl Family Websites!
Driverwebsites.com develops the websites for the McCarl boys. Check out www.TerryMcCarl.com, as well as www.AustinMcCarl.com and www.CarsonMcCarl.com!
This Month in TMAC History!
TMAC conquered the East Bay Winter Nationals on February 4, 2006 copping $10,000. Similar to this year's event, he made a move with seven laps to go in the 410 event on race-long leader Chad Kemenah. He added a $5,000 bonus for winning two of the three 360 and 410 features at East Bay that season. Track owners Al Varnadore and Todd Hutto heaved TMAC in the lake in celebration. He took them in with him in retaliation. Behind Kemenah's second place finish came Danny Lasoski, Greg Hodnett and Jason Sides.
"Tuesdays with TMAC"!
"Tuesdays with TMAC" is an up close and personal look at colorful sprint car veteran Terry McCarl. To receive "Tuesdays with TMAC", send an e-mail to sprntcar@hotmail.com with "TMAC" in the subject line.
TMAC Motorsports would like to thank sponsors SnowPlow Snow Pushers – www.TheSnowPlow.com, Country Builders Construction, Rossie Feed and Grain, Bosma Poultry, Destiny Motorsports, Searsboro Telephone Company, Elk Grove Ford, A.R.T. Speed Equipment, Berryhill Racing, Phil and Vivian, Justice Brothers/Gillund Enterprises, Vortex Racing, Hoosier Tire, Chris Spaulding – Attorney at Law, SuperFlow, Schoenfeld Headers, Rens Trucking, NutriShop – Maple Grove, MN, HRP, All Pro Cylinder Heads, Maxim Chassis, Bob and Beulah Elder, Engler Injection, Snap On Tools, Sposato Paint, Winters, Kilani Fender, Inc., DriverWebsites.com, CM Rock, Brown and Miller, Pro Shocks, Ben Cook, Bell Helmets, Burnett's Rock and Landscaping, Octane Ink, Morgan Strawberry Farms, Dynasty Stucco, Aurora Rod Ends, Crow Safety, KSE Steering, Snyder Lawn & Landscaping, Strange Performance, Saldana Racing Products, Scribner Plastics, Waterman Fuel Pumps, Butlerbuilt and Mote Fasteners.