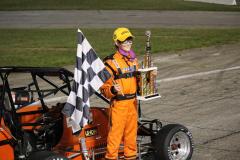 By Ken de la Bastide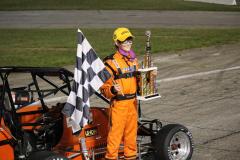 ANDERSON – After knocking on the door all season at Anderson Speedway Ohio teenager Trey Osborne had a night he won't forgot by scoring his first career feature win with the Kenyon Midgets.
During the year Osborne has recorded two runner-up finishes and a third place showing in four previous visits at the high banked quarter-mile oval.
On Murat Shrine Night at the Races just about everything went right for Osborne, only lacking a heat race win to record a clean sweep of Kenyon Midget honors.
Osborne set fast time during qualifications and started in the feature sixth following the invert.
Logan Huggler grabbed the lead at the start chased by brother, Ryan, Osborne, Tommy Kouns and Alexandria's Clayton Gaines.
By the third circuit Osborne was in the lead with Ryan Huggler glued to his rear bumper.
For the remaining 27 laps Huggler kept the pressure on Osborne, several times giving the leader a nudge in the corner.
Following the second caution period when point leader Dameron Taylor spun, Gaines used the outside groove to move around Logan Huggler and started closing on the leaders. Gaines attempted to gain a second win at Anderson Speedway but could never get around Ryan Huggler.
Osborne won by a half-second over Ryan Huggler with Gaines, Logan Huggler and Kouns rounding out the top five.
"This is awesome," a smiling Osborne said after exciting his car following the victory. "Ryan gave me a nudge a couple of times to let me know he was there. I just focused on running on the bottom."
Logan Huggler won a heat race at Anderson Speedway for the third time this season.
Huggler grabbed the lead at the start chased by rookie Chase Jones, looking for a third consecutive feature win. But Jones got high in turn three which allowed Ryan Huggler and Osborne to slip past.
That was the way they finished with Ashlea Albertson rounding out the top five.
Alexandria driver Clayton Gaines took the lead from Alan Edsall on the fifth lap with an inside pass coming off the fourth corner.
From there Gaines held off Taylor, Kouns, Edsall and Cole Christy.