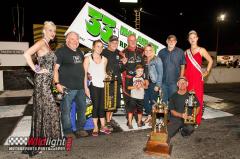 By Ben Deatherage
Victoria, British Columbia- The Royal Purple NSRA Series would be back in action on Saturday, August 13th for the second and final night of the 2016 P&R Truck Centres Daffodil Cup in Victoria, British Columbia, Canada. After an incredible first night the prestigious event, dating back to the 1960's, would come down to Saturday night at Western Speedway. The majority of the field would represent the province of British Columbia, while drivers from the American states of Washington and Oregon were also on hand.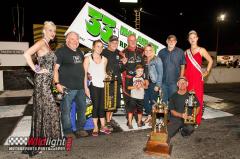 Starting on the outside pole Jeff Montgomery would get to the front at the drop of the green flag. Montgomery, out of Langford, would have no issues whatsoever once he obtained the position. A caution midway through the main event would eliminate lapped traffic from the equation. After the restart, Jeff Montgomery would stay in front the entire distance to earn his second win of the season with the Royal Purple NSRA Series. It would the fourth time in his decorated career that he has won the Daffodil Cup and the first time since 2006.
Randy DuBois, from Poulsbo, Washington, got second followed by Cobble Hill's Robbie Price, driving for Rod Rendle, grabbing third in the closing laps. Defending series champion, Matt Hein of Roseburg, Oregon, crossed the line in fourth while Winston, Oregon youngster Kyle Alberding was an impressive fifth.
Randy DuBois was the quickest car during time trials while Jeff Montgomery emerged triumphantly during the evening's trophy dash. Heat race winners were Veneta, Oregon's Mitch Holte and Mike Haslam of Victoria.
The Royal Purple NSRA Sprint Series has just one more weekend left of the 2016 season. The final two nights of racing will take place at Idaho's Meridian Speedway on September 16th and 17th. Once the dust has settled on the final evening the 2016 Royal Purple NSRA Series champion will be crowned.
Be sure and stay up to date with the Royal Purple NSRA Sprint Series by visiting the series website at www.nsraracing.com. Also, check out the official Facebook page and click "Like" to follow the tour via your favorite electronic devices.
Royal Purple is the proud title sponsor of the NSRA Pavement Sprint Car Series. Royal Purple manufactures high-performance lubricants for most automotive, industrial, marine, motorcycle and racing applications. It is considered the best synthetic motor oil by many end users. For more information or to find a store that carries these wonderful products log on to www.royalpurpleconsumer.com.
Race Summary:
Royal Purple NSRA Sprint Series Race #9
Saturday, August 13th, 2016
Western Speedway
Victoria, British Columbia
A Feature: 1. 33J-Jeff Montgomery; 2. 7-Randy Dubois; 3. 14-Robbie Price; 4. 98H-Matt Hein; 5. 33-Kyle Alberding; 6. 91-Darren Yates; 7. 32-Mitch Holte; 8. 34-Matt Verhagen; 9. 59-Mike Haslam; 10. 66-Kyle Vantreight
Dash: 1. 33J-Jeff Montgomery; 2. 33-Kyle Alberding; 3. 7-Randy Dubois; 4. 14-Robbie Price
Heat 1: 1. 32-Mitch Holte; 2. 33-Kyle Alberding; 3. 91-Darren Yates; 4. 14-Robbie Price; 5. 34-Matt Verhagen
Heat 2: 1. 59-Mike Haslam; 2. 33J-Jeff Montgomery; 3. 98H-Matt Hein; 4. 66-Kyle Vantreight; 5. 7-Randy Dubois
Qualifying: 1. 7-Randy Dubois; 2. 14-Robbie Price; 3. 33J-Jeff Montgomery; 4. 33-Kyle Alberding; 5. 98H-Matt Hein; 6. 91-Darren Yates; 7. 66-Kyle Vantreight; 8. 32-Mitch Holte; 9. 59-Mike Haslam; 10. 34-Matt Verhagen