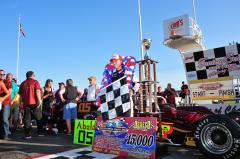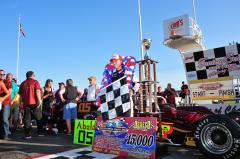 By Dan Kapuscinski
OSWEGO, NY (September 4, 2016) – Sunday's finish of the 60th annual Budweiser International Classic 200 at Oswego Speedway was fitting of an anniversary special as Jeff Abold pounced on a fuel starved Dave Shullick Jr. with one lap remaining and held off a hard charging Michael Barnes to claim the biggest win of his career, worth $15,000.
Abold, who had fallen to as far as 14th position in the field, made a late race rally to pull into the runner-up spot at lap 184, putting himself in prime position to take advantage of Shullick who began to sputter out of fuel on lap 198.
Using the outside of the Speedway, Abold stole the lead out of turn two on the final circuit, holding off Speedway champion Michael Barnes into turn three to speed away to his second career Oswego Speedway win and his first Budweiser International Classic 200 victory.
"My family has been coming here for a lot of years," said Abold, in Turning Stone Resort Casino Victory Lane.  "I saw a blue car slowing down and there are so many of them I wasn't sure who it was, but I figured it out and just did what I had to on the final lap.  This is something you dream about doing your entire life.  This won't sink in until next year's Classic."
Barnes finished a mere half second behind Abold at the finish to earn the A.J. Michaels Runner-Up Award while Otto Sitterly, Shullick, and Davey Hamilton Sr. finished the top five positions.
Pole sitter Mike Muldoon earned sixth with Dave Gruel, Dave Danzer, Joe Gosek, and Brandon Bellinger in the top ten spots.
Sixth place starter Keith Shampine led some 129 laps after passing early leader Pat Lavery on lap 15.  Shampine, who appeared to have the car to beat for much of the event would succumb to fuel pickup issues at lap 144, giving way to Shullick.
Once Shullick took command at lap 145 he carried a healthy lead over teammate Sitterly before both Barnes and the charging Abold slid to second and third at lap 180.
Abold would then snag the runner-up spot from a slipping Barnes at lap 184, but did not have enough time to track down leader Shullick out front.
That was until fuel gremlins bit Shullick, who was looking to be the first Ohio driver to win the Classic since Gary Allbritain in 1975.
A total of 37 Novelis Supermodifieds attempted to make the 34-car 60th Classic field.
For more information on Oswego Speedway and Budweiser International Classic Weekend visit online at www.oswegospeedway.com or LIKE on Facebook at www.facebook.com/OswegoSpeedway or FOLLOW on Twitter @OswegoSpeedway.  Those interested in Speedway video programming online can subscribe to the Speedway's YouTube Channel, 'OswegoSpeedwayOnline'.
60th Budweiser International Classic Weekend
Oswego Speedway – NY
Sunday, September 4 – 2016
Novelis Supermodifieds
60th Annual Budweiser International Classic (200-laps): 1. 05-Jeff Abold ($15,000) 2. 68-Michael Barnes 3. 7-Otto Sitterly 4. 2-Dave Shullick Jr. 5. 6-Davey Hamilton 6. 15-Michael Muldoon 7. 50-David Gruel 8. 52-Dave Danzer 9. 00-Joe Gosek 10. 02-Brandon Bellinger 11. 0-Tim Snyder 12. 51 – Joey Moriarty 13. 5-Tim Devendorf 14. 12-Pat Lavery 15. 47-Bob Bond 16. 35 Bobby Magner 17. 55-Keith Shampine 18. 14-Davey Hamilton Jr. 19. 91-Cody Graham 20. 21-Bobby Santos 21. 1 Shawn Muldoon 22. 11-Aric Iosue 23. 79-Brian Sobus 24. 24-Jerry Curran 25. 83-Lou LeVea Jr. 26. 72-Timmy Jedrzejek 27. 99-Joey Payne 28.44-Chris Perley 29. 92-Ron Silk 30. 56 Hal LaTulip 31. 01-Dan Connors 32. 88-Ryan Litt 33. 89-Todd Stowell 34. 70-Dave McKnight
Total Seal Rookie of the Race: 14-Davey Hamilton Jr.
Total Seal Hard Charger: 0-Tim Synder
Total Seal Hard Luck: 72-Tim Jedrzejek
Classic Can- Am Camping Group Last Car Running 14-Davey Hamilton Jr.
Classic Can-Am Camping Group Highest Canadian: 88-Ryan Litt
Insinger Performance Halfway Bonus: 55-Keith Shampine
Total Seal Semi 1 (15-laps): 1. 44-Chris Perley($500) 2. 01-Dan Connors 3. 0-Tim Snyder 4. 79-Brian Sobus 5. 1-Shawn Muldoon 6. 24-Jerry Curran 7. 96-Lou LeVea Sr. 8. 56-Hal LaTulip
Total Seal Semi 2 (15-Laps): 1. 70-Dave McKnight($500) 2. 21-Bobby Santos 3. 88-Ryan Litt 4. 99-Joey Payne 5. 89-Todd Stowell 6. 35-Bobby Magner 7. 83-Lou LeVea Jr.
Pathfinder Bank SBS
25th Annual Bud Light SBS Classic (75-Laps): 1. 74-Mike Bond($2200) 2. 13-Russ Brown 3. 7-Alex Hoag 4. 22-Mike Bruce 5. 01-Dalton Doyle 6. 1-Anthony Losurdo 7. 54-Cameron Proud 8. 98-Jason Simmons 9. 91 Barry Kingsley 10. 88-Brad Haynes 11. 87 Matt Magner 12. 04-Kreig Heroth 13. 77-Cameron Rowe 14. 90-Greg O'Connor 15. 47-John Tesoriero 16. 14-Alex McRae 17. 8-Josh Kerr 18. 93-Tyler Thompson 19. 9-Jack Patrick 20. 86-Bryan Haynes 21. 23-Cameron Black 22. 99-Dennis Ruppert 23. 37-Jesse Bearup 24. 18-Andrew Schartner 25. 76-Scott Schafer 26. 69-Mark Castiglia 27. 15 James Babcock
Mike Kapuscinski Memorial Rookie of the Race: 93 Tyler Thompson
Classic Can-Am Camping Group Last Car Running: 23 Cameron Black
SBS Consi (12-Laps 6 Qualify): 1. 86-Bryan Haynes 2. 8-Josh Kerr 3. 90-Greg O'Connor 4. 99 Dennis Ruppert 5. 47 John Tesoriero 6. 69-Mark Castiglia 7. 93-Tyler Thompson 8. 15-James Babcock
About Oswego Speedway: Oswego Speedway, a sports entertainment company, is a 5/8 mile
semi-banked pavement racing oval located off the shores of Lake Ontario in scenic Oswego, NY. Oswego Speedway has been a continuously run weekly racing venue since August, 1951. The premier open-wheel pavement short track cars in the world, Supermodifieds, run weekly at Oswego Speedway making Oswego the only weekly Supermodified racing venue in the world. The Small Block Supermodifieds accompany the full blown Supers on a weekly Saturday night schedule which runs from May through September. Oswego Speedway is mentioned in racing circles as the "Indy of the East," as no fewer than a dozen past and present competitors have competed at the famed Indianapolis Motor Speedway including Mario Andretti, arguably the greatest driver of all time, two-time Indy 500 champion Gordon Johncock, along with former International Classic Champions Bentley Warren, Joe Gosek, and Davey Hamilton.