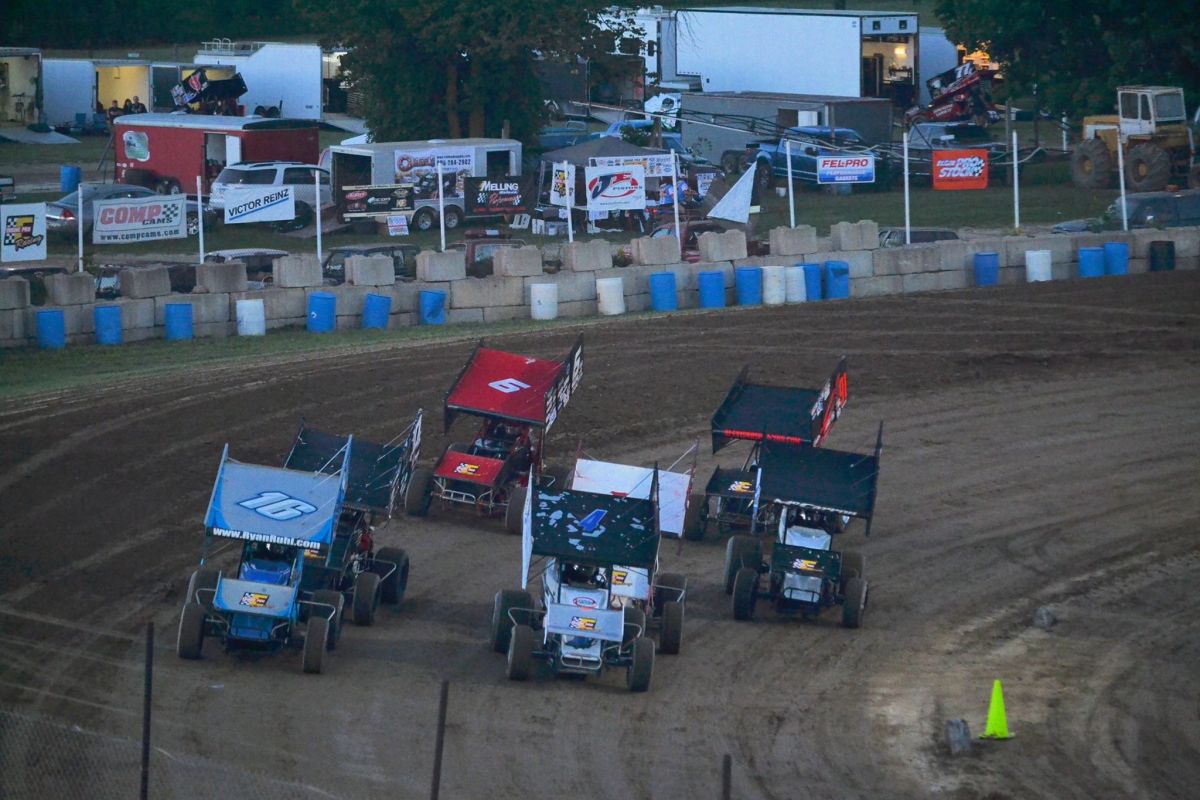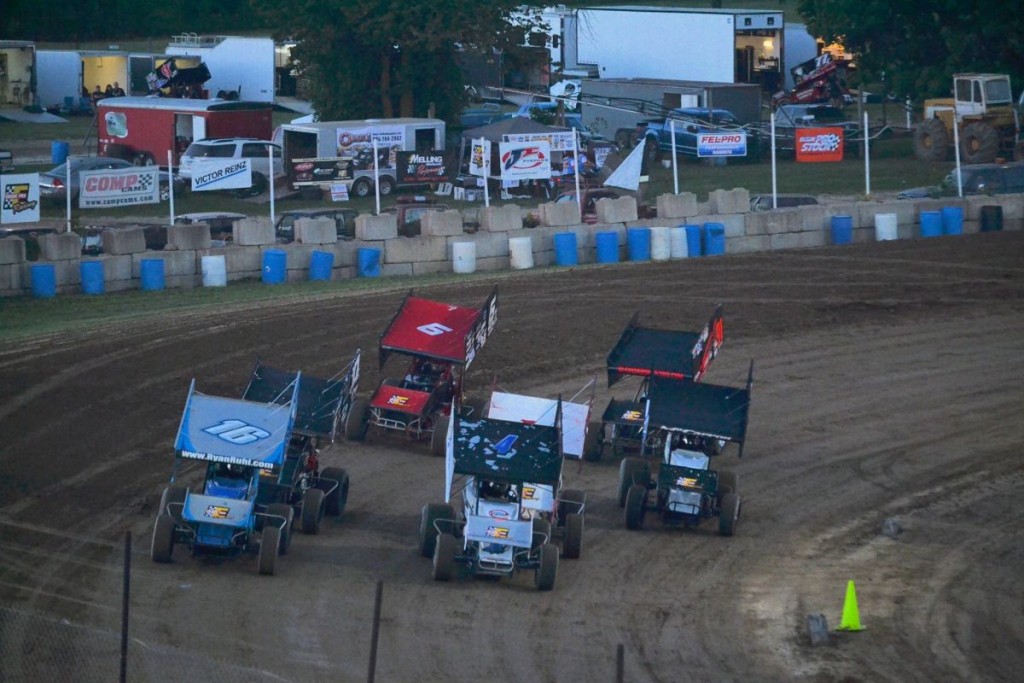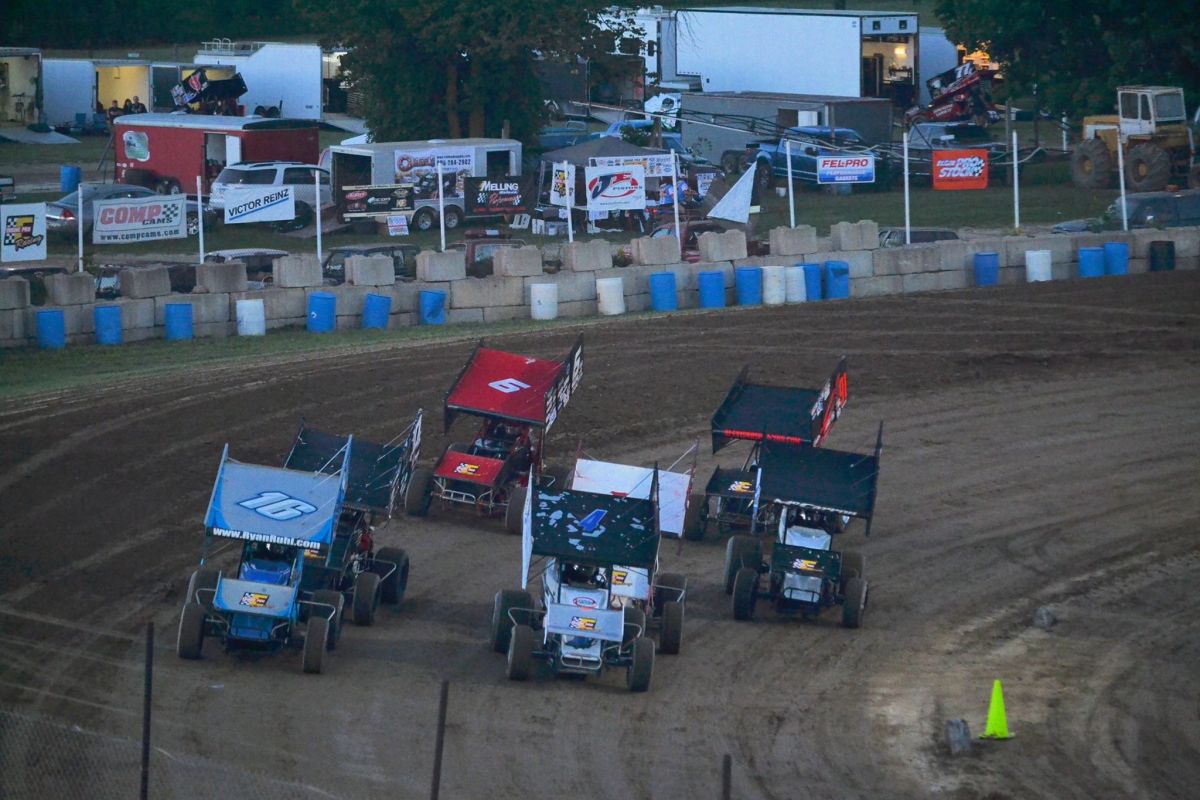 By T.J. Buffenbarger
Michigan Sprint Car Racing and Crystal Motor Speedway during holiday weekends is a tradition. Open wheel cars have stopped at Crystal on Memorial and Labor Day weekends as long as I can remember. No matter if I'm going up M66 or the trip I make now going over on M57 it just feels right going to Crystal to see sprint cars on a holiday weekend.
I am not the only one based on the exodus from the grandstands following the sprint car feature. It still astounding to me how efficient Crystal has become. Today Crystal runs off races featuring 120+ cars in the pit area like clockwork. Saturday's sprint car feature was done before 11:00 P.M.
Racing is still fun at Crystal. The safety crew carves funny messages while striping the fence for drivers to see, a fountain now adorns the infield pond shooting water 30 feet in the air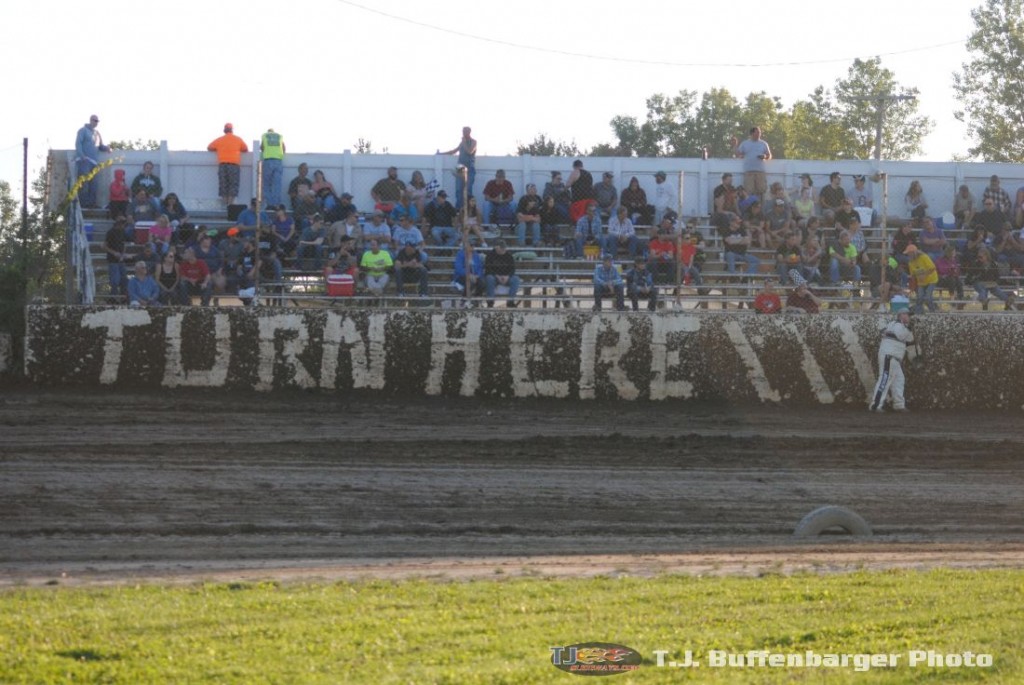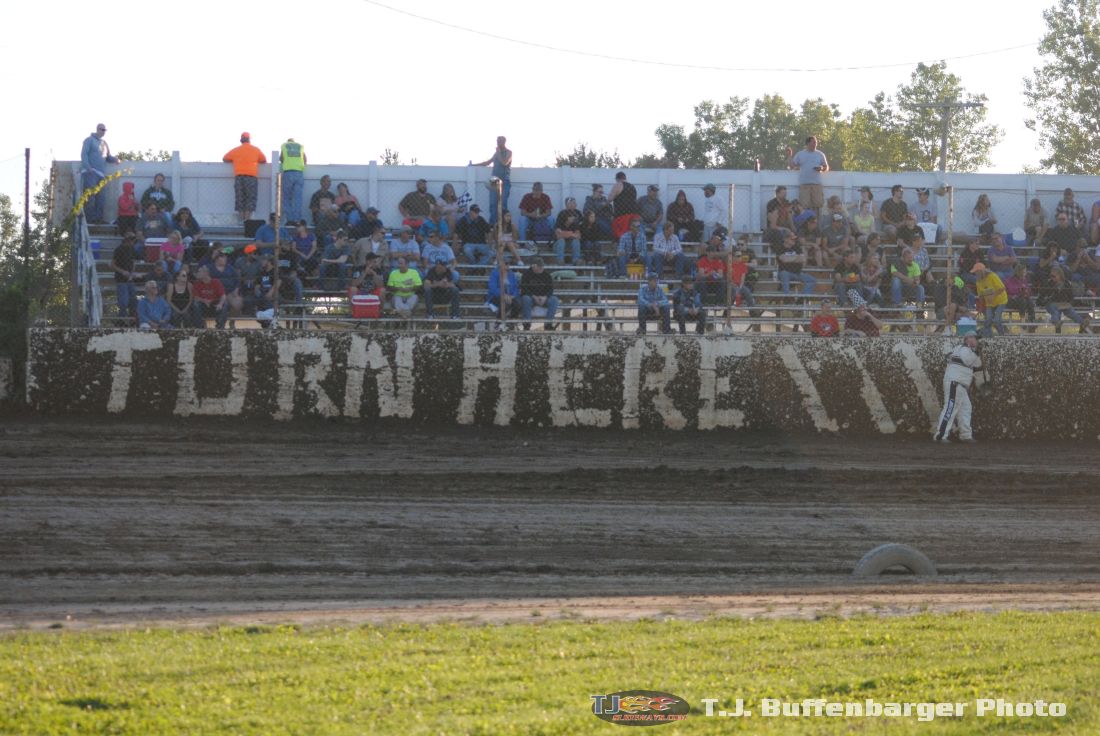 Talking with Crystal's eccentric promoter Ron Flinn the beautiful weather Saturday was a welcome relief as the track has seven cancellations in 2016 including the first "heat out" anyone could recall at Crystal.
While Ron and his staff have made some facility improvements with restrooms, grandstands, and a new scoring tower the thing most noticeable to me over the past 4-5 years is how much better the racing surface has been during sprint car events. Crystal has always had a smooth racing surface, but it seems to hold more moisture over the past couple of years and even has kept a nice cushion through turns one and two on the past few visits.
The latest upgrade at Crystal is new LED Lights. This was the first time I witnessed a track illuminated by LEDs. The most noticeable feature of the LED lights was seeing them turn on at full power instantly compared to most track lights that take time to warm up before reaching their potential. This was particularly useful after the traditional holiday fireworks display when racing was able to start up immediately after the pyrotechnics.
Going to some of the biggest sprint car races in the world to cover them is a wonderful part of this gig, but there is something about going to Crystal that feels like putting on a comfortable old pair of shoes. Thinking back, I've likely been watching sprint car races from there longer than any other track. Though I haven't always been on board I think the way things are run today at Crystal makes for a pretty enjoyable experience. More than likely at the end of April I'll be back to see the first Michigan sprint car race of the year at Crystal.
Notes:
The first season of the Engine Pro Sprints on Dirt presented by ARP featuring no engine or weight restrictions along with a smaller tire is complete. Based on discussion with a variety of teams with different engine combinations the smaller tire seemed to make the most difference in leveling the playing field with the 360's and the older style -12 headed 410 engines. On the smaller tracks the results were about the same for some of the higher end Ohio 305 sprint car engines as they were with the 360 formula.
Fremont, Ohio Brian Smith secured the 2016 SOD championship and rookie of the year honors. It was obvious after running into Brian as soon as I stepped on the grounds that he was extremely nervous even though all he needed to do was start the A-Main to win the championship.

While Smith took official rookie of the year honors SOD will recognize a rookie of the year that is new to sprint car racing as a whole. This year that driver is Traverse City area resident Justin Ward. After years in the lightning sprints Ward moved up to full size sprints this season.

The championship was Smith's first along with picking up series Rookie of the Year honors. For his small, family owned team in the heart of one of the most vibrant sprint car scenes in the country running the SOD tour this season was a chance to travel and have a change of scenery.
Steve Irwin came in with a mathematical chance of winning the championship and came out with guns blazing from hot laps to the main event. Irwin's # place finish in the feature secured his second place position in the point standings. Irwin indicated Crystal ended his team's winged racing season as they got back to focusing on non-wing racing the remainder of the season.
Feature winner Ryan Ruhl started and ended the Sprints on Dirt season in victory lane, but in between was a rough spell of several crashes that put Ruhl's family operation behind. After losing some funding from Dale Motorsports during the off season the rough patch stung particularly financially and mentally after Ruhl's two best seasons of his ten-year career. After some time off to regroup Ruhl and his team appear to be going forward again leading into the Canadian Nationals at Ohsweken Speedway.
Chad Blonde made the SOD weekend his first appearance since Memorial Day weekend with his own team. Blonde lost a motor the first weekend his new team was out and was not able to acquire a new engine until last week. Blonde made the most of his SOD debut with a win at Hartford and second place at Crystal. Much like he did at Hartford Blonde worked his way through the field at Crystal only to run out of laps to catch Ryan Ruhl.

"We just ran out of laps. Starting so far back, that didn't help out much. We had to start passing cars right from the get go," said Blonde. "It was kind of tough getting through everything.

Blonde indicates his next starts will be at Hartford Motor Speedway with the World of Outlaws and All Star Circuit of Champions dates at Eldora Speedway during the 4-Crown Nationals and Sprintacular in October.
Another driver looking to head south to finish the year is Jay Steinebach. After struggling to fine tune his engine Steinebach hit on something Friday and Hartford and felt like the team was going forward. Steinebach will also take part in the Spritnacular at Eldora, but is unsure if they will compete in the winged or non-winged portion of the program.
Tyler Fitzpatrick was a new face to the SOD pit area taking part in his first weekend of sprint car racing. Fitzpatrick made the tow up from Indiana with his Ford powered car to run Hartford and Crystal after getting previous experience in modifieds and micro sprints. Unfortunately, Fitzpatrick's night was cut short at Crystal after the drive line broke in hot laps and the team was unable to make repairs.
Six Nations, Ontario resident Alex Hill made her second start of the year with the Sprints on Dirt at Crystal Motor Speedway. In honor of her team's presence Crystal officials broke out the Canadian National Anthem in pre-race ceremonies.
Dan McCarron made his 410 sprint car debut on Friday night at Attica Raceway Park before making his way up to Crystal on Saturday with his 305 engine. McCarron rented an engine for Friday's program to gain experience with the larger motor in case the team were to move up to that division in the next couple of seasons. Saturday McCarron scored another top five finish with his 305 against 360 and 410 competitions.
John Gall completed his first full season of SOD in several years, but it was not easy. Several tore up race cars including one that was a complete loss in a wild three car accident at I-96 Speedway hampered his season. Gall finished the year at Crystal with a car he indicated was bent, hoping to get through the night to finish out the year.
Another driver finishing up her first season of full size sprint car racing is Lexi Adgate. Another graduate from the Micro Sprints, Adgate missed Saturday's feature but her presence was still significant. Racing Awareness, a Michigan charity that supports Helen DeVos Children's Hospital in Grand Rapids, Michigan was involved in the program. Adgate was one of the first children that benefited from the program while she was younger. In honor of the great work Racing Awareness does Adgate paced the parade lap before Saturday's A-Main.