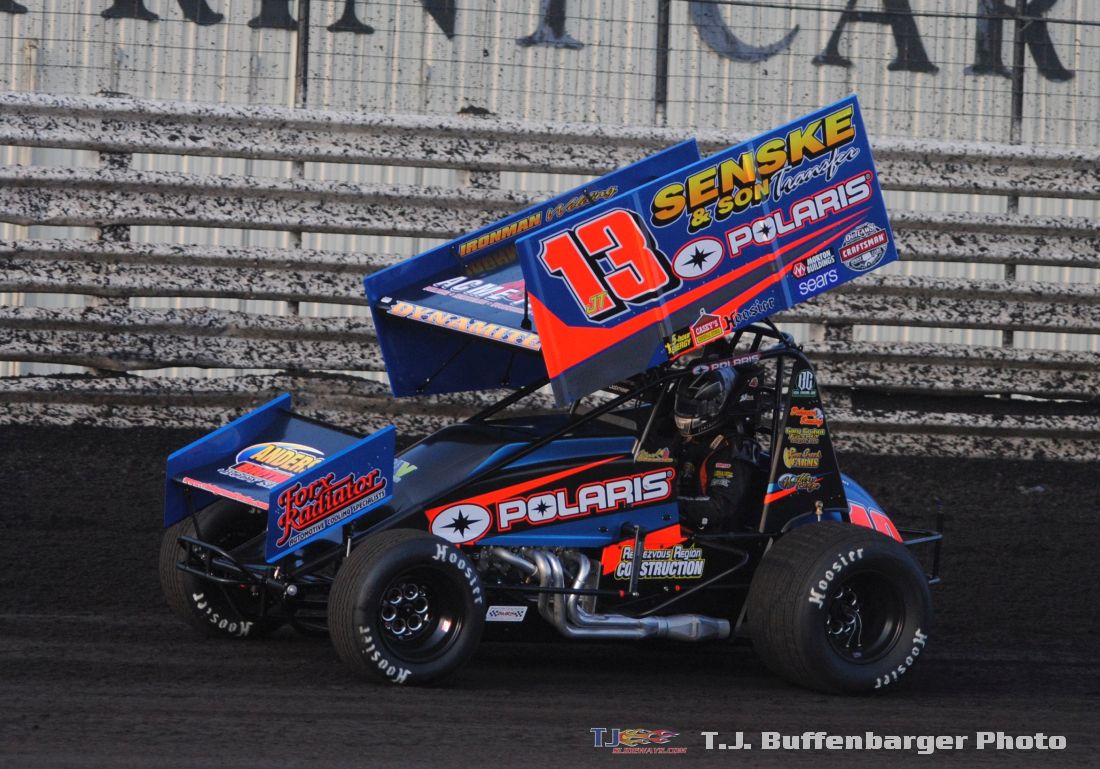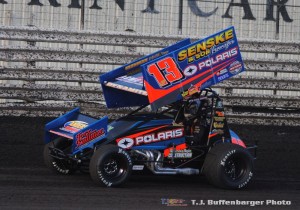 By Bill W
September 21, 2016 – Mark Dobmeier and the Jimco Racing/Polaris #13 team capped an outstanding 2016 race season by winning last Friday night's event at River Cities Speedway in Grand Forks, North Dakota. The win was the Grand Forks native's 124th at River Cities and the team's thirteenth victory of the season. Cars are already being assembled for the 2017 campaign.
Weather played a factor on Friday. "We weren't so sure we were going to get the races in," says Mark. "The weather was overcast all day, and they were hem-hawing about whether they were going to race. They ran a couple of heats, and there was a big rain delay. Everyone thought they were going to cancel, but they stayed on with it."
Mark readied for his heat. "They lined everyone up by points, so we lined up on the front row outside of the first heat," he says. "I started next to Casey Mack, and led the whole thing. It had to be the fastest heat ever in Grand Forks. It was an extremely smooth and extremely tacky track. Eight of the ten laps were in the nine second bracket. The only two that weren't, we were lapping a car and they were in the low ten second range. It felt as fast as you can go on that racetrack. A lot of us were in awe."
Winning the first heat put Mark on the pole of the feature. "It was still a very fast track," he says. "It slowed down slightly, but the laps were still in the ten second range for the feature. We led it for a while, and Austin Pierce got by us with a slide job on a restart."
He would battle back though. "I had passed him back, and the yellow came out," says Mark. "He got his spot back and picked the outside line for the restart. I was able to slip by him on the bottom. He tried one more attempt on a slide job, but we were able to hold on."
Mark and the team were happy with the way the season concluded. "It was a great night to finish the season up," he says. "It was good to finish strong with a couple more wins. It was a good cherry to put on top of a great season."
Unfortunately, the weekend ended in tragedy with the loss of fellow competitor, Cory Mack. "Everybody's heart is broken over that deal," says Mark. "Cory was a hell of a racecar driver, one of the up-and-comers. He drove the wheels off it. He's going to be missed by everyone around here. He had a good spirit about him. He always had a smile at the track."
About Polaris…
Polaris Industries Inc. (NYSE: PII) is a global powersports leader with annual 2015 sales of $4.7 billion. Polaris fuels the passion of riders, workers, and outdoor enthusiasts with our RANGER®, RZR® and POLARIS GENERAL™ side-by-side off-road vehicles; our SPORTSMAN® and POLARIS ACE® all-terrain off-road vehicles; VICTORY® and INDIAN MOTORCYCLE® midsize and heavyweight motorcycles; SLINGSHOT® moto-roadsters; and Polaris RMK®, INDY®, SWITCHBACK®, and RUSH® snowmobiles. Polaris enhances the riding experience with parts, garments, and accessories sold under multiple recognizable brands, and has a growing presence in adjacent markets globally with products including military and commercial off-road vehicles, quadricycles, and electric vehicles. www.polaris.com
Follow Jimco Motorsports and Mark Dobmeier Racing on Facebook…
https://www.facebook.com/Mark-Dobmeier-Racing-329718337235441/?fref=ts
Jimco Motorsports would like to thank Polaris, Senske & Son Transfer, Big Trucks by Jimco, Right Choice Electric, Acme Tools, Interstate Towing & Recovery, Kyllo Trucking, B/L Strong Box, Steffes, Dahlstrom Motors, GLB Transport, Tireboss, Forx Radiator, Anderson Auto Body, Gary Gruhot Farms, Willow Ridge, Rose Creek, Herberg Custom Harvesting, Great Plains Plumbing & Heating, Ironman Welding, DAV, Rendezvous Region Construction, High Mark Snowmobile Rentals, Boss Signs & Graphics and Dobmeier Bonding for all their help!