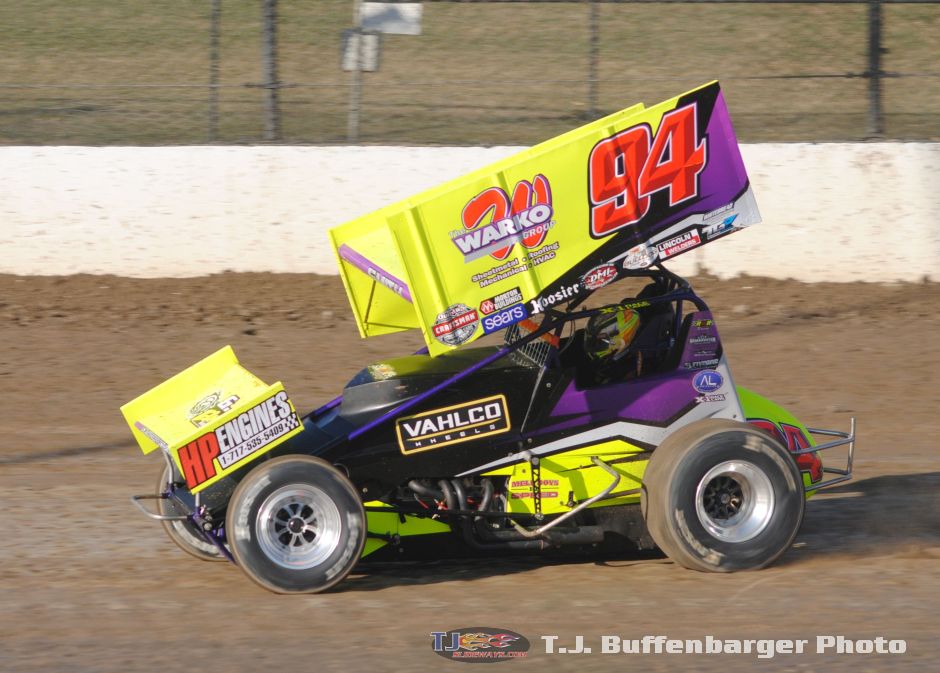 Inside Line Promotions
SELINSGROVE, Pa. (Sept. 21, 2016) – Ryan Smith had tried just about everything to drive into Victory Lane in 2016. However, it was a 3-year-old chassis that finally got Smith that win.
Smith relied on the comfortable ride as he led all 25 laps last Friday at Williams Grove Speedway in Mechanicsburg, Pa., where his first win of the season was the first of his career at the famed half-mile oval.
"I got a great start and drove from fourth to the lead in turns three and four," he said. "Honestly, for the last month and half we been fighting ill handling race cars. We put this old car back together and for the first time all year when we made adjustments we had a car that reacted. We just went back to the basics."
Smith, who opened the night by placing third in a heat race, had to withstand a restart on Lap 12, but he ran the middle of the track to perfection for the monumental victory.
He followed that winning performance with a third-place run at Selinsgrove Speedway on Saturday during the Jim Nace Memorial.
"We qualified fourth quick and put old tires on in the heat because we only had to finish in the top six to get our time back for the feature," he said. "In the feature we started fourth and got to third. Lucas (Wolfe) set fast time and was just gone. He set a new track record in the feature (30 laps in 9:21.30)."
Smith plans to race this Thursday at Susquehanna Speedway Park in York Haven, Pa., for the Justin Snyder Salute to the Troops followed by a last tune-up Friday at Williams Grove Speedway prior to the 54th annual National Open the following weekend. Smith will also take on some of the best regional and national sprint car drivers at the Dirt Classic at Lincoln Speedway in Abbottstown, Pa., this Saturday.
"With this old car we know what it does," he said. "Just look at the results from this past weekend. When you put a car under you like that it gives the driver a lot of confidence. I'm excited for the weekend."
QUICK RESULTS –
Sept. 16 – Williams Grove Speedway in Mechanicsburg, Pa. – Heat race: 3 (2): Feature: 1 (4).
Sept. 17 – Selinsgrove Speedway in Selinsgrove, Pa. – Qualifying: 4; Heat race: 5 (3); Feature: 3 (4).
SEASON STATS –
59 races, 1 win, 15 top fives, 30 top 10s, 43 top 15s, 49 top 20s
UP NEXT –
Thursday at Susquehanna Speedway Park in York Haven, Pa.; Friday at Williams Grove Speedway in Mechanicsburg, Pa.; and Saturday at Lincoln Speedway in Abbottstown, Pa.
MEDIA LINKS –
Website: http://www.RyanSmithRacing.com
Twitter: https://twitter.com/RyanSmithRacing
Twitter Race Updates: https://twitter.com/DeniseS_SS
Facebook: https://www.facebook.com/RyanSmith.TheKunkletownKid
Instagram: https://instagram.com/denises_ss
APPAREL –
Visit http://www.RyanSmithRacing.com to view the latest apparel options, which include t-shirts and hoodies.
SPONSOR SPOTLIGHT – CnB Chubby
"Chubby was the first one to greet me in Victory Lane last weekend," Smith said. "He's a big supporter of not only our team but of sprint car racing in general. This is an expensive sport and Chubby helps a lot of guys keep racing."
Smith would also like to thank Warko Group, G.L.T. Electrical, Fighting Angels Foundation, S&S Speedways, Quality Roofing Supply, East Coast Helicopter Tours, Armbruster Racing Photos, Thunder on the Hill Racing Series, HP Engines, Pancho's Racing Products, GME Steering and Vahlco Racing Wheels for their continued support.
INSIDE LINE PROMOTIONS –
Inside Line Promotions specializes in affordable public relations and media management for motor sports drivers, teams, sponsors, tracks, series, events, organizations and manufacturers. ILP Founder Shawn Miller leverages professional journalism with new media technologies and social networking to improve your exposure and the return on investment for your sponsors.
To meet the media relations needs of your program by joining Team ILP, contact Shawn at 541-510-3663 or Shawn@InsideLinePromotions.com. For more information on Inside Line Promotions, visit http://www.InsideLinePromotions.com.
*PHOTO COURTESY OF RYAN SMITH RACING*