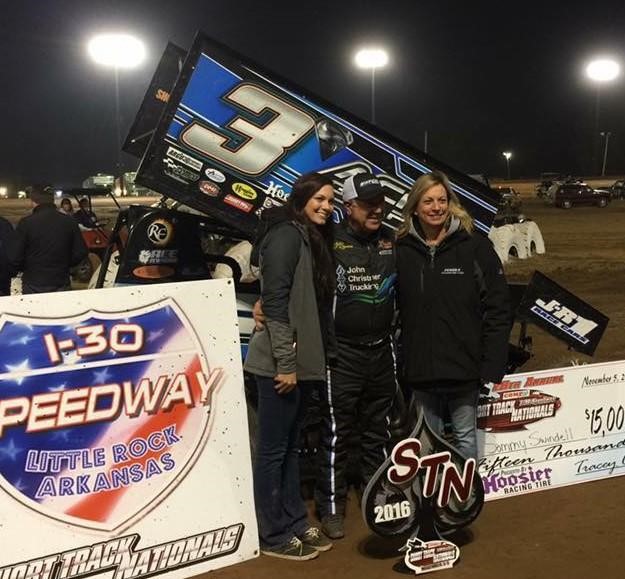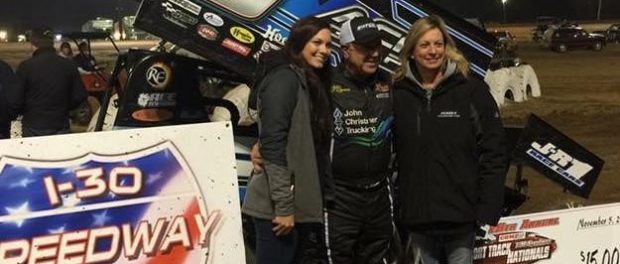 From Inside Line Promotions
LITTLE ROCK, Ark. (November 7, 2016) – Sammy Swindell was a man on a mission last weekend during the 29th annual COMP Cams Short Track Nationals presented by Hoosier Tires.
Swindell, who was driving for A.G. Rains during the $15,000-to-win event at I-30 Speedway, captured the opening preliminary night before recording his fourth career triumph during the prestigious event. He also won in 2013, 2011 and 1990.
"It just shows a lot," Swindell said. "The car has never missed a beat. We never had a problem. It always runs well. We can make changes and everything responds. When we need to do something different because the track changes it responds. A lot of cars I've driven you have to be dead on or you're terrible. This one here seems like just get it close and it's fine."
Swindell was better than close all weekend. He opened the action on Thursday by winning a heat race after starting on the outside of the second row. Swindell then picked up two positions to place fourth in a qualifier. That ranked him second in points out of more than 60 drivers.
"That put us in a good position to start up front," he said. "Usually the inside is better to start there and that was true again. I was able to stay with (Tim) Crawley. I ran right there with him for a few laps and maybe showed him a thing or two. He changed what he was doing some. We got to traffic and he ran a different line and that gave me the opportunity to pass him for the lead."
Swindell took the lead on Lap 12 and cruised to the victory, which locked him into Saturday's dash.
"It was huge because we knew we're going to be in the first three rows no matter what," he said.
Swindell started the dash fifth after a fellow competitor gave him the No. 5 card during the revenge draw.
"With six cars it wasn't going to be make or break where we started in the dash," Swindell said. "I guess it's a compliment that as soon as a high card is drawn they give it to me. It's happened to me at Knoxville. It happens at the Chili Bowl. We've been able to overcome it quite a few times. We went from fifth right up to third in the first lap or so."
Swindell advanced from fifth to third in the dash to start the 40-lap feature on the inside of the second row.
"I was wanting the car to be tight enough because the track was going to get slicker," he said. "I knew if we'd be really good at the start that we were going to get looser toward the end. Our car was a bit tight, but we were able to stay with the guys. We got to second pretty early. (Tim) Shaffer had the best line and that gave me an opportunity to try things just like on Thursday where I could see what worked and didn't work."
Swindell advanced to second place in the first couple of laps before he spent approximately a dozen laps stalking Shaffer for the lead. Swindell took over the top spot on Lap 15 and never looked back as he claimed his third crown in the last six years.
"A.G. and the guys gave me a great car," he said. "Sometimes even if you have the best car you don't win and this time we were able to pull it off."
Swindell will wrap his season up this Friday and Saturday at Riverside International Speedway in West Memphis, Ark., where he will tackle the Flip Flop 50 with the USCS Series while driving for Rains.