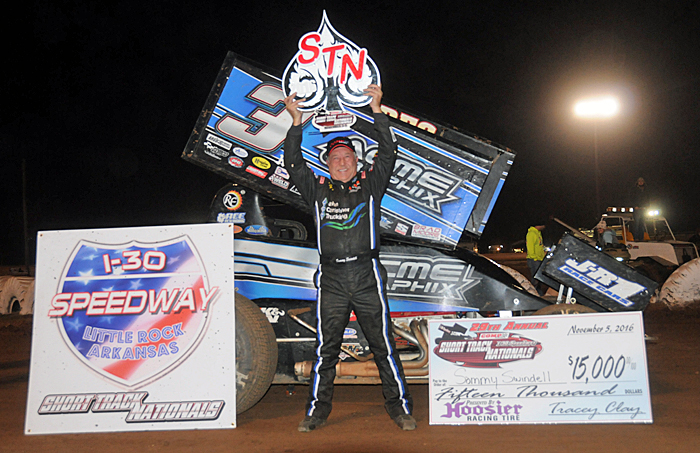 From Inside Line Promotions
GERMANTOWN, Tenn. (Nov. 21, 2016) – Sammy Swindell added to his already impressive racing résumé in 2016.
Swindell scored seven feature victories, including wins with the National Sprint League, Arctic Cat All Star Circuit of Champions, GoMuddy.com National Sprint League 360 Sprint Car Series and the Lucas Oil ASCS National Tour, to give him at least one win each season for the past 46 years.
"It was mostly good," he said. "I was able to do quite a few races and do some things I haven't done before. We had some success at different levels. I tried to make the best of what I had and what I could do and I think we were able to do that."
While Swindell captured National Sprint League triumphs at the famed Knoxville Raceway in Knoxville, Iowa, in June and July, and an All Star victory in August at Lebanon Valley Speedway in West Lebanon, N.Y., it was a win during the Arnold Motor Supply 360 Knoxville Nationals in early August that stands out as the biggest highlight of the season.
Swindell became only the second driver to claim both the 410 and 360 editions of the Knoxville Nationals thanks to the trip to Victory Lane this year while driving for A.G. Rains.
"That was huge to go do that with this little team we have," Swindell said. "Those guys haven't done much of the other racing outside of Arkansas. To go to Knoxville and win, it was a huge deal."
Swindell and Rains also swept the 29th annual COMP Cams Short Track Nationals presented by Hoosier Tires at I-30 Speedway in Little Rock, Ark., in October. It marked Swindell's fourth Short Track Nationals title and third in the last six seasons.
The team won a GoMuddy.com National Sprint League 360 Sprint Car Series event at Randolph County Raceway in Moberly, Mo., in March as well.
"To have the record we had, it wasn't out of the picture of winning every race we went to," Swindell said. "We had a car capable of winning every race. I'm grateful for A.G. and his team and the opportunity they provided."
Swindell's two NSL wins and his All Star victory were with CJB Motorsports.
"I had a good group of guys working on the CJB car that made it a lot more enjoyable," he said. "We had some great times.
"I want to thank everyone that supported me and continues to support me. I'm blessed to still be able to compete at this level and I'm thankful for the opportunities that continue to come my way."
Swindell said he is unsure of 2017 plans beyond competing at the 31st annual Lucas Oil Chili Bowl Nationals Presented by General Tire next January in Tulsa, Okla.