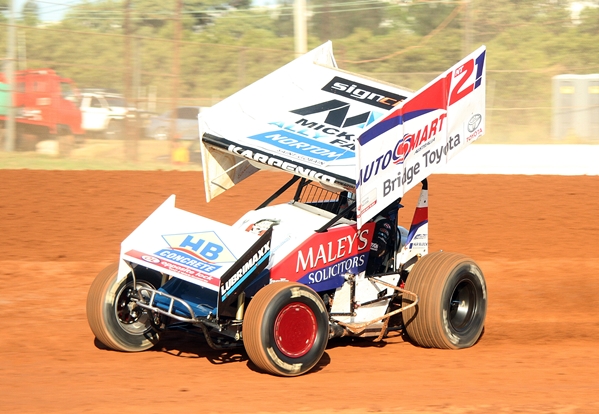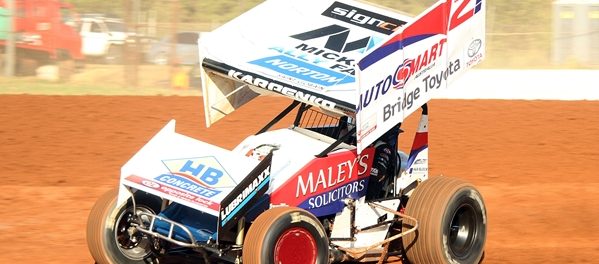 From Reline Media
Sydney's Valvoline Raceway is regarded as one of the country's most daunting speedway tracks; however, Chace Karpenko in last Saturday night's sixth Ultimate Sprintcar Championship NSW round managed to come away from his debut at the track with a satisfying performance.
The Darwin, Northern Territory-based racer, driving his NT # 21 Autosmart Australia / Bridge Toyota-backed Maxim driver, managed to exceed expectations by qualifying directly into the feature-race on the night and then went on to survive what was a bruising 30-lap journey to finish just outside the top 10 in a respectable 12th.
"I couldn't have been happier with the night and to qualify into the feature race and then finish with a respectable result topped off the night," expressed the 30-year-old racer, whose night, like many others, was sobered by a nasty crash on the final lap of the feature race that involved fellow Northern Territory-based driver Ben Atkinson.
"I certainly exceeded expectations for our first night out at the track, and the night was setup by being able to hit the ground running and post a solid qualifying lap and then make the top-five transfer out of my heat race."
With no prior Valvoline Raceway experience to fall back on, Karpenko managed to set the 10th fastest lap in Group 1 qualifying time trials (19th overall out of 58 cars) and in his heat race he started from position five and went on to snare the fifth and final direct feature-race transfer from that race. Those performances saw him start the feature race from deep in the field: position 17.
Without the support of his team and valued sponsors, it wouldn't be at all possible for Karpenko to fulfil the goals of taking on the country's toughest competition at the country's toughest track.
"Coming down from the Northern Territory is a massive team effort," commented Karpenko, who provided the Valvoline Raceway track with four Autosmart prize packs to giveaway to the race fans on the night.
"My main sponsors in Autosmart Australia, Bridge Toyota and Maley's Solicitors, along with all of my other sponsors, my supportive pit crew (Luke and Russ) and family, as well as Brad Mock for letting me base our car out of his workshop during our time down here, have all come together to support me in order to make all of this possible."
The plan for Karpenko is to run every race meeting at Valvoline Raceway up until after the Australian 410 Sprintcar Title in late January, and it's going to see the team based in Sydney and commute back and forth to Darwin between race meetings.
Karpenko will next be in action on the Saturday night of December 10 at Valvoline Raceway for what will be the seventh round of the Ultimate Sprintcar Championship NSW.
Karpenko would like to thank his 2016-17 season supporters: Autosmart Australia, Bridge Toyota, Maley's Solicitors, HB Concrete, Lubrimaxx, Norton, Autosmart NT, NT Motorcycle Centre, Bosch Service Centre, Speedflow, Total Diesel, Coonawarra Panel Works, Toyota Access, H&R Block Tax Accountants, MAF (Mick's Ally Fab), Opposite Lock Darwin, and Sign City.
To find out more about Karpenko, LIKE him on Facebook by searching Chace Karpenko Racing.