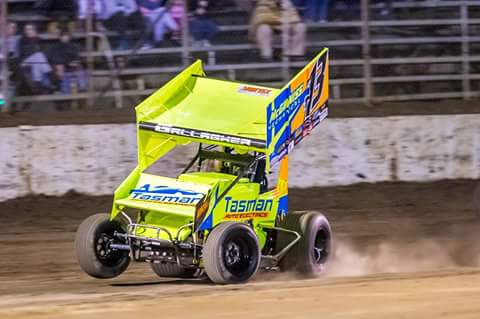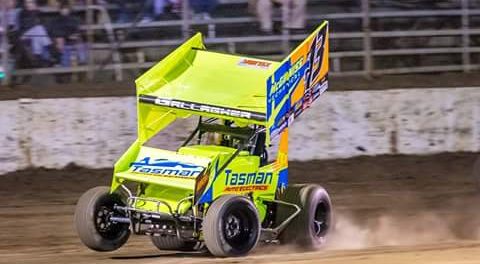 From Redline Media
Thanks to his consistent form so far in the 2016-17 season, Tasmanian Chris Gallagher's confidence continues to grow since joining 410 Sprintcars, and begins his steps towards being a regular front-running contender.
Off the back of some significant setbacks, which included his debut season in 2014-15 being cut short due to a terminal engine failure after only two race meetings, and a terrifying experience at the beginning of the 2016-17 season when his car became engulfed in a spectacular fireball at Latrobe's Gulf Western & Independent Oils Raceway, the Hobart-based racer, who thankfully able to walk away unharmed, is well on his way to finding his feet in the pinnacle class of Australian speedway, despite the challenging nature that is Sprintcar racing.
Consistently qualifying towards the front of the feature-race field and also finishing within the top five on a number of occasions, Gallagher's second full season in the class was highlighted by his second-career podium finish, when he scored the runner-up spot at Carrick Speedway on Boxing Night. Last season saw him achieve his maiden podium finish (a second) in the season finale at Carrick Speedway.
"I'm definitely becoming more competitive this season and the team and I's confidence is growing with each race meeting," expressed the pilot of the immaculately presented Tas # 13 McGinnis Mechanical backed GS1 machine, which is powered by a Maxwill Racing Engines prepared 410 Chev.
"There's still a lot to learn for both myself and the team, but we're gaining more experience as the season progresses and this is starting to be reflected in our results."
Having begun his speedway career racing Tassie Sixes, before spending two seasons racing Wingless Sprints, Gallagher has had significant experience working with his dad, Des, who is also his crew chief and car owner, and credits a lot of his recent form to the relationship he and his dad share both at the track and away from it, with the pair having developed a sound balance between work and play, which evidently benefits the team.
While he openly admits there is still so much to learn about Sprintcar, Gallagher continues to go improve, and the plans for the remainder of the season are to build up more consistency and continue his progressive form.
For his next appearance, Gallagher will head to his home track – Solo Hobart Speedway – on this Saturday night (February 11).
Gallagher would like to thank the following 2016-17 sponsors for their valued support: McGinniss Mechanical, Tasman Auto Electrics, Claremont Crash Repairs and Hobart Powdercoating. Special thanks go to his dad, Des, his pit crew, Pete, Bradley and Jack, and his family and friends.
To find out more about Gallagher and his team, LIKE them on Facebook by searching Gallagher Motorsport.