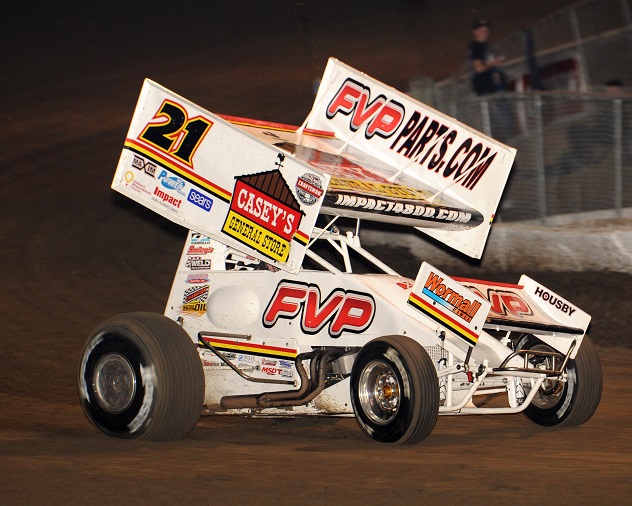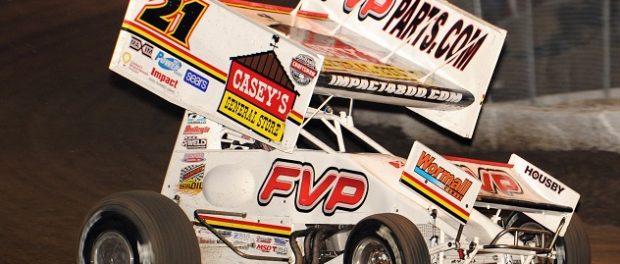 From Bill Wright
February 21, 2017 – Brian Brown and the Casey's General Stores/FVP #21 team got off to a great start last week at Volusia Speedway Park in Florida. Amongst the spoils was three quick times and two top five finishes with the World of Outlaws amongst the very stout field assembled. The Grain Valley, Missouri driver is focused on the team's next outing, the FVP Outlaw Showdown at The Dirt Track at Las Vegas Thursday and Friday, March 9 and 10.
You had a busy week with two All Star shows and three with the World of Outlaws.
Overall, it was a very solid week. To go down there and get two top fives with the Outlaws and to be in contention every night was something that we were really looking for. We hurt an engine the first night, and had a u-joint break Sunday afternoon that hurt another, but overall, it was very good.
Things started last Wednesday with fast time with the All Stars.
We started off really well with quick time, and we were able to get through the heat. We started eighth in the A, and we were running sixth or seventh five or six laps in. I heard the engine change pitch, so I shut it off. It was starting to hurt the engine, so that put a little damper on things.
You bounced back on Thursday to qualify fourth quick.
We drew late, but we were still two-tenths faster than anyone who qualified around us. With the All Star format, fourth quick overall is tough. We needed one more spot in the heat (finished third) to make the Dash. We started 11th in the A and got together with Shane Stewart the first couple of laps. That broke a right rear shock off, and rode around in the rubber from there (finishing 14th).
Friday was the Outlaw opener.
We tried some things in qualifying to go even faster than what we had. That actually slowed us a little (14th quick). It worked out because (David) Gravel had a motor issue and we went from fourth to second in the heat. They drew a good number and we ran third in the Dash. We were really good the first half of the feature, but we faded a bit at the end and ran fourth.
You were fast again on Saturday.
We were able to set fast time Saturday night before the rain. Any time we hit the track in the Outlaw shows, we went to the top of the board with time, and that really gave us a lot of confidence. Chad (Morgan) and Michael (Williams) worked hard and Danny (Lasoski) was there helping us all weekend too. They did a phenomenal job, and Charlie Garrett has really stepped up our engines. I feel like they are the best in the world and have been for a while. We set quick time with three different engines last weekend, and that says something about our program.
The rainout meant an afternoon show on Sunday, but you didn't run long.
We were two-tenths faster than everyone there in hot laps. Coming to the green on our qualifying lap, we broke a u-joint and turned 9800 r.p.m.'s. We had to change the u-joint and the engine, so we kind of scrapped the afternoon program.
You proved that your engines were consistent when you set quick time again Sunday night.
We were able to come back strong, setting quick time, then winning the heat and the Dash. We were in a position to win the A. We kind of faded a bit like the first night and ended up fifth. Overall, we were happy with the weekend and the way we bounced back from adversity, especially on Sunday. We had a rear-end that night that we had to change too. I just can't say enough about Chad and Michael and the way that they work together and how hard they work. I'm lucky to have them.
Your next outing will be in Las Vegas with the Outlaws.
We're looking forward to Vegas and the customers and employees that we'll see there from FVP. Hopefully, we can keep our speed going. On another note, our thoughts and prayers are with the people that were injured Sunday night at Volusia. Any time things like that happen, it's not good. Hopefully, they'll be o.k.
We also lost an icon at Knoxville and a member of the Casey's family last week, Gil Sonner.
I have a lot of fond memories of Gil. Of course, he was around Knoxville long before I was, and I've been there my whole life. I remember Danny winning a championship with him, but most of all, I remember what a great person he was. We're definitely going to miss him, and we're thinking of his family.
Team with the Children's Miracle Network through Brian and Casey's General Stores in February!
Brian's car will carry the Children's Miracle Network decal. Stop in at any Casey's General Stores in the month of February to donate to the Children's Miracle Network.
Brian also has a partnership through Casey's with "Hope for the Warriors". That decal will be on the car all year long.
Follow Brian on the Web, Twitter and Facebook!
Follow Brian at his website located at www.BrianBrownRacing.com
Brian at Volusia (Paul Arch Photo)