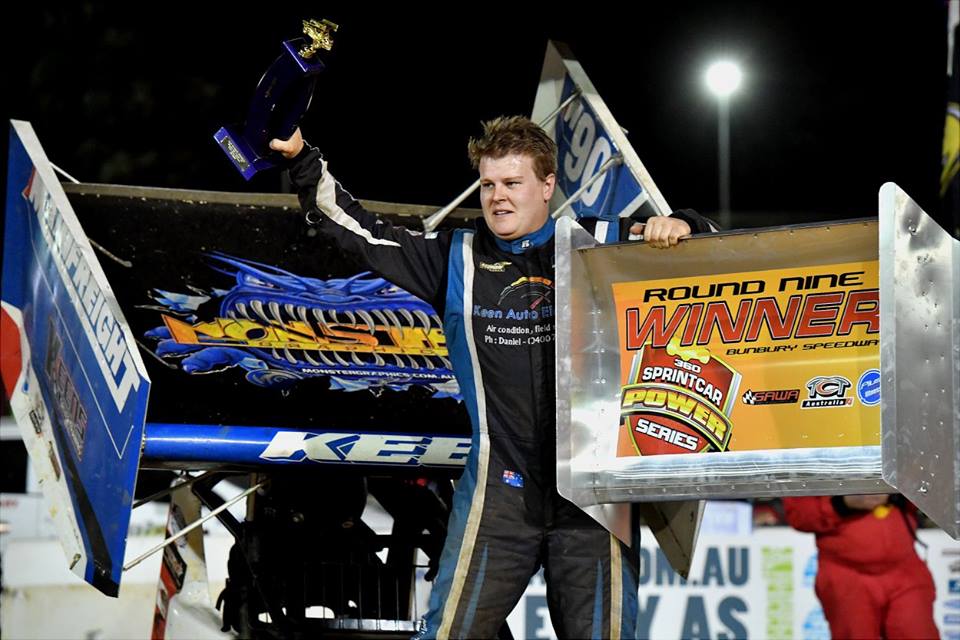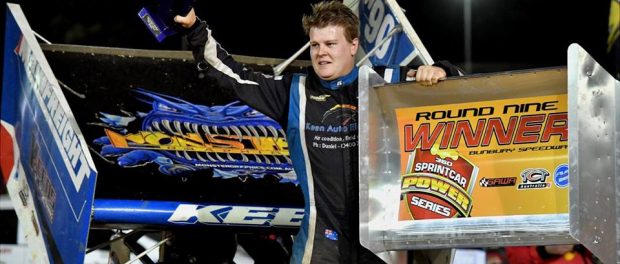 From Redline Media
The Keens Race Team was in solid form last Saturday night when they took to their home track – Bunbury Speedway – with Daniel Keen took out the top honours in the eighth 360 Power Series round.
After a consistent start to the night with a second and fourth-place finish in his heat races, which saw him start from position four for the 20-lap feature race, Daniel was quick to assert his dominance, already moving into the lead by the completion of the opening lap.
Despite a slight hiccup on lap 11, when he lost the lead to Kaiden Manders, Daniel managed to keep his composure to regain the top spot with four laps to go, going on to claim his third 360 Power Series round win (fourth in total for the 2016-17 season) in the space of just two months.
"It was great to be able to get another feature-race win and gain some valuable points in the 360 Power Series point standings and it was even more special to do so in front of a home crowd," Daniel Keen commented.
"Winning at your home track is always a wonderful feeling and it's great to be able to achieve these results. I have to say a huge thanks to the team and our sponsors for all of their ongoing support."
Daniel's younger brother and recently dethroned WA 360 Sprintcar Champion Michael began his night in the best possible fashion, coming away with a win in his opening heat race. He then followed it up with a sixth-place finish in heat-race two, which placed him out of position seven for the feature race. Slipping back one place at the drop of the green flag, Michael quickly managed to regain his starting position before slowly navigating traffic and making his way forward to a fifth-place finish.
In the current 360 Power Series point standings, Michael and Daniel sit in second and third place respectively.
For their next appearance, Daniel and Michael will return to Bunbury Speedway on the Saturday night of March 4, where they will contest the ninth and penultimate 360 Power Series round, which will be run in conjunction with the opening night of the Krikke Boys Shootout.
Keens Race Team is proudly supported by the following 2016-17 season sponsors: Dynamite Dan's Cleaning Services, Keens Driver Training, Keenquip Race Gear, Mainfreight, United Oil, Panelworx, Monster Graphics, Diesel Force, and D&R Machining. Special thanks: John, Heather, Rachel, Kenedy and Kylie.
To find out more about the Keens Race Team, LIKE them on Facebook by searching Keens Race Team.