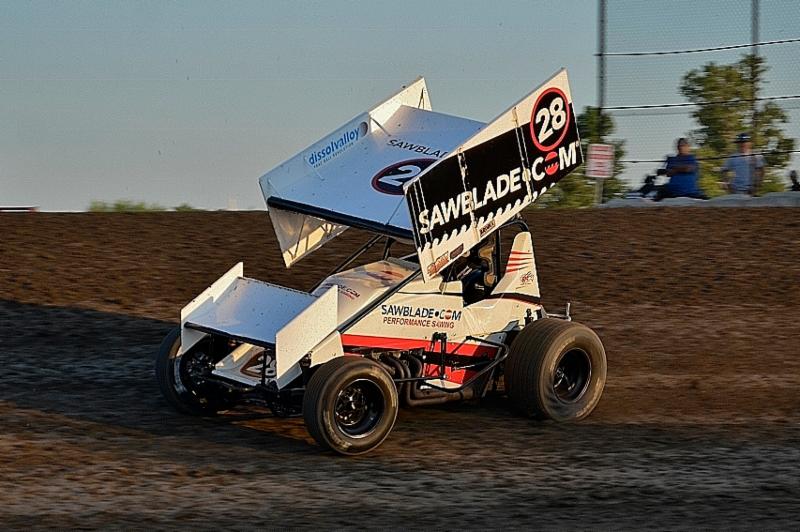 Inside Line Promotions
TAMPA, Fla. (February 28, 2017) – Tommy Bryant and the Sawblade.com backed team came up a little short of getting over the hump last weekend during the 16th annual Ronald Laney Memorial King of the 360s at East Bay Raceway Park.
Each night Bryant missed making the A Main by only a position or two against the stout competition as more than 60 drivers tackled the marquee ASCS Southern Outlaw Sprints event.
"We had terrible pill draws the preliminary nights," he said. "It seemed like we started in the last row of the heat both nights. On Thursday we struggled with a mechanical issue and that got us behind. I made one mistake in the B Main. I tried to slide a guy too early and it cost us. We struggled a bit at first getting forward bite with the new car. By Saturday we were pretty darn good."
Bryant finished sixth in a heat race and fourth in a B Main on Thursday before he charged from last in his heat race to a fifth-place showing on Friday. He closed the night with another fourth-place result in a B Main to end only two positions shy of a transfer.
Saturday's heat races were lined up based on event points, which started Bryant on the outside of the second row.
"We got third in our heat and then we finished fourth in the B Main again so we were only one spot out of making the A Main," he said. "We were one of the fastest cars on the track. We just needed a little luck. At the end of the day we went down there to run up front, but we fell short. We will work on it."
Bryant, who finished second in the ASCS Gulf South Region standings in 2016, plans to race more national series races this year.
"I'm sure we'll race a fair amount of Gulf South events, but I want to compete in more of the national events," he said. "We will pick and choose more and run bigger races this year to try and better ourselves."
The Sawblade.com sponsored team will return to action on March 17-18 at Devil's Bowl Speedway in Mesquite, Texas, for the 44th annual Spring Nationals with the Lucas Oil ASCS National Tour.