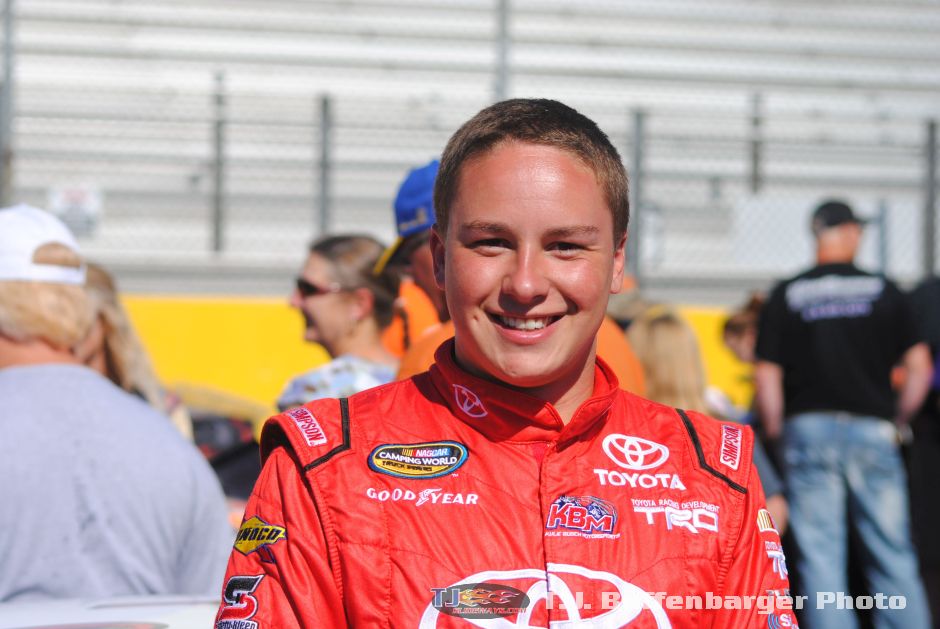 From POWRi
OKLAHOMA CITY, Ok. (March 25, 2017) — In fan-thrilling fashion, Christopher Bell stole the checkers in the opening night of the Fourth Annual Turnpike Challenge at I-44 Riverside Speedway and then backed it up with a dominant victory for night two, claiming a weekend sweep with the POWRi Lucas Oil National Midget and West Midget Leagues. Bell's 23rd career victory moved him solidly into the third position on the all-time win list with the POWRi Lucas Oil National Midget League.
Starting outside front row to defending POWRi Lucas Oil National Midget League champion Zach Daum, Bell was simply outpaced on the start by Daum. Falling in line for second and doing his best to pursue Daum, Bell's Keith Kunz Motorsports teammate Spencer Bayston hounded the duo. With the top three drivers working every inch of the high-banked red clay track, the action was slowed a total of three times.
Fending off several advances by Bell, Daum charged towards lap traffic as laps wound down. It wouldn't be until less than a dozen laps were left that Bell capitalized on a moment and powered past Daum for the top position. With the 30 lap feature event coming to a close, Spencer Bayston began to challenge Daum for second. Coming to the line for all the marbles, Bayston would narrowly edge Daum for the second position by a mere three thousandths of a second.
"That was really, really tough," commented a victorious Christopher Bell. "The track got extremely physical with the ledge there. I was huffing and puffing. I need a drink of water real bad. But, that was a lot of fun. Thank you to all the fans that come out, they're the reason we're out here."
"That was not an easy track," Spencer Bayston said. "It was really curby. Going single file there on the top, one, two, three behind Bell, I was really just waiting on him to make a move so we could all race a little bit. I didn't want to make a move and then fall back, but then he threw a move and I fell back. I wasn't able to race for the lead."
"We were pretty good there for a while, but then the curb got built up bigger and bigger and we just got too tight," stated Zach Daum. "That's what we normally are, we worked all winter trying to free the car up and I think we stumbled on something there. I can't thank everybody enough."
POWRi National / West Sprint Car Series
I-44 Riverside Speedway
Oklahoma City, OK
Saturday March 25, 2017
A Feature: 1. 21-Christopher Bell[2]; 2. 97-Spencer Bayston[3]; 3. 5D-Zach Daum[1]; 4. 27-Tucker Klaasmeyer[12]; 5. 71-Ryan Robinson[14]; 6. 4A-Logan Seavey[13]; 7. 44-Wesley Smith[9]; 8. 32-Trey Marcham[18]; 9. 9-Matt Moore[7]; 10. 37-Andrew Felker[8]; 11. 67K-Holly Shelton[22]; 12. 3N-Jake Neuman[23]; 13. 77S-Danny Stratton[5]; 14. 82M-Steven Shebester[24]; 15. 1K-Brayton Lynch[10]; 16. 96-Cody Brewer[20]; 17. 7-Austin Brown[11]; 18. 52-Andrew Deal[6]; 19. 57D-Daniel Robinson[21]; 20. 10-Geo White[17]; 21. 9$-Kyle Clark[4]; 22. 28-Ace McCarthy[19]; 23. 71K-Tanner Carrick[16]; 24. 73-Jason McDougal[15]
B Feature #1: 1. 4A-Logan Seavey[1]; 2. 73-Jason McDougal[2]; 3. 10-Geo White[9]; 4. 28-Ace McCarthy[16]; 5. 57D-Daniel Robinson[12]; 6. 37X-Terry Babb[13]; 7. 7U-Joe B. Miller[8]; 8. 88W-Dustin Weland[3]; 9. 4M-Michelle Decker[6]; 10. 56X-Mark Chisholm[10]; 11. 71W-Jodie Robinson[11]; 12. 17Z-Zac Moody[14]; 13. 39-Zeb Wise[5]; 14. 8K-Jonathan Beason[17]; 15. 14R-Jody Rosenboom[7]; 16. 4B-Shane Sellers[15]; 17. 89-Nick Bailey[4]
B Feature #2: 1. 71-Ryan Robinson[3]; 2. 71K-Tanner Carrick[1]; 3. 32-Trey Marcham[6]; 4. 96-Cody Brewer[2]; 5. 67K-Holly Shelton[9]; 6. 00-Grady Chandler[8]; 7. 91K-Kevin Bayer[5]; 8. 3N-Jake Neuman[10]; 9. 08-Cannon McIntosh[15]; 10. 42-Chris Andrews[11]; 11. 82M-Steven Shebester[16]; 12. 24-Hunter Fischer[14]; 13. 5B-Bobby Brewer[12]; 14. 8M-Kade Morton[7]; 15. 41-Brad Thompson[13]; 16. 31-David Budres[4]
C Feature #1: 1. 28-Ace McCarthy[3]; 2. 8K-Jonathan Beason[2]; 3. 6A-Aidan Roosevans[1]; 4. 22-Curtis Jones[8]; 5. 27Z-Zane Hendricks[7]; 6. 27MK-Kyle Keeler[4]; 7. 99-Jay Mounce[5]; 8. 28K-Kory Schudy[6]; 9. 77-Noah Harris[9]
C Feature #2: 1. 08-Cannon McIntosh[4]; 2. 82M-Steven Shebester[3]; 3. 3T-Blake Battles[1]; 4. 10J-John Hunt[8]; 5. 25-Dylan Peterson[5]; 6. 0R-Jason Botsford[7]; 7. 23-Hannah Adair[6]; 8. 84-Shaun Shapel[2]; 9. 2S-Travis Scott[9]
Heat Race #1 (8 Laps): 1. 1K-Brayton Lynch[1]; 2. 27-Tucker Klaasmeyer[3]; 3. 39-Zeb Wise[4]; 4. 5B-Bobby Brewer[2]; 5. 37X-Terry Babb[5]; 6. 24-Hunter Fischer[7]; 7. 82M-Steven Shebester[8]; 8. 10J-John Hunt[6]
Heat Race #2 (8 Laps): 1. 5D-Zach Daum[2]; 2. 4A-Logan Seavey[3]; 3. 21-Christopher Bell[8]; 4. 88W-Dustin Weland[7]; 5. 41-Brad Thompson[5]; 6. 27MK-Kyle Keeler[4]; 7. 23-Hannah Adair[1]; 8. 77-Noah Harris[6]
Heat Race #3 (8 Laps): 1. 9$-Kyle Clark[2]; 2. 37-Andrew Felker[4]; 3. 8M-Kade Morton[3]; 4. 00-Grady Chandler[5]; 5. 17Z-Zac Moody[8]; 6. 8K-Jonathan Beason[6]; 7. 27Z-Zane Hendricks[1]; 8. 28K-Kory Schudy[7]
Heat Race #4 (8 Laps): 1. 77S-Danny Stratton[2]; 2. 71K-Tanner Carrick[3]; 3. 91K-Kevin Bayer[4]; 4. 71-Ryan Robinson[7]; 5. 42-Chris Andrews[6]; 6. 08-Cannon McIntosh[1]; 7. 2S-Travis Scott[5]
Heat 5 (8 Laps): 1. 97-Spencer Bayston[6]; 2. 89-Nick Bailey[2]; 3. 4M-Michelle Decker[4]; 4. 10-Geo White[5]; 5. 3T-Blake Battles[3]; 6. 4B-Shane Sellers[7]; 7. 0R-Jason Botsford[1]
Heat Race #6 (8 Laps): 1. 52-Andrew Deal[2]; 2. 31-David Budres[1]; 3. 96-Cody Brewer[5]; 4. 71W-Jodie Robinson[3]; 5. 56X-Mark Chisholm[7]; 6. 84-Shaun Shapel[6]; 7. 99-Jay Mounce[4]
Heat Race #7 (8 Laps): 1. 9-Matt Moore[2]; 2. 73-Jason McDougal[3]; 3. 32-Trey Marcham[4]; 4. 14R-Jody Rosenboom[6]; 5. 3N-Jake Neuman[7]; 6. 28-Ace McCarthy[5]; 7. 22-Curtis Jones[1]
Heat Race #8 (8 Laps): 1. 7-Austin Brown[1]; 2. 44-Wesley Smith[4]; 3. 7U-Joe B. Miller[2]; 4. 67K-Holly Shelton[5]; 5. 57D-Daniel Robinson[6]; 6. 6A-Aidan Roosevans[7]; 7. 25-Dylan Peterson[3]