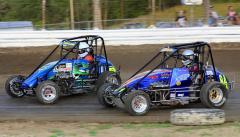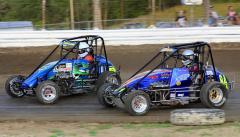 By Eric Bunn

(Lebanon, IN) The UAW American Made Mel Kenyon Midget Series drivers will take to the dirt high banks of Limaland Motorsports Park for the inaugural time this Friday night.  The 20-lap feature will mark the first time and of the Indiana based series' drivers will race at the northwest Ohio track.  The series namesake Mel Kenyon competed at Limaland when the NAMARS Midget Series raced at Lima during the 1990's.
2016 driving champion and current point leader Dameron Taylor will lead the UAW Kenyon Midget drivers when the teams prepare to take the track for hot laps at 6:30. Taylor will be joined by all-time series race winner and 2015 driving champion Kyle O'Gara and 2016 Simpson Rookie of the Year Chase Jones.  O'Gara and Jones are the two most successful dirt drivers in series history.
O'Gara and Jones are joined on the dirt winner's chart by Taylor, Kent Kriegbaum and Clayton Gaines.  Both Kriegbaum and Gaines are expected to compete Friday.
"All of our drivers are looking forward to taking on the new challenge of racing at Limaland, with Kyle (O'Gara) and Chase (Jones) returning because of Lima's reputation," noted series Vice President Eric Bunn. "Limaland is a perfect track for our cars so we expect to put on a really good show for the fans," Bunn continued.
Hot laps for Limaland Motorsports Park's Family Fun Night presented by St Rita's Health Partners will start the night's activities at 6:30 with racing scheduled for 7:30. The UAW American Made Mel Kenyon Midget Series drivers will be joined by the K&N Filters Modifieds, the Bud Thunderstocks and Vintage race cars.