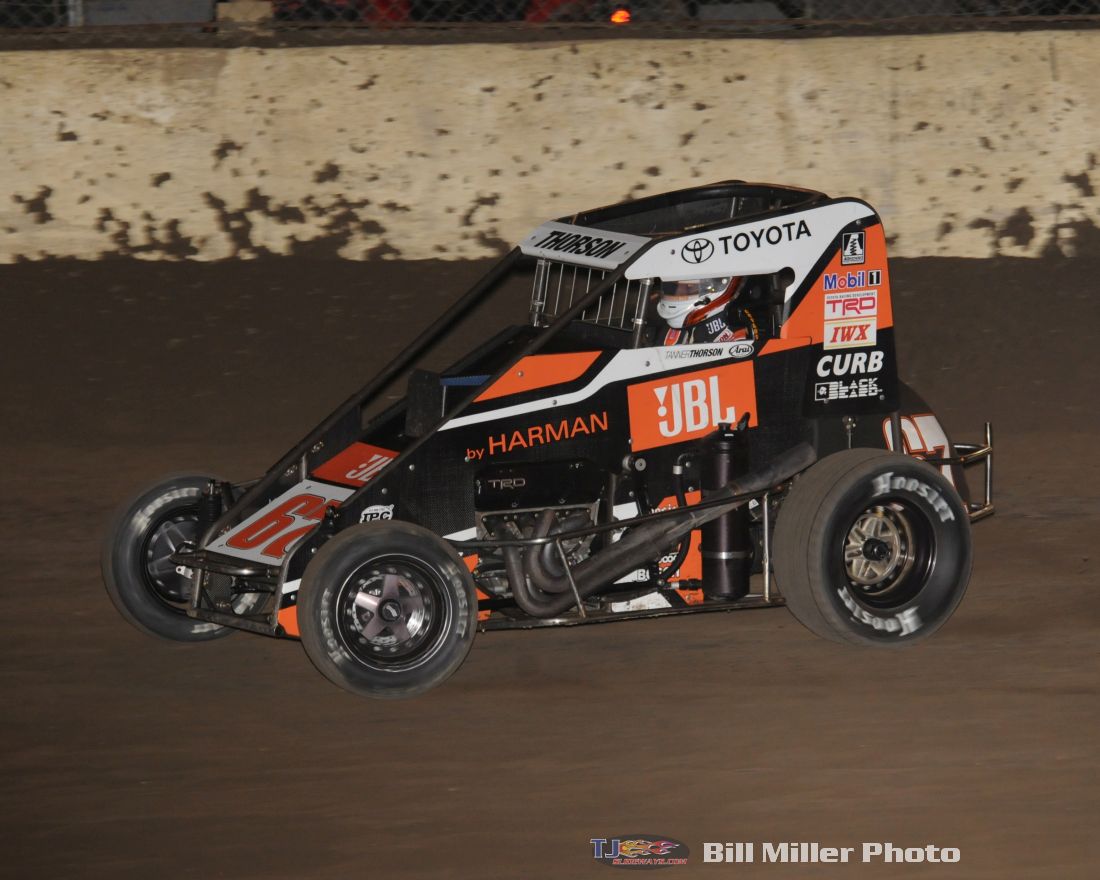 From POWRi
JACKSONVILLE, Ill. (June 2, 2017) — Tanner Thorson has hit his stride, doubling down and winning the POWRi Lucas Oil National Midget League feature for night number three of POWRi Illinois SPEED Week at Jacksonville Speedway. Winning the previous night's event at Fairbury American Legion Speedway with a last lap, last corner pass, rather than waiting until the final corner to make his move, Thorson took the lead midway and was on the defending side rather than the offensive from the previous night.
Starting in the sixth position, Thorson didn't come on strong until a lap past halfway, leaving pole sitter Tucker Klaasmeyer to battle for the lead with POWRi Illinois SPEED Week Night One's winner Michael Pickens in the early goings. Leading the initial three laps, Klaasmeyer relinquished the lead to Pickens on lap four. For the following ten laps, Thorson worked on catching back up to Pickens, applying pressure around halfway and taking the lead on lap 17.
For the final 13 laps, Spencer Bayston worked to reel in his Keith Kunz Motorsports teammate and tried trading sliders with him to no avail. As laps wound down, Bayston tried one last shot to break Thorson's momentum heading into turn one of the final lap, throwing a slide job for the lead. Sharply diving back under Bayston and across the track, Thorson would hold on and take Mesilla Valley Transportation feature victory. Michael Pickens rounded out the podium, while Rico Abreu finished fourth and Zach Daum, fifth.
"This is pretty awesome," said Tanner Thorson. "I love coming here. We started off strong and then it started to lay down a bit, but it held on for us, so that's pretty awesome. Like I said last night, there's something to say about racing your own teammates. There's a lot of respect there."
"It was a good race," commented Spencer Bayston. "Hat's off to the Jacksonville and POWRi guys. They kept working on the track and didn't give up on it and gave us a great race track. That was probably one of the best races I've been apart of. I'm just really regretting instead of ripping the top down there, I tried to pinch it off and get underneath him and he obviously beat me."
"We've just got to step it up a little bit," stated Michael Pickens. "We'll go into tomorrow night and try to do one spot better. These tracks are just so much fun. The guys do such a great job with track prep, it's a shame we don't get tracks like these back home to race on. But, it makes coming up here that much more special."
Midgets
Speedway Motors Heat Race Winners: Heat 1: 5d – Zach Daum, Heat 2: 97k – Rico Abreu, Heat 3: 4a – Logan Seavey, Heat 4: 71 – Ryan Robinson, Heat 5: 27 – Tucker Klaasmeyer
Toyota Semi Feature Winner: 3n – Jake Neuman, 71k – Tanner Carrick
Mesilla Valley Transportation Feature Winner: 67 – Tanner Thorson
Powri Lucas Oil National Midget League Feature Results (30 Laps): 1. 67 – Tanner Thorson 2. 97 – Spencer Bayston 3. 1nz – Michael Pickens 4. 97k – Rico Abreu 5. 5d – Zach Daum 6. 71 – Ryan Robinson 7. 05 – Brad Loyet 8. 27 – Tucker Klaasmeyer 9. 4a – Logan Seavey 10. 82m – Steven Shebester 11. 3n – Jake Neuman 12. 32 – Trey Marcham 13. 8gq – Jimi Quin 14. 6a – Aidan Roosevans 15. 71k – Tanner Carrick 16. 55 – Nick Knepper 17. 37 – Andrew Felker 18. 91t – Tyler Thomas 19. 5c – Colten Cottle 20. 22 – Andy Malpocker 21. 39 – Zeb Wise 22. 1k -Brayton Lynch
For further information, visit www.powri.com, "Like" POWRi on Facebook and follow @POWRi_Racing on Twitter.