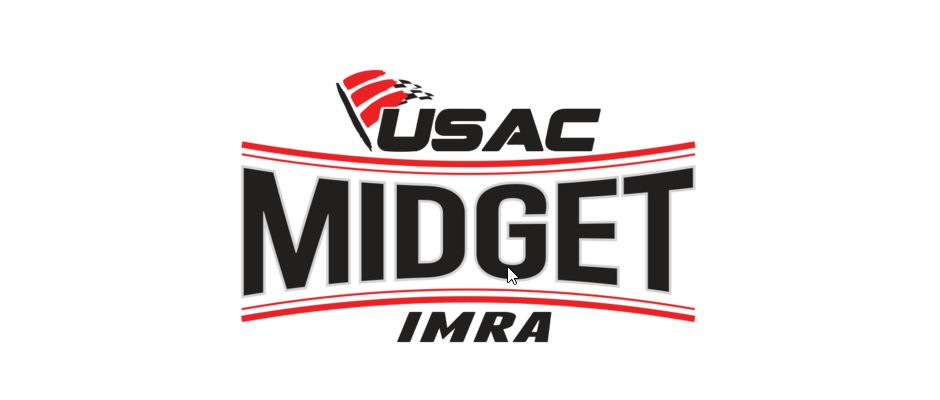 From USAC
SPRINGFIELD, Ill (July 3, 2017) — Dillon Morley of Moline, Ill. won Monday night's 5-lap USAC Speed2 IMRA Midget race at the Multi-Purpose Arena at the Illinois State Fairgrounds. The race also served as a "special event" for the USAC Speed2 Midwest Thunder series. Morley took the lead from Adam Taylor on the eighth lap of the race which was part of the "Adam Lopez Illinois Midget Nationals" event. Jeremy Hull took second at the checkered flag, followed by Brent Burrows, Chase McDermand and Shane Morgan.
USAC SPEED2 IMRA MIDGET & MIDWEST THUNDER SPECIAL EVENT RACE RESULTS: July 3, 2017 – Springfield, Illinois – Illinois State Fairgrounds Multi Purpose Arena – "Adam Lopez Illinois Midget Nationals"
FIRST HEAT: (10 laps) 1. Jake Neuman (#37 Raymond), 2. Robby McQuinn (#09 McQuinn), 3. Broc Hunnell (#F5 Hunnell), 4. Brent Burrows (#51 Terry), 5. Austin Archdale (#2 Archdale), 6. Dean Parker (#99 Parker), 7. Gedd Ross (#51R Johnson). NT
SECOND HEAT: (10 laps) 1. Dillon Morley (#69x Morley), 2. Adam Taylor (#7T Taylor), 3. Jim Picardi (#15s Morgan), 4. Josh Thomas (#43T Thomas), 5. Paul Graybrook (#2x Baue), 6. Jeff Schindler (#88x Schindler). NT
THIRD HEAT: (10 laps) 1. Jeremy Hiull (#24 Hull), 2. Jacob Sollenberger (#5 Utsinger), 3. Chase McDermand (#40 McDermand), 4. Alex Hunsaker (#12 Hunsaker), 5. Robert Bell (#71-1/2 Bell), 6. Shane Morgan (#15M Morgan), 7. Kurt Mueller (#83 Mueller). NT
FEATURE: (25 laps) 1. Dillon Morley, 2. Jeremy Hull, 3. Brent Burrows, 4. Chase McDermand, 5. Shane Morgan, 6. Broc Hunnell, 7. Jake Neuman, 8. Robert Bell, 9. Adam Taylor, 10. Jacob Sollenberger, 11. Kurt Mueller, 12. Josh Thomas, 13. Austin Archdale, 14. Dean Parker, 15. Jim Picardi, 16. Robby McQuinn, 17. Paul Graybrook, 18. Alex Hunsaker, 19. Gedd Ross. NT
—————————-
**Graybrook flipped over the back straightaway wall on lap 2 of the feature. McQuinn flipped on lap 5 of the feature.
FEATURE LAP LEADERS: Laps 1-7 Taylor, Laps 8-25 Morley.
NEW SPEED2 USAC IMRA MIDGET POINTS: 1-Morley-743, 2-Taylor-705, 3-Hull-681, 4-McDermand-665, 5-Sollenberger-533, 6-Ross-449, 7-Hunnell-425, 8-Tyson Hart-418, 9-Burrows-408, 10-Jeff Mallonee-356.
NEXT SPEED2 USAC IMRA MIDGET RACE: July 8 – Burlington, IA – 34 Raceway