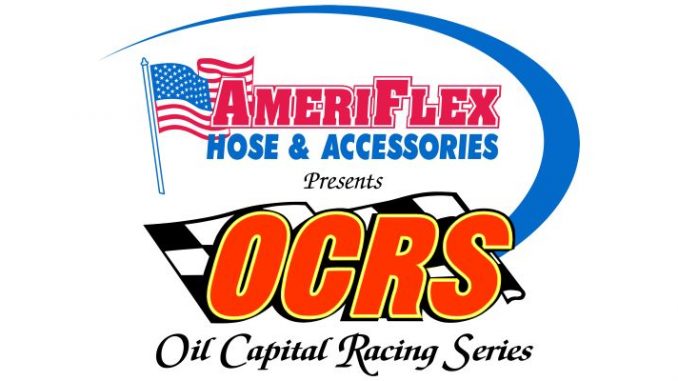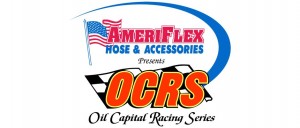 By John Lemon
Tulsa Okla. (July 10, 2017) – The time has come as the Ameri-Flex / OCRS sprint car series is set to embark on a Kansas Double this weekend. First up, the Tulsa Oklahoma based traveling vagabonds bring their open wheel act northward to the Humboldt Speedway, commonly referred to as "The Hummer" in Humboldt on Friday night while the series closes the curtain on the dual events at the Caney Valley Speedway in the town of Caney on Saturday night.
$3,000 dollars awaits any driver able to sweep the weekend within the Sunflower state. Both tracks are sized up for close, tight racing and as anyone can attest that has seen the 540hp / 1500 lb. cars battle on these two racing surfaces, wheel banging, spark producing, racing is to be fully expected. Never a dull moment on these two tracks.
Known for hosting special modified events with national attention, the Hummer has hosted the Ameri-Flex / OCRS sprint car series steadily for the past seven seasons (less rain outs). Something magical takes place when the sprint cars come rolling into town and the fans of the speedway are treated to a whole new type of action. Some of the fastest speeds the track sees all season happens in this mid-summer event.
As for Caney, the track that produces 'Thunder In The Valley" racing action, is a track that feels like they have been a longer partner than what the records show. Caney Valley Speedway hosted its first Ameri-Flex / OCRS event in 2009 when Jonathan Beason (a rookie at the time) took the win over Rafe Essary and Matt Sherrell in the lone tour stop for the series that season. Caney Valley has been a solid fixture for the series since as 3 races a season on the 1/4-mile track has been common the past few seasons. Due to this frequency of visits, Caney Valley has developed an established open wheel following for each tour stop and they are never disappointed.
It's time to make some noise and create some havoc upon our neighbors to the north. Grab your family members, neighbors, co-workers and those who somehow think TV is entertainment and come see some vein swelling, eye popping and hair raising sprint car action this weekend!
NUTZ n' BOLTZ
Unsweet 16
Nothing sweet about the number 16 headed into this weekends racing action if your Shane Sellers or Zach Chappell. These two drivers are separated for the lead in the chase for the Harold Leep Championship Trophy by this minimal amount and while there are still several races to go over the course of the season, nobody wants to blink. Chappell tightened things up when he won at the Salina Highbanks Speedway on June 24th. Sellers scored a win earlier this season at the Oklahoma Sports Park facility.
Different Partners
The Hummer has been paired with with different tracks over the past seven years for doubleheaders. It was Caney Valley Speedway in the spring of 2010 (with CVS rained out) and Mid-America Speedway in the summer of that same season. Rain outs ensued in '11 and '13 with no double partners scheduled for those seasons. Mid America was again it's partner in 2012. The Salina Highbanks was the dancing partner in '14 & '15 with Caney Valley moving back into play in 2016.
Eight Different Faces In Victory Lane
In the above mentioned scheduled race parings, 11 events were conducted. Three drivers have won twice. Jamie Passmore, Robert Sellers & Danny Smith. Others that "Parked – It" include: Whit Gastineau, Kade Morton, Alex DeCamp, Shane Sellers and Sheldon Barksdale. Passmore scored the 3rd Annual Harold Leep Classic presented by Carter – Maxwell at Caney Valley this past May.
Last Crack at an Oklahoma Legend?
It was announced on June 21st that Thunderbird Speedway was added to the Ameri-Flex / OCRS schedule for Friday night, August 18th. The race will take place on the historic 1/2-mile oval, but will it be the last? Track owner Randy Gass is weighting out options for the former horse racing facility that began racing cars in 1955. Options are to cut the speedway to a 3/8-mile oval, cut a 3/8 and leave the 1/2 as well or just leave the 1/2-mile as it is today. August 18th may or may not be the last opportunity to mash the loud pedal on those extremely long straightaways. If you a racer or a fan, make that date just in case we see the end of an era we once knew. If you have never seen sprint cars on such a large track, call in sick at work if that's what it takes. You don't want to miss this beauty.
OHHHH MY – What Do We Have Here?
An anonymous donor has dropped off a 'Bag of Bennie's to the the Ameri-Flex / OCRS series. A note states the series may have it all with 100% of the proceeds going towards the racers in some fashion. Ideas over a frosty mug and pizza on what to do have begun. Maybe treat them to Chucky Cheese?
The What, When, Where, Why and Just Be There of it all……….
Friday Night: Humboldt Speedway
What: Ameri-Flex / OCRS Sprint Cars with support classes (Modifieds & Stock Cars)
Where: Humboldt Speedway / Humboldt Kansas
When: Friday July 14, 2017
Time: Grandstand gates open at 6pm / Hot Laps at 7:30pm / Racing at 8:00pm (OCRS drivers meeting at 7pm)
Tickets: $15 (13yrs & up), $7 (6-12 yrs), 5yrs & under free. Pit Passes: $35 ($30 for NASCAR members)
Track Phone: (620) 473-3694
Promoter Ryan Whitworth: (620) 433.7180
Website: www.humboldtspeedway.com
Directions:
From Highway 169, Take Humboldt Exit #224 and go west 1 block to electric plant. Turn left go to stop sign and turn left. Speedway will be 1 mile on the right.
Saturday Night: Caney Valley Speedway
What: Ameri-Flex / OCRS Sprint Cars with support classes (Modifieds & Stock Cars)
Where: Caney Valley Speedway / Caney Kansas
When: Saturday July 15, 2017
Time: Gates open at 4p / Hot laps at 6:30p / Racing begins at 7:00p (OCRS drivers meeting at 6:00p)
Tickets: $15 (13yrs & up), $5 (6-12 yrs & Seniors), 5yrs & under free. Pit Passes: $35
Promoter Kerry Gorby:(620) 330-0485
Track website: www.caneyvalleyspeedway.net
Directions:
The track is easy to locate as it is just 1/2 mile west of the junction (intersection) of US 75 and US 166 on CR 1600.