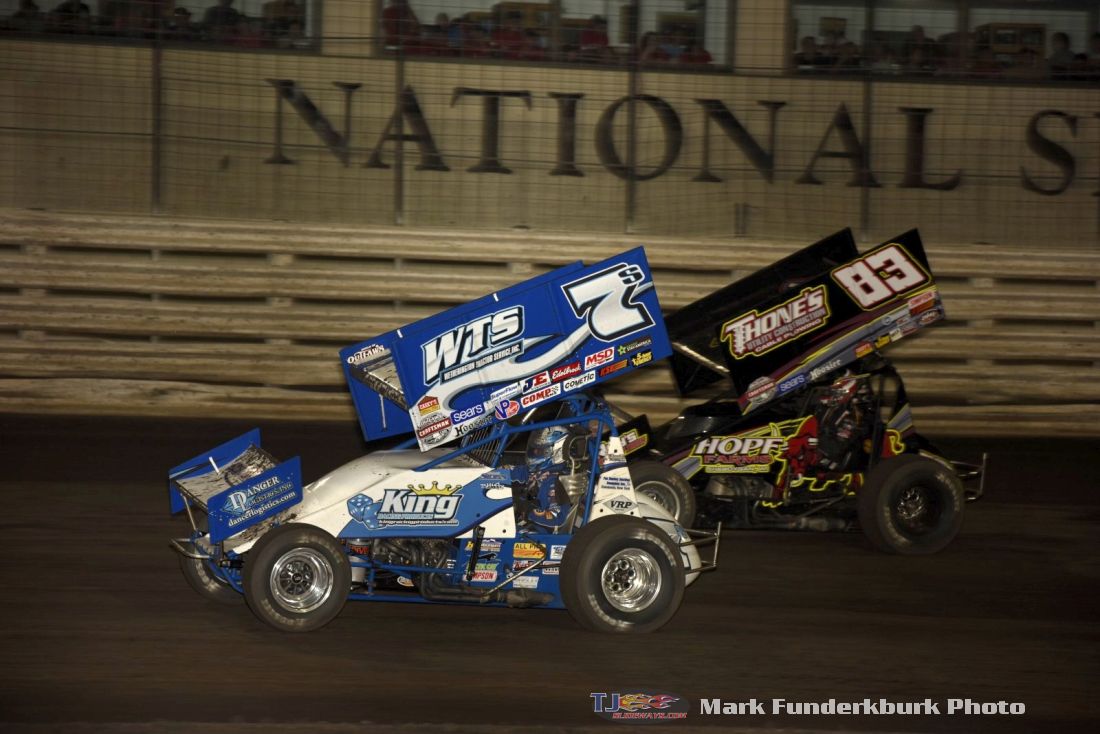 By T.J. Buffenbarger
KNOXVILLE, Iowa (August 12, 2017) – Jason Sides won the B-Main Saturday night at 57th Annual 5-Hour ENERGY Knoxville Nationals. Sides had to hold off multiple challenges from Tim Shaffer and a restart with two laps to go for the victory.
Starks and Henderson raced side by side through turns one and two with Starks leading off turn two. As Starks led Sides and Henderson raced for second. On lap seven Henderson and Sides ran side by side with Henderson slamming the door shut in turn three on lap seven.
Further back in the field Tim Shaffer started to move through the field. Shaffer moved past Christopher Bell on the opening lap to finish sixth. By lap six Shaffer was challenging Lucas Wolfe for the fifth spot. Shaffer moved up into a transfer spot on lap eight driving by Dusty Zomer.
Shaffer continued his march to the front when the caution appeared on lap nine for Bill Balog slowing on the track.
After bringing the field slowly to the restart line Starks pulled away from the field during the restart. Behind Starks the race for second heated up with Henderson and Sides, but Henderson could not make the pass as the top four pulled away from the rest of the field.
Just as Sides was closing in on Starks for the lead the caution appeared on lap 11 when Spencer Bayston hit the wall in turn two. Bayston emerged from the car under his own power, but retired from the event.
Starks brought the field down slowly again and pulled away from Sides during the restart. Further back Shaffer drove by Henderson for third position. One lap later Lucas Wolfe and Brooke Tatnell followed Shaffer's lead driving by Henderson for fourth and fifth.
Another caution appeared when Brent Marks stopped in turn two with 17 laps complete. Marks was unable to return to from the pit area for the restart.
Stark tried another slow start, but it was not as effective as Sides hung right to his back bumper. Sides drove by Starks for the lead through turns three and four and brought Shaffer with him for the second position. Starks then found himself under fire from Wolfe for third with three laps to go with Wolfe taking that position. Then Starks was pressured by Brooke Tatnell. Tatnell dove to the inside and drove by Starks to take the spot. In doing so Tatnell clipped the inside marker cone and knocked it onto the race track, bringing out the caution. Tatnell crossed the line before the lap was scored and held the position for the restart.
The final restart with two laps to go turned into a mad scramble to claim the four-transfer spots. Sides and Shaffer raced for the lead while Starks, Wolfe, Tatnell, and Kemenah were clumped together racing for the final two positions to transfer to the feature on the final lap.
Sides held Shaffer for the win. Tatnell drove up to third while Starks was able to shuffle Wolfe back to claim the fourth and final transfer spot.
57th Annual 5-Hour ENERGY Knoxville Nationals
Knoxville Raceway
Knoxville, IA
Saturday August 12, 2017
B-Main (22 Laps): 1. 7S – Jason Sides, 2. 49X – Tim Shaffer, 3. 55 – Brooke Tatnell, 4. 44S – Trey Starks, 5. 24W – Lucas Wolfe, 6. 10H – Chad Kemenah, 7. 83 – Justin Henderson, 8. 14B – Christopher Bell, 9. 29 – Danny Dietrich, 10. 82 – Dusty Zomer, 11. 3K – Tim Kaeding, 12. 11K – Kraig Kinser, 13. 51 – Joey Saldana, 14. 99 – Brady Bacon, 15. 1A – Jacob Allen, 16. 41S – Dominic Scelzi, 17. 93 – Sheldon Haudenschild, 18. 09 – Matt Juhl, 19. 17 – Jac Haudenschild, 20. 19 – Brent Marks, 21. 17B – Bill Balog, 22. 39 – Spencer Bayston, 23. 3 – James McFadden, 24. 3 – Sammy Swindell.