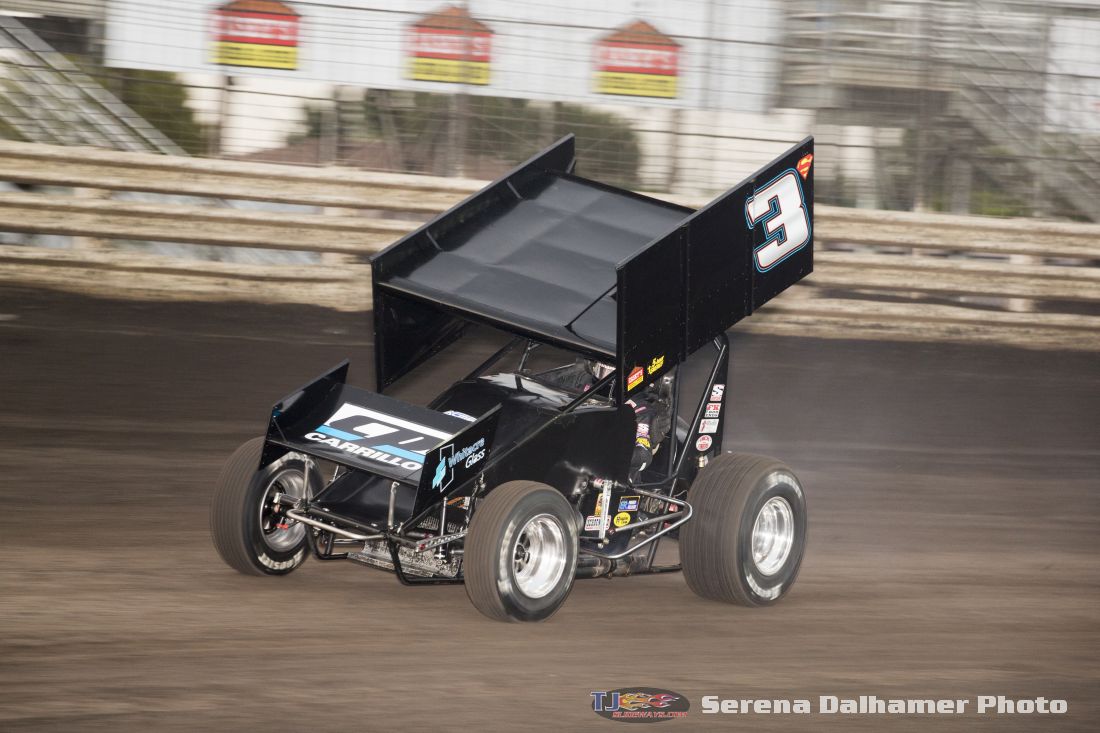 From Lonnie Wheatley
LITTLE ROCK, Ark. (October 5, 2017) – For more than a decade, Hooks, TX, National Sprint Car Hall of Famer Gary Wright stood alone as the only four-time winner of I-30 Speedway's Short Track Nationals.
That changed last year though, as Sammy Swindell added his fourth event triumph to match the fourth STN crown that "The Texan" captured a dozen years earlier in 2004.
Next week, Slammin' Sammy will try to become the first five-time winner of the $15,000-to-win COMP Cams Short Track Nationals presented by Hoosier Tires atop the high-banked, ¼-mile clay oval in Little Rock, AR.
Following a Wednesday night Test 'N Tune session, the action gets fast and furious with two full nights of qualifying action on Thursday and Friday (October 12-13) and then Saturday's (October 14) STN championship finale. While the winner of the 30th Annual Short Track Nationals will pocket $15,000, each STN championship feature starter will earn at least $2,000. More than $100,000 in prize money will be doled out over the course of the weekend.
Both the Thursday and Friday cards will feature a full slate of heat races, qualifying races, "B" Mains and "A" Main with the top three from each night locked into Saturday's STN championship finale. Saturday's card will include STN Showdowns, "C" Mains, "B" Mains and the championship feature event.
Sammy Swindell picked off his first STN triumph in the early years of the event, topping the third edition in 1990 when it was a 410-ci tilt. Swindell's next STN triumph didn't occur until 21 years later in 2011.
In the interim, Gary Wright ran up STN totals that may never be rivaled including triumphs in 1995, 1999, 2003 and 2004. Along with his four STN victories, Wright also posted 14 overall top-fives and 18 top-tens along with five preliminary feature wins. No other driver has put up double-digit top-fives with only Terry Gray (13) and Tim Crawley (10) reaching double-digits in top-tens.
In recent years, Swindell has put together a string of strong STN efforts with wins in alternating editions of the event since 2011. Swindell picked off crown number three in 2013 and then added his fourth last year after the 2015 edition fell victim to Mother Nature.
Once again driving the Rains No. 3 entry, Swindell sets his sights on an unprecedented fifth Short Track Nationals triumph when action fires off next Thursday night at I-30 Speedway.
Drivers entering by the pre-entry deadline of Friday, October 6, will receive a free pit pass for Thursday through Saturday. Pre-entry is $150. Entry fee for those entering after October 6 is $250 with no driver pit pass. Entry forms are available at http://www.i-30speedway.com/flyers/2017STNFlyer.pdf.