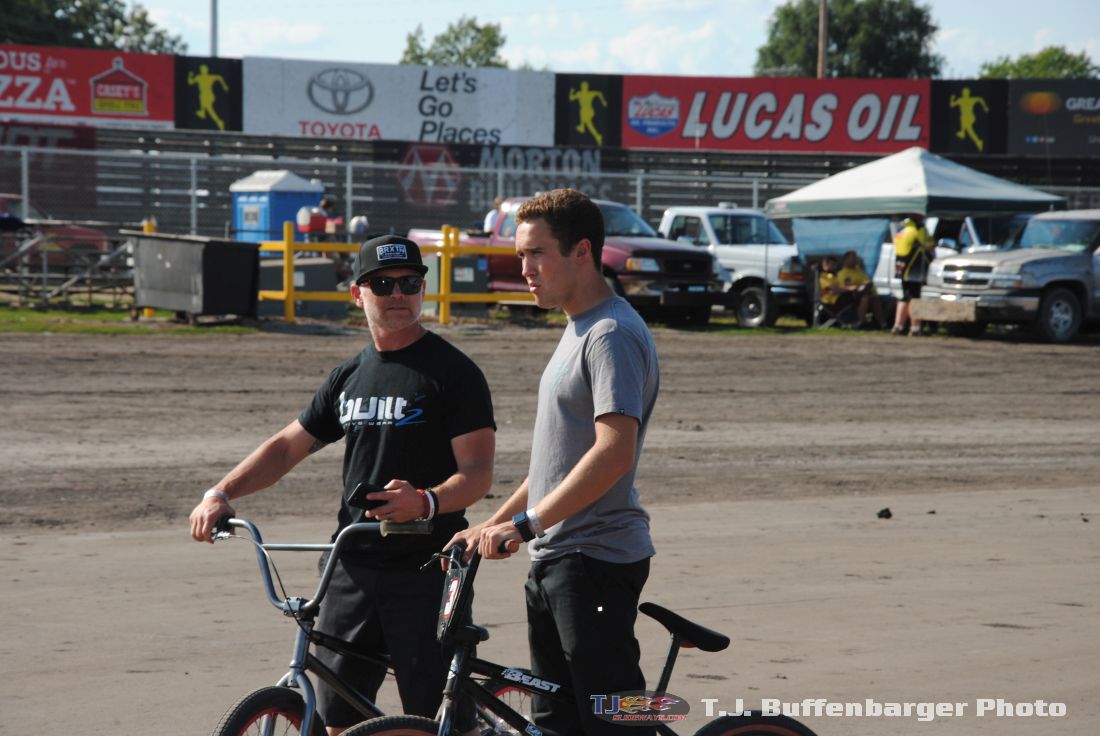 By T.J. Buffenbarger
The question of what Joey Saldana would be up to in 2018 was partially answered with Rudeen Racing's announcement of fielding a two car team next year. Saldana will team up with Rob Hart spinning the wrenches for a 50-60 race effort while current Rudeen driver Tayler Malsam will drive a team car in the same number of shows. Rudeen joins several other high profile teams such as Tod Quiring's Big Game Treestands/Muddy Trail Cameras effort and (insert team here) in contesting a large number of high profile races, but not contesting the entire World of Outlaws circuit. Rudeen's has fielded cars since their National Sprint Tour effort in 2006 on a regional capacity with various drivers including Rutz, often coming to the Midwest around the time of the Month of Money. This will be Rudeen's most aggressive effort since that run with the NST.
In the near future I'm going to be pay close attention to the schedule teams put together with the proliferation of bigger paying events like the Tuscarora 50 at Port Royal Speedway and the World Championship at Mansfield Motor Speedway. Throw in a mix of regular higher paying regional series events that could be enticing for drivers and teams to setup a similar regional schedule without chasing the World of Outlaws schedule from coast to coast.
I can relate to the perspective of the veteran World of Outlaws driver coming off the road to do select dates more every day. I see the value in a schedule like this and not having to travel without my family half the year would be appealing. For someone young without a family and some of the responsibility I can see the attraction the other way of staying on the road. Its also valuable to have "been there, done that" of having experiences from the road when deciding to scale back. In my youth I'd go to every race I could possibly get to. Even if it didn't have that much value to the site if it was close I was covering it. I'd often wonder why my older counterparts were not doing the same. With time, more responsibility outside of this space, and a family I tend to evaluate the value of covering an event in this space and understood why I didn't see a lot of my older contemporaries as much.
I love covering races as much or more as when I started, but its a lot more enjoyable today knowing all of the other balances in life are in check. In turn I feel the material is better when I do venture out to the track not having to worry about if those other things are squared away. I dare say a lot of drivers that scale back their schedules over time would echo those sentiments.
More life perspective on this topic makes Steve Kinser, Bobby Allen, and others did in my eyes pounding up and down the road for decades seem even more impressive. After a week at Knoxville, in Indiana, or at the Kings Royal I'm good to go home. Doing that week after week for 20-30 years is absolutely amazing. The same goes for car owners footing the bills for the race teams to stay on the road even for a few years.
Notes
Coming off what was a relatively quiet weekend in the open wheel world Monday made noise with several big announcements leading into the World Finals in Charlotte.

The most surprising announcement was Sage fruit teaming up with Tony Stewart Racing starting in 2018. Sage has been a long time sponsor with Kasey Kahne Racing and Kahne himself. While being used to sponsorship shifts related to companies with ties to the a NASCAR team of a particular car owner, this one is a bit more unusual with Sage's strong presence on the KKR sprint cars and Kahne's personal sprint car in particular. With Sage based in the Northwest part of the country and Kahne being from Washington state the two entities have a relationship that goes back over a decade.

With Kahne's moving from the NASCAR juggernaut of Hendrick Motorsports to Leavine Family Racing for 2018 will it have any impact on the two World of Outlaws teams and Kahne's part time effort fielded out of KKR? That picture should become clear during and shortly after World Finals weekend.

The good news for the sport as a whole is Sage's continued involved in sprint car racing instead of venturing elsewhere to market their product.
The $50,000 bonus if one driver wins both the midget and sprint car portions of the Turkey Night Grand Prix Thanksgiving night at Ventura Raceway likely helped boost the car count for last Saturday's USAC Western Midget Championship event.
After a couple of years of hibernation the TJSlideways.com driver roster is being updated. The roster was dropped for a couple of years to focus time on other features, but readers of TJSlideways.com clearly missed the annual list of off season driver and team changes. With that in mind the roster is back for the 2017-2018 "off season" (there is no such thing). If you have plans for next season make sure to drop us a note so we can add it to the list.