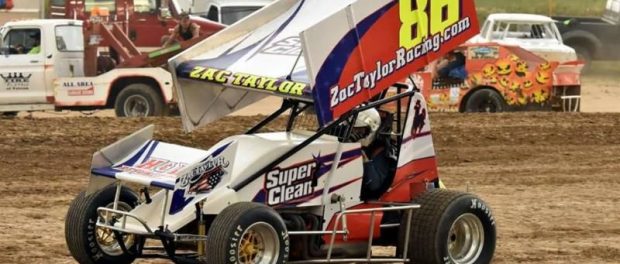 From Inside Line Promotions
GREEN RIVER, Colo. (December 4, 2017) – Zac Taylor plans to expand his schedule next year after enjoying a career-best season in 2017.
Taylor will move into 360ci winged sprint cars and dabble in some pavement modified racing next year along with select 305ci sprint car and midget races thrown into the mix.
Taylor recorded seven victories, including his first aboard a midget, during a highly successful 2017 campaign. He earned his first-ever 305ci sprint car championship at El Paso County Raceway in Calhan, Colo., to go with the Blood Sweat and Tears/Colorado Alliance Tour sprint car championship and the International Motor Car Association Colorado State title.
"By far this was my best year of racing," he said. "To win three championships in one year is beyond belief. It was close down the stretch and that was nerve-racking."
Taylor said his family should have a 360ci engine purchased within the next few weeks and the plans are to race several of the major ASCS events in 2018.
"Running the 305 has been great and was a fantastic way to learn how to handle a sprint car, but that won't get you noticed too much outside of Colorado," he said. "If I'm going to get my name out there and get more opportunities we need to move up."
Taylor said a crew member who helped out the family team this season has also offered him a chance to race a modified on pavement in 2018 and Todd Henry will once field a midget for him next year.
"We will try to race the sprint car and midget on the same weekend more in 2018," Taylor said. "And when we're not racing those I will fill in the schedule with the modified. And we kept the 305 engine in case we need to go racing."
Taylor plans to compete next in the Lucas Oil Chili Bowl Midget Nationals, which is Jan. 9-13 at the River Spirit Expo Center in Tulsa, Okla. Taylor will drive for Henry at the upcoming event.
"We had a great season with Todd and I learned a ton," he said. "Todd worked hard on setups for dry slick tracks and we just got better and better as the year went on. That will give me a better chance of success at the Chili Bowl. It will put me in a lot better comfort zone. I'll be in equipment I know with a crew chief I trust.
"I'm so excited for 2018 and the opportunities that are out there. I want to race more and continue to learn. It will be a challenge and won't be easy, but I'm committed to working hard to improve and grow in this sport."