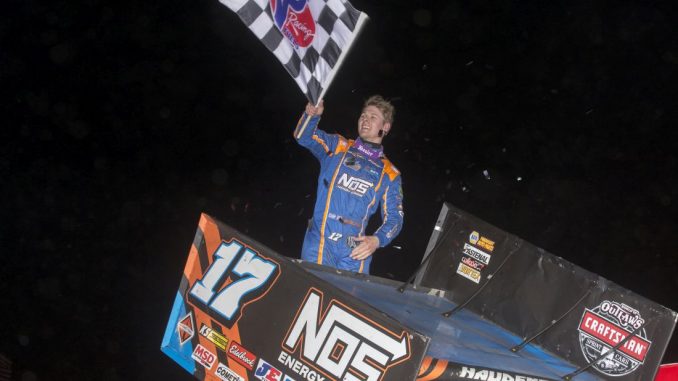 By TJ Buffenbarger
This edition of the notebook was nearly complete when the news cycle was such that it was time to throw the first edition in the trash and start with this one.
The only thing more epic than the weather was Sheldon Haudenschild navigating lapped cars…
Last weekend was an epic performance by the weather. Events rained out on both coasts and three different countries made for a very busy Thursday and Friday and a lighter weekend than normal in the office of TJSlideways.com. Thankfully the crew at Bakersfield Speedway and DIRTVision's fast pass saved the day so I could witness Sheldon Haudenschild's outstanding performance Saturday night.
Haudenschild's early success on the World of Outlaws tour has been the hot story early this season. Not even a heat race spin could keep Haudenschild from victory lane. Capitalizing on Brad Sweet getting caught up in slower traffic and spinning out of the lead, Haudenschild avoided a similar fate cutting through traffic with no hesitation.
It will be interesting to see if Haudenschild and the Stenhouse Jr/Marshall Racing team can keep the momentum up after the Easter break as the tour heads east.
Windom going to Indy
Chris Windom's Indy Lights Series effort for the Freedom 100 was great news to get Tuesday started. After Bryan Clauson's passing I wondered if we would see another Byrd family effort backing a short track driver. Windom is more than deserving of the honor and it should be fun to track his progress leading up to the race on Carb Day at the Indianapolis Motor Speedway.
One of my biggest regrets with the website was not covering Clauson during his efforts at the Indianapolis Motor Speedway. With family and work things never lined up for me to be able to spend time at the Speedway around Memorial Day weekend. After meeting David Byrd at the Little 500 and seeing how well the second year of Clauson's Indianapolis effort with the Byrd family went by leading a lap during the race I was going to try and make it work somehow.
When Clauson passed I thought the opportunity to cover a short track driver at the Speedway had gone with it. With the lack of pavement racing involved in the various USAC divisions I didn't know if an effort would be available from midget, sprint car, and silver crown racing to do the 500. Windom's ride in the Freedom 100 could be a step towards that. I had mentioned to friends if anyone else was given that opportunity I was not going to miss out on it. The time off has been approved and I plan on filling out paperwork so I can take my own "Road to Indy" to cover Windom.
Thoughts on Craig Dollanksy's retirement
The news of Dollansky's retirement after finding out he had been dealing with an additional fractured vertebra in his back for a couple of was surprising to learn of on Wednesday. Personally I will remember Dollansky for a lot of his moments where the odds were against him and succeeding from his persistence and hard work.
From a standout performance at the Knoxville Nationals driving for Dean Lindsey finishing third in the 1996 Knoxville Nationals was where I really started to take notice led into the moments when he started his own team and building it up into a major World of Outlaws operation. Even the scary incident during the Freedom 100 Indy Lights race that was the cause of his first back injury didn't hold Dollansky back as his team forged on with substitute drivers and Dollansky returned behind the wheel full time the next season.
I would be remiss to not mention the fastest night in Eldora Speedway history when Dollansky set the all-time track record and won the feature event. It seems fitting Dollansky would be known for this particular achievement with his stand on the gas, aggressive style.
From the media perspective, with Dollansky I always found him accommodating and easy to work with, even when things were not going well.
From the tone of his retirement press release it sounds like Dollansky wants to stay involved in the sport. He has experience from the promotion and team ownership/management side, which could be a valuable asset to someone. Hopefully we can still run into "the Crowd Pleaser" at tracks for years to come.
Bell loves home cooking…
Christopher Bell picked up his seventh and eighth straight victory during the Turnpike Challenge with the POWRI Midget Car League at I-44 Riverside Speedway last Friday and Saturday. Those combined with Bell's two consecutive victories in the Chili Bowl Nationals are extra special coming in Bell's home state of Oklahoma.
Ohio fans will have the opportunity to witness Bell in action aboard Ed Neumiester's #11N car this weekend.
Busy weekend around the globe
With spring comes a time where more sprint car races take place across the globe as our season ramps up and Australia and New Zealand's seasons begin to wind down. The weather looks better across the country than it did last weekend (at least with less snow).
Australia is particularly busy with the Easter weekend featuring the annual "Easter Trail" sprint car series and other specials around the map on Friday, Saturday and Sunday.
The USAC National Sprint Car Series also takes center stage on Saturday with their first Midwest appearance Saturday at Lawrenceburg Speedway.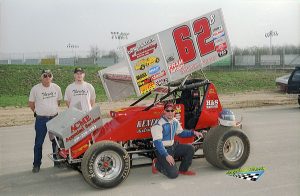 Steve Leiber's passing
Wednesday morning word came that Steve Leiber had passed away Tuesday at VanCrest Nursing Home in Ada, Ohio. Son of Duane Leiber, Steve followed in his father's footsteps into the sprint car division regularly competing with the NRA Sprint Invaders. Tragically a snowmobile accident in Northern Michigan in 2005 left him critically injured. Leiber was 51 years of age. Our thoughts are with all of his family and friends.