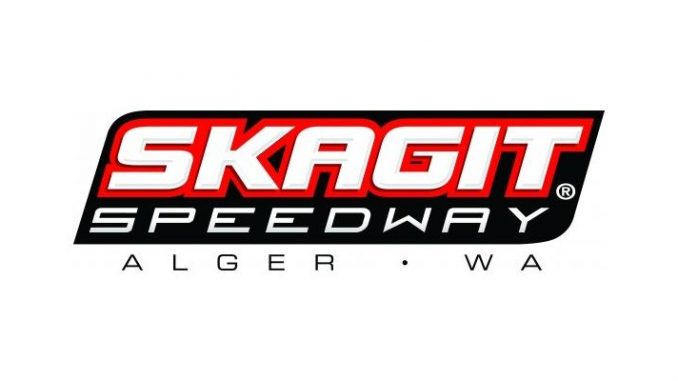 From Kaleb Hart
ALGER, Wa. (May 19, 2018) – Redemption, thy name is Justin Youngquist. After taking a full year off from racing to heal up from injuries, the Burlington, WA driver returned to the seat of his 360 Sprint Car and led every lap of the main event in the Budweiser 360 Sprints on a lightning quick night of racing at Skagit Speedway. Joining Justin in victory lane were Kevin Smith and Cory Swatzina.
The story started during the heat races, as Youngquist and Steve Reeves battled side by side for eight straight laps that saw Justin lead the final 50 feet to score the win. With a pole position starting spot, Youngquist blasted out to the top side of the raceway early and built a huge lead that only waned after a couple of yellow flags. As the race went long, Youngquist maintained his huge advantage amongst slower traffic, showing no rust after a year off in piloting his family owned car to an emotion filled victory lane. Eric Fisher battled to second with Colton HEath taking third. Jared Peterson set quick time and Greg Hamilton won the first heat race.
For the second straight week, Cory Swatzina piloted the Roger Oudman owned #2 Sportsman Sprint to victory lane. The Cook Road Shell Sportsman Sprint Main saw Swatzina ran out to the early lead with Jake Helsel quickly moving into second. Swatzina had entered heavy traffic on lap 14 with Helsel right on his tail as the yellow flag flew. On the restart, Cory raced to a 3 car length avantage with Helsel there but not close enough to make a move. A caution flag five laps later saw a restart where Helsel threw a slidejob that didn't stick before a caution flew on lap 23. With a green white checkered restart coming, Cory throttled up at the perfect time, giving himself a three to four car length lead that Jake could not overcome to pick up his second straight win. Helsel would take second with James Bundy running third. Trevor Cook was the fast qualifier and heat wins went to Joe Lyon, Eric Turner and Swatzina.
A physical A Main event in the Modified division saw Kevin Smith score his first victory of 2018. The race up front occasionally looked like a game of Rock Em Sock Em Robots, where Smith came out on top after taking the lead from his brother Rick on lap 11. Graham Cook and Craig Moore rounded out the podium. Cook and Ben Gunderson were the heat winners.
Budweiser 360 Sprints
Fast Time – Jared Peterson 12.044
Heat 1 – Greg Hamilton, Jared Peterson, Matt Jensen, Chance Crum, Chris Ochs, Steve James, James Setters
Heat 2 – Justin Youngquist, Steve Reeves, Eric Fisher, Colton Heath, Bud Ashe, Jordan Milne
Main – Justin Youngquist, Fisher, Heath, Jensen, Hamilton, Peterson, Crum, Reeves, Ochs, Setters, James, Milne, Ashe
Lap Leaders – Youngquist 1-25
Cook Road Shell Sportsman Sprints
Fast Time – Trevor Cook 12.407
Heat 1 – Joe Lyon, Bailey Sucich, Jake Helsel, Trevor Cook, Barry Martinez
Heat 2 – Eric Turner, Kelsey Carpenter, Steve Parker, James Bundy, Ashleigh Johnson
Heat 3 – Cory Swatzina, Devin Barnes, Bill Rude, Michael Bollinger, Malachi Gemmer
Main – Cory Swatzina, Helsel, Bundy, Parker, Carpenter, Cook, Turner, Rude, Barnes, Sucich, Gemmer, Johnson, Martinez, Lyon, Bollinger
Lap Leaders – Swatzina 1-25
Modifieds
Heat 1 – Graham Cook, Mike Steltz, Jeff Blanton, Tim Baker, Dan Butenschoen, Cliff Ballenger
Heat 2 – Ben Gunderson, Craig Moore, Rick Smith, Mel Decker, Adam Holtrop, Kevin Smith
Main – Kevin Smith, Cook, Moore, R Smith, Holtrop, Decker, Steltz, Blanton, Baker, Ballenger, Butenschoen, Gunderson
Lap Leaders – R Smith 1-10 K Smith 11-25