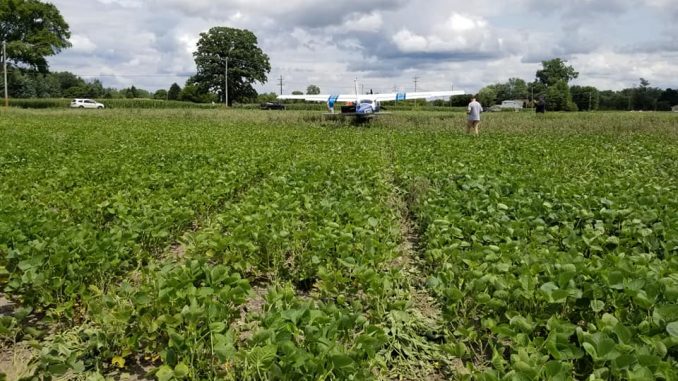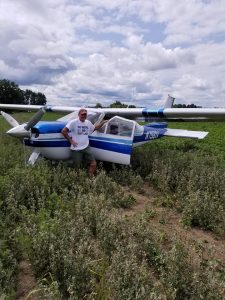 By T.J. Buffenbarger
Bill Jacoby is used to close calls on the race track during his sprint car career with SOD, Auto Value Super Sprints, and other Michigan Sprint Car Series on dirt and pavement. Jacoby had a close call of a different kind this week.
Jacoby also enjoys flying and had quite the adventure following the installation of a new engine in his airplane.
"I had about five hours on the engine when I decided it was time to fly further than the basic Marshall (MI) traffic pattern," said Jacoby. "I flew to Charlotte and landed just for fun. When I powered out everything was good until about 300 feet and then engine lost a cylinder."
With the engine at max power this situation became critical and Jacoby realized he would need to make the most important landing of his flying career.
"The plane started to stall and drop. I had a corn field in front of me and a bean field to the left. I chose beans and landed without any damage."
Jacoby was soon greeted a host of emergency vehicles and officials from the Federal Aviation Administration to find out what happened. Even with the close call Jacoby didn't lose his sense of humor.
"A lot of people were surprised when they got there and found me standing next to the plane talking with the farmer. I think they were expecting to find a big wreck. They should come watch me in a Sprint Car for that."
Once the plane was moved about 200 yards to get it back on airport property the FAA investigated and eventually returned the plane to Jacoby's possession. It was discovered a small piece rubber is what brought his plane down. The close call didn't keep Jacoby on the ground long. Once the repair was made he was back up in the air on Wednesday to test out the airplane. The close call was not far from Jacoby's mind though realizing how lucky he was.
"I was blessed once again. Turned out to be a super great day to be alive."
Other notes:
While the rest of the sprint car world prepares for the Knoxville Nationals Michigan sprint car fans have one of their busiest stretches of the season starting this weekend. Three different dirt series are having two nights of racing throughout the state and in Northern Indiana. 360, 410/open, and non-wing sprint cars all will be featured over the next two days.
The Engine Pro Sprints on Dirt presented by ARP has a two night stand at Michigan's only weekly sprint car track, Butler Motor Speedway. Chad Blonde is leading the SOD points going into his home track for the two night affair looking to extend lead over Shawn Valenti. Blonde will be up against formidable youngster and Butler point leader Boston Mead.
The Great Lakes Super Sprints make their only southwest Michigan appearance Friday at Hartford Motor Speedway before making the short jaunt south Saturday to the Plymouth Speedway. This weekend sets up a stretch run for GLSS. Dustin Daggett holds a 209 point lead over Phil Gressman going into the weekend. With the National Racing Alliance off this weekend and several teams heading west to the 360 Knoxville Nationals look for a few different faces near the front this weekend at Hartford and Plymouth.
The Lane Automotive Michigan Traditional Sprints may have the most intriguing two nights of racing this week Friday at I-96 Speedway and Saturday at Thunderbird Raceway. I-96 and Thunderbird arguably develop the biggest cushions of any dirt track in the state and are not afraid to lay the water and/or till the racing surface, potentially giving MTS its two heaviest track surfaces to compete on of the season. Thunderbird in particular has been juicy (by Michigan standards) all season.
All three weekend options are solid. The racing season here is winding down with Labor Day approaching and only a handful of specials following that weekend. With most schools now starting before Labor Day this is a perfect chance to get out to the race track and see a sprint car race.