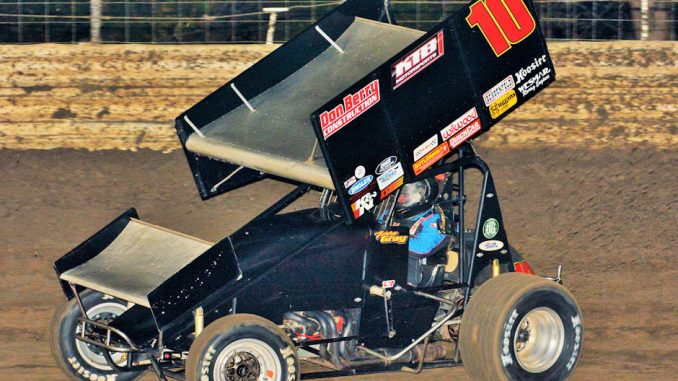 By Pete Walton
Atlanta, GA – April 11, 2019 – The Fayetteville, Georgia based United Sprint Car Series Outlaw Thunder Tour presented by K&N Filters winged sprint cars make their spring 2018 visit to Bubba Raceway Park in Ocala, Florida on Friday, April 12th and Saturday April 13th . The event is entitled the USCS Spring Speed Xplosion. The series' 130 mile-per-hour USCS winged Outlaw type sprint cars headline the two-day weekend of racing action at the semi-banked three-eighths mile D-shaped oval track. The racing card also includes the 100 mile per hour www.rockauto.com USCS 600 Sprint Car Series winged mini sprints and Florida Mini Sprint Action series on both nights in a head to head duel.
The United Sprint Car Series portion of the event will give a driver who can sweep the weekend's elements an opportunity to pick up over $3500 in cash prize winnings plus contingency awards including Friday night's 25-lap preliminary USCS sprint car main event win and by arriving first in the USCS Victory Lane after Saturday night's 30-lap Championship final as well.
Heading the entry list is the 11-time USCS series Champion Terry Gray from Bartlett, Tennessee who is in runner-up spot in the National point standings coming into this weekend. Gray, who is also at the top of the talented entry list and had two 2018 USCS feature win and has 91 career USCS feature wins.
Midwest legend and 2015 Sprint Car Hall of Fame inductee Danny Smith from Chillicothe, Ohio who is the leade in the National point standings. Smith won the season opener at another Florida Speedway in January and has held on to the points lead with consistent top five finises.
The event is expected to draw winged sprint car drivers from at least seven states including several of the series 2018 and 2019 feature winners. Those include last Saturday's winner at Cherokee Speedway in South Carolia, Johnny bridges from Cherryville, North Carolina who ranks third n the USCS National standings behind Smith and Gray.
All in all, fans can expected a full field and a complete race format of sprint cars racing each night The popular Florida Mini Sprint join the USCS sprint cars both nights plus Stock Car Racing eah night in several BRP divisions.
Bubba Raceway Park is located at 9050 N.W. Gainesville Rd. in Ocala, Florida 34482 The track telephone: is 352.622.9400. For event info please visit www.bubbaracewaypark.com or the speedway's Facebook page at Bubba Raceway Park. The USCS series Official website is located at www.uscsracing.com The USCS phone numbers are Office at 770-460-7223 or Mobile at 770-865-6097.