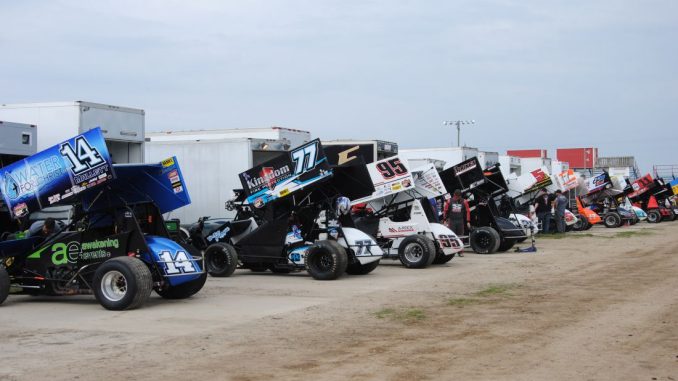 By T.J. Buffenbarger
(May 17, 2019) — After a great night of racing with the Lucas Oil ASCS Sprint Car Series presented by MAVtv and the Great Lakes Super Sprints here are my immediate takeaways.
The ASCS National Tour and GLSS combined to produce a highly entertaining night of racing. The competition level was off the charts in what I believe was the deepest pool of talent ever for a 360 sprint car race in the state of Michigan. Even better is the fact that people came out to watch it as it appeared a nice crowd turned out for what is a relatively unknown entity in Michigan.

Hopefully that momentum carries into Saturday so the ASCS weekend at I-96 can become an annual event. Even with Hafertepe dominating the main event the program was highly entertaining. The local teams were competitive enough to give the event a different dynamic than some of the other touring series that have visited the area.

Tomorrow night has the potential to be even better with a 30-lap ASCS finale and the Lane Automotive Michigan Traditional Sprints joining to make an all sprint car double header. Hopefully it's the start of new Great Lakes tradition.
The local Great Lakes Super Sprints teams fared better than I thought they would against the ASCS National Tour. When ASCS made their first appearance in Michigan back in 2016 Dustin Daggett was the top finishing local driver in sixth place and the only one that finished in the top 10. This time Ryan Ruhl led the charge by winning his heat race, qualifier, and finishing second in the main event. Two Michigan drivers ended up in the top 10 with Ruhl and Daggett along with Phil Gerssman and Jared Horstman, who have raced frequently in the mitten the past couple of seasons, also scoring top 10 finishes.

Ruhl even eluded to the struggles of the local drivers at times when National touring series come to Michigan and how happy he was to hold up his end for the local crowd. I-96's 3/8 mile layout definitely gave more of a home field advantage to the locals which several drivers took advantage of.

Don't sleep on Phil Gressman on Saturday as well. Gressman was very fast one week ago at I-96, but an aggressive move at the start of a heat race that ended up with front end damage from a marker tire derailed Gressman's night. Friday Gressman avoided such pitfalls and was getting faster as the race wore on.
One thing I've heard about over the years I really didn't get a chance to see in person until now is how "physical" the style of racing is with ASCS. I think if I was a car owner four post "battle bars" might have been installed as several people ended up taking on full contact racing at times through the preliminaries and the main event.

Several moments like Roger Crockett and Jay Steinebach making heavy contact racing for the final transfer spot in one of the B-Mains, Matt Covington and John Carney II also making hard enough contact that I was surprised that Covington kept going and Carney slid off turn two rather than tumbling off the racing surface. There were other instances as well including a couple of reminders by ASCS competition director Matt Ward to avoid any post-race shenanigans that driver (or drivers) wanted to be parked for the weekend.

Contact aside the intensity of the racing was highly enjoyable. I just hope promoters are taking note so we can see more of the ASCS National Tour in this area for years to come.