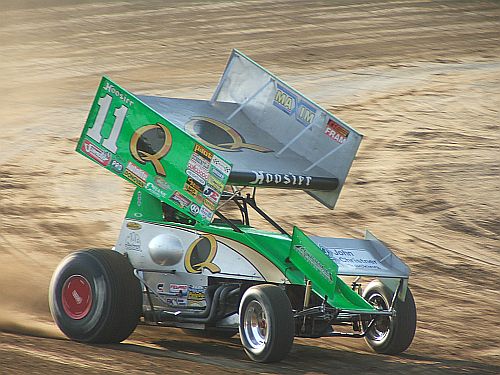 By Craig Murphy, images by T.J. Buffenbarger
HARTFORD, Mich. (July 13, 2006) – For Kinser, it was his third win of the season but the first since he swept the inaugural NST weekend back in February. "It was a pretty long dry spell," Kinser said. "I hope it's not that long again."
While Kinser has struggled some with consistently lately, his teammate Tim Kaeding racked up a series-leading 9 wins. Being a winning car owner wasn't exactly solace for Kinser, who won at this ½-mile, high-banked oval a year ago as well. "It's frustrating, no matter who it is you're losing to," Kinser said. "I don't want to lose to anyone."
That competitive spirit was on display early. Jason Meyers led the first three laps from pole, but Kinser used the high line to get by on lap 4. "I could work either high or low," Kinser noted. "The car was responding well. We made gains on things."
Meyers held second, and was closing on Kinser when a yellow came out on lap 17. One lap after the restart, Jason Solwold got by Meyers for second. The top-three remained the same for the remainder of the race, followed by points leader Tim Kaeding and Jason Sides. Danny Lasoski was sixth, recovering from first lap contact that left him with a flat tire and sent Brian Paulus flipping.
Meyers felt good until the yellow came out. "It was another consistent top-three," Meyers said. "I thought we were running (Kinser) down. Then the yellow came out, and the tires cooled back down. The car wasn't the same after that. It took us a couple of laps to get going."
Solwold wanted to get going to the top spot. "I just want to win some of these," Solwold said. "I'm tired of being bridesmaid, but at least we're consistent. We need to keep the momentum up. This is the biggest time of the year." Solwold wasn't sure if a late caution would have changed the result. "Our only chance would have been to go low in (turns) 1 and 2 like I did to Meyers. But (Kinser) was strong. They call him 'The King' for a reason."
Trophy dashes were won by Steve Kinser and Jason Meyers, with Meyers choosing to start on the inside pole for the main event.
Heat races were won by Bret Mann, Tim Kaeding and Lucas Wolfe. Danny Lasoski was the fastest of 29 qualifiers with a time of 18.362 seconds, his fourth fast time of the year. The B-Main was won by Ken Mackey.
The National Sprint Tour next races Sunday, July 16 at Tri-City Speedway in Franklin, Penn. Prior to that, most of the NST teams will be competing in the July 14-15 Kings Royal at Eldora Speedway in Ohio. Steve Kinser won that event last year.
For Kinser, Wednesday's win was special as it was his first since the tragic passing of series founder Fred Brownfield on June 16. Kinser and Brownfield were longtime friends. "That's not going to make up for losing Fred, no matter how many of these we win," Kinser said. "He was our leader. We still have the organization, and want to keep it going for Fred."
RESULTS:
Qualifying
1 Danny Lasoski 83 18.362
2 Danny Smith 4 18.369
3 Jason Solwold R19 18.440
4 Jason Meyers 14 18.559
5 Steve Kinser 11 18.667
6 Dean Jacobs 6 18.696
7 Bret Mann 19 18.743
8 Jason Sides 7S 18.754
9 Kerry Madsen 11H 18.769
10 Shane Stewart 26 18.910
11 Brian Paulus 28 18.916
12 Paul McMahan 20 18.995
13 Ken Mackey 25M 19.137
14 Tim Kaeding 11K 19.148
15 Lucas Wolfe 5W 19.154
16 Ricky Logan 55 19.388
17 Steve Irwin O 19.634
18 Gregg Dalman 49T 19.637
19 Dain Naida 6N 19.819
20 Tom Busch 4B 19.825
21 Dustin Daggett 85 19.830
22 Jon Trudeau 23 19.860
23 Ben Rutan 25 19.907
24 Tony Bures 58 20.029
25 Neil Sheppard 4N 20.145
26 Michael Schumacher 24 20.637
27 Mark Aldrich 1A 21.049
28 Robert Huisken 46 21.145
29 Corey Bevard 8 21.236
Heat One
1 Bret Mann 19
2 Shane Stewart 26
3 Danny Lasoski 83
4 Ricky Logan 55
5 Jason Meyers 14
6 Neil Sheppard 4N
7 Dain Naida 6N
8 Robert Huisken 46
9 Ken Mackey 25M
10 Jon Trudeau 23
Heat Two
1 Tim Kaeding 11K
2 Steve Kinser 11
3 Brian Paulus 28
4 Danny Smith 4
5 Jason Sides 7S
6 Tom Busch 4B
7 Corey Bevard 8
8 Steve Irwin O
9 Michael Schumacher 24
10 Ben Rutan 25
Heat Three
1 Lucas Wolfe 5W
2 Paul McMahan 20
3 Jason Solwold R19
4 Dean Jacobs 6
5 Kerry Madsen 11H
6 Gregg Dalman 49T
7 Mark Aldrich 1A
8 Tony Bures 58
Dash One
1 Steve Kinser 11
2 Danny Lasoski 83
3 Kerry Madsen 11H
4 Jason Solwold R19
5 Brian Paulus 28
6 Bret Mann 19
Dash Two
1 Jason Meyers 14
2 Jason Sides 7S
3 Danny Smith 4
4 Paul McMahan 20
5 Shane Stewart 26
6 Dean Jacobs 6
B-Feature
1 Ken Mackey 25M
2 Steve Irwin O
3 Jon Trudeau 23
4 Dain Naida 6N
5 Mark Aldrich 1A
6 Corey Bevard 8
7 Ben Rutan 25
8 Michael Schumacher 24
9 Tony Bures 58
10 Robert Huisken 46
A-Feature
1 Steve Kinser 11
2 Jason Solwold R19
3 Jason Meyers 14
4 Tim Kaeding 11K
5 Jason Sides 7S
6 Danny Lasoski 83
7 Shane Stewart 26
8 Lucas Wolfe 5W
9 Paul McMahan 20
10 Danny Smith 4
11 Dean Jacobs 6
12 Kerry Madsen 11H
13 Ricky Logan 55
14 Bret Mann 19
15 Brian Paulus 28
16 Tom Busch 4B
17 Neil Sheppard 4N
18 Mark Aldrich 1A
19 Ken Mackey 25M
20 Steve Irwin O
21 Jon Trudeau 23
22 Corey Bevard 8
23 Gregg Dalman 49T
24 Dain Naida 6N
Photo Gallery