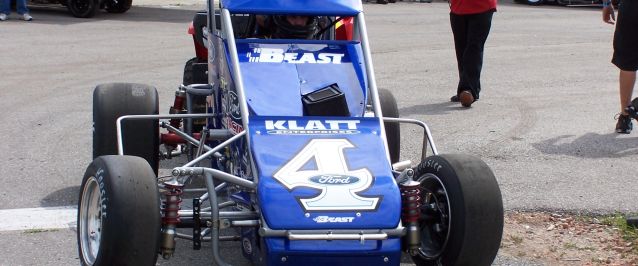 From Dick Jordan and Anderson Speedway, image courtesy of Mudclodbob
ANDERSON, Ind. (April 11, 2010) – Brownsburg competitor Bobby East put
on a late charge going from the seventh spot with 9 laps remaining to
pass Darren Hagen on the next to last lap to get the win in the USAC
Midget feature but the fans left Anderson Speedway talking about the
run by Kyle Hamilton on Sunday.
Hagen led the first 98 laps and turned back a strong challenge from
Kyle Hamilton but on the last restart East took advantage of the high
groove to blast his way to the front for high eighth win at Anderson
Speedway.
Dave Darland also took advantage of the high line to move from the
eight position to a third place finish followed by Cale Conley and
Tracy Hines.
East and Darland changed tires during the red flag and accepted the
penalty of starting at the tail of the lead lap cars.
"We put tires on and Darren (Hagen) was a sitting duck," he said.
The fans were talking about Hamilton's run. After starting 16th in the
23 car starting field, Hamilton moved into the top 10 after 40
circuits. But from there the Danville driver started using the outside
line to perfection rapidly gaining positions.
During the course of eight laps Hamilton passed Tracy Hines and Cale
Conley on the outside and made an inside move on Brad Kuhn to move
into the second position, a straight-away behind Hagen.
It appeared Hamilton got the break he needed when on lap 75 when Jerry
Coons Jr. made contact with the outside retaining wall in turn two.
Hagen was able to pull away from Hamilton, but that gap quickly began
to narrow.
On lap 88 Hamilton got along side Hagen on the outside in turn 1 and
when the two cars touched wheels, Hamilton was forced to go high. He
again started to close on the leader when on lap 91 the third place
running car of Levi Roberts and Tate Martz tangled in turn two.
Hamilton's day came to an end on the restart when his engine let go.
While Hagen and Hamilton were battling up front there was a spirited
battle between Roberts, Conley, Hines, Bobby East and Dave Darland for
the third through sixth positions.
The red-flag caused by Hamilton's engine expiring changed the entire
complexion of the race, with East and Darland making the right call to
change tires, with only eight cars on the lead lap at the time.
QUALIFICATIONS: 1. Jerry Coons Jr., 11, Wilke-Pak-11.645; 2. Cale Conley, 3c, Conley-11.660; 3. Levi Roberts, 2D, Roberts-11.667; 4. Tracy Hines, 24, Parker-11.697; 5. Bobby East, 4, Klatt-11.698; 6. Mario Clouser, 06, MCM-11.708; 7. Brad Kuhn, 17B, RW-11.717; 8. Darren Hagen, 3, RFMS-11.742; 9. David Byrne, 20D, Byrne-11.770; 10. Bryan Clauson, 39, Tucker/DMS/BCI-11.777; 11. Dave Darland, 71, Kunz-11.788; 12. Shane Hmiel, 56, 56 Inc.-11.792; 13. Henry Clarke, 67, Kunz-11.796; 14. Zach Daum, 5, Daum-11.849; 15. Daniel Bedford, 11D, DMS-11.890; 16. Mario Marietta, 85, Marietta-11.897; 17. Kyle Hamilton, 33, Hamilton-11.942; 18. Tate Martz, 7x, Steele/Alexander/Martz-11.946; 19. Caleb Armstrong, 7C, C & A-11.949; 20. Adam Kramer, 2, Kramer-11.950; 21. Jimmy Simpson, 21, Simpson-11.985; 22. Alex Bowman, 55, Cline-12.000; 23. Mike Larrison, 6, East-12.113; 24. Ali Jackson, 44, Perona/Cunningham-12.180; 25. Buddy Lowther, 31, Lowther-12.711.
FIRST HEAT: (10 laps) 1. Marietta, 2. Clarke, 3. Kuhn, 4. Clauson, 5. Coons, 6. Hines, 7. Armstrong, 8. Bowman, 9. Lowther. 2:00.26
SECOND HEAT: (10 laps) 1. Hamilton, 2. Darland, 3. Hagen, 4. East, 5. Conley, 6. Kramer, 7. Daum, 8. Larrison. 2:01.30
THIRD HEAT: (10 laps) 1. Bedford, 2. Hmiel, 3. Martz, 4. Byrne, 5. Clouser, 6. Roberts, 7. Simpson, 8. Jackson. 2:01.00
SEMI: (12 laps) 1. Hines, 2. Roberts, 3. Armstrong, 4. Simpson, 5. Jackson, 6. Larrison, 7. Lowther, 8. Daum, 9. Kramer, 10. Bowman. NT
FEATURE: (100 laps) 1. Bobby East, 2. Darren Hagen, 3. Dave Darland, 4. Cale Conley, 5. Tracy Hines, 6. Jimmy Simpson, 7. Levi Roberts, 8. Brad Kuhn, 9. Daniel Bedford, 10. Tate Martz, 11. Zach Daum, 12. Ali Jackson, 13. Buddy Lowther, 14. Kyle Hamilton, 15. Jerry Coons Jr., 16. Bryan Clauson, 17. David Byrne, 18. Mario Clouser, 19. Henry Clarke, 20. Caleb Armstrong, 21. Shane Hmiel, 22. Mario Marietta, 23. Mike Larrison. NT
——————————
FEATURE LAP LEADERS: Laps 1-98 Hagen, Laps 99-100 East.
NEW MOPAR NATIONAL MIDGET POINTS: 1-East-298; 2-Hines-276; 3-Brad Sweet-262; 4-Hagen-254; 5-Darland-239; 6-Clauson-223; 7-Coons-211; 8-Kuhn-179; 9-Brad Loyet-155; 10-Clarke-152.
NEXT MOPAR NATIONAL MIDGET RACE: April 30 – Pontoon Beach, IL – Tri-City Speedway – "Kevin Doty Classic"