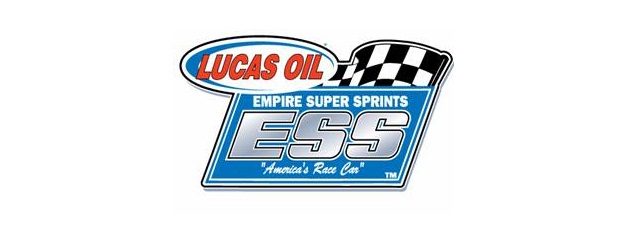 By Dean Reynolds
SYRACUSE, NY – While the Lucas Oil Empire Super Sprints (ESS) is getting ready to celebrate their 27th Anniversary Tour, providing wild, winged sprint car excitement to the fans has always been part of the tradition. But, for each competitor that enters an ESS event, safety comes first. With that in mind, the Brewerton Fire Dept. along with the Brewerton Speedway and ESS officials were part of a safety seminar which was located on the fire department grounds.
Several different types of cars which will compete at the Brewerton Speedway in 2010 were on hand along with the ESS sprinter of Tommy Wickham. ESS also provided a bare frame for the fire department to use the jaws-of-life on to learn the proper angles of freeing the driver opening in case of such a scenario.
"This was a good night for everyone to learn different aspects of safety. I really enjoyed the demonstrations and I think more tracks should work with their local fire department like they did here, it gets everyone on the same page." said ESS' technical inspector Ed Costello. "The sprints will only be at Brewerton once when we are there and having Tommy's car there was a huge help for them to learn how to act if they need to. We hope it doesn't happen but you can never be too prepared."
ESS carries much of the needed materials on their four wheelers in case of an accident or fire. Costello and ESS official Brian Ennis are even fitted with nomex fire suits during the racing action. Costello has been wearing a double layer suit for two years now and he summed it up perfectly…"Since I put the suit on we haven't had a use for it…I hope its stays that way for as long as I'm around."
Brewerton Speedway's owner John Wight and promoter Harvey Fink were on hand along with the modified of Mike Mahaney, the crate late model of Dale Caswell and others. Doug's Dirt Diary's Doug Elkins was there was well and he did interviews with many including Wickham. . For more information please log on to www.empiresupersprints.com and for the interviews you can log on to www.dougsdirtdiary.com .
The stars and cars of the Lucas Oil tour will make its return to the D-Shaped Dirt Demon on Friday, August 20th with a visit to the sister track, the Fulton Speedway, the next evening. It marks the first time ESS has been at Brewerton since 1993 (they were scheduled in 2006 but Mother Nature won) and at Fulton in '06.
The very best of "America's Race Cars" and the Lucas Oil Tour will kick off on Sat. May 29th at the Track of Champions, the Fonda Speedway. The seventh annual Earl Halaquist Memorial is the first event of the 27 race tour. The very next night the winged warriors will trek west to the Utica-Rome Speedway to cap off a very exciting Memorial Day Weekend.
The Lucas Oil Empire Super Sprints are brought to you by: Lucas Oil, Northwood 2 Construction/LaSalle Motorsports, SUNY Canton, 730 Truck Stop, Hoosier Racing Tires, Les Constructions Ultra, Cooks Contracting Services, Fondations 4 Saisons, Car Mate Trailers, The National Parts Peddler Newspaper, WestFront Construction, Cobra Coaches, The Ohsweken Speedway, Mohawk Racing Parts, Engine Research, Brodix Cylinder Heads, Total Race Supply, Riverside Bar and Grill, Coffrage Daniel Lampron, FX Chevy and many, many associate sponsors.