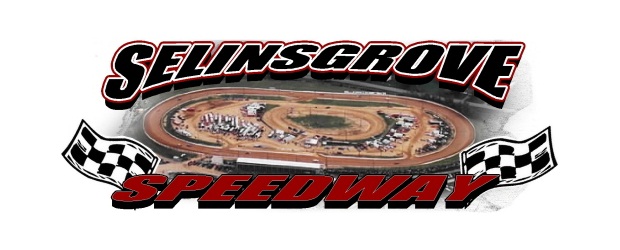 By Steve Inch
SELINSGROVE, Pa. – The thrilling finish in Saturday night's 30th Annual
Jack Gunn Memorial Challenge race between the URC 360 sprint cars and the
Central PA 358 sprint cars at Selinsgrove Speedway was like watching an
instant replay of the 2009 race.
For the second year in a row, Trevor Lewis of Upper Black Eddy made an
inside pass by Pat Cannon of Etters racing off turn four to take the
checkered flag. Cannon, who set a new track record for 360 sprint cars with
a lap time of 17.393 and also won his heat race, came up a half car-length
short of a perfect evening at the finish line.
Lewis earned $3,500 for the victory in the 30-lap feature and became the
track's sixth different sprint car winner in as many races. This was the
fifth year that the Gunn Memorial, run to honor the memory of the late
Hall-of-Fame race track promoter, was a challenge race between the two
sprint car divisions.
Defending Selinsgrove Speedway champion and polesitter Nate Snyder, racing
a 360 sprint car for the challenge event, beat defending URC champion and
second-place starter JJ Grasso into the first turn for the early lead in
the sprint car feature.
Fourth-place starter Pat Cannon was a man on a mission and quickly advanced
to second by the completion of the second lap. On a lap four restart,
Cannon made a pass by Snyder for the lead using the outside lane exiting
turn two. Grasso, ninth-place starter Davie Franek, and third-place starter
Trevor Lewis raced in the top five positions.
At the halfway point of the race, Cannon held a five-second lead over
Grasso, Franek, Snyder, and Lewis. Eighth-place starter Kevin Nouse and
sixth-place starter Blane Heimbach also see-sawed for positions in the top
five as an extended green flag period lasted until lap 25, when Franek,
while racing third, brought out the caution flag for a flat tire. Grasso
also had trouble, which placed Lewis in second for the ensuing restart. The
race was stopped for refueling during the yellow flag.
Cannon set the pace on the lap 26 restart while Lewis maneuvered around
lapped traffic. With two laps remaining, Lewis gained valuable real estate
on Cannon and was racing in his shadow when the white flag unfurled.
Entering the final corner on the final lap, Lewis powered underneath Cannon
and pulled even with the leader racing down the frontstretch. At the finish
line, Lewis was victorious by a half car-length in the chase to the
checkered flag. Cannon settled for second, with Nouse, Snyder, and Heimbach
rounding out the top five finishers.
SELINSGROVE SPEEDWAY SUMMARY – 15 May 2010
358/360 Sprint Car Challenge Race – 53 Entries
30-Lap A-Main: 1) 21 Trevor Lewis $3,500 2) 3 Pat Cannon 3) 00 Kevin Nouse
4) 27 Nate Snyder 5) 12 Blane Heimbach 6) 99 JJ Grasso 7) 66 Ryan
Kissinger 8) 2 Art Liedl 9) 11T TJ Stutts 10) 76 Larry Kelleher 11) 37
Scott Flammer 12) 18 Kevin Welsh 13) 22 Chris Coyle 14) 19 Colby Womer 15)
16H Matt Horst 16) 92 Justin Collet 17) 22T Matt Boland 18) 64K Kyle Purks
19) 28F Davie Franek 20) 4 Kenny Meisner 21) 5G Curt Michael 22) 7 Joey
Borich 23) 73 Kramer Williamson 24) 99M Kyle Moody 25) 21 Duane Mausteller
26) 5B Josh Beard
Time Trials: 1) 3 Pat Cannon 17.393 (new 360 track record) 2) 21 Trevor
Lewis 17.494 3) 63 Josh Weller 17.548 4) 99 JJ Grasso 17.554 5) 2S Jason
Shultz 17.636 6) 27 Nate Snyder 17.641 7) 5B Josh Beard 17.665 8) 22
Chris Coyle 17.699 9) 79 Davey Sammons 17.701 10) 37 Scott Flammer
17.713 11) 99M Kyle Moody 17.719 12) 12 Blane Heimbach 17.744 13) 4 Ken
Meisner 17.747 14) 00 Kevin Nouse 17.774 15) 9D Andy Best 17.777 16) 5G
Curt Michael 17.797 17) 56 Randy West 17.799 18) 28F Davie Franek 17.821
19) 22T Matt Boland 17.837 20) 66 Ryan Kissinger 17.868 21) 19 Colby
Womer 17.877 22) 2 Art Leidel 17.894 23) 21 Duane Mausteller 17.899 24)
89 Robbie Stillwagon 17.906 25) 18W Kevin Welsh 17.922 26) 2T TJ Stutts
17.925 27) 92 Justin Collet 17.931 28) 73 Kramer Williamson 17.936 29)
64 Kyle Purks 17.938 30) 7 Joey Borich 17.940 31) 38N Nick Schlauch
17.941 32) 14 Matt Heimbach 17.966 33) 76 Larry Kelleher 18.016 34) 5W
Phil Walter 18.055 35) 77 Derek Locke 18.094 36) 15 Mark Bittner 18.112
37) 12S Jimmy Stitzel 18.128 38) 63 Mike Walter 18.134 39) 81 Bob
Beidelman 18.170 40) 16H Matt Horst 18.196 41) 17J Jonathan Swanson
18.220 42) 99K Cody Keller 18.221 43) 28 Chuck Paige 18.228 44) 47N Bill
Unger 18.251 45) 94 Ted Thomas 18.259 46) 47 Tim Higgins 18.316 47) 769
Steve Nederostek 18.376 48 ) 67 Jeff Geiges 18.431 49) M1 Tommy Martocci
18.579 50) 39 Tim Hogue 18.594 51) 1 Scott Pursell 18.788 52) 70 Ed
Wagner 18.811 53) 88 Kevin Darling DNT
Heat Winners: Pat Cannon, Justin Collett, Kevin Williamson, Kevin Nouse,
Joey Borich
B-Main Winner: Kyle Moody
C-Main Winners: Andy Best, Jonathan Swanson