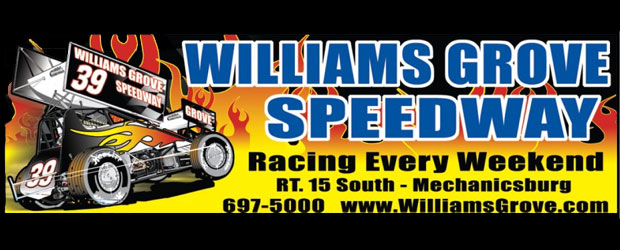 From Williams Grove
MECHANICSBURG, PA — Mark Smith scored an impressive victory in the 25-lap sprint car feature Friday night at Williams Grove Speedway and Pat Cannon won the 20-lap 358 main.
Smith lined up eleventh on the initial start, made a tremendous move on the inside through turns one and two and was challenging for the lead on the backstretch when a red flag fell for a crash involving Brent Marks and Ryan Bohlke.
It took Smith a little longer to get to the front when the race restarted, but he was in the top five by lap three.
Rookie Chris Shuttlesworth set the early pace as Smith continued to go forward. Smith took the runnerup spot from Doug Dodson on lap fifteen, then drove by Shuttlesworth with an inside move through turns three and four the next time around.
With Smith setting the pace all eyes were on Fred Rahmer, who started 16th and moved into third place on lap 17. Rahmer took second from Donnie Kreitz on lap 23 and gained new life when a yellow flag for Brian Leppo wiped out Smith's substantial lead.
On the restart Rahmer made a bid on the inside entering the first corner, but Smith held him off and rolled to his first win of the season by a margin of 1.53 seconds.
Smith earned $4200 for his tenth career victory at Williams Grove.
Rahmer finished second with Kreitz third. Chad Layton came from the 12th starting position to claim fourth. Greg Hodnett, who started 13th, nipped Doug Dodson for fifth at the finish line.
Aaron Ott, Alan Krimes, Lance Dewease and Adam Wilt finished in positions seven through ten respectively.
Rahmer's finish allowed him to draw within ten points of Hodnett in the Lawrence Chevrolet point standings.
Mark Coldren, Chris Meleason and A. J. Michael won heats for the 28 sprint cars in competition.
The consolation race was won by Alan Krimes.
Cannon started 12th and took the lead from Kevin Nouse on the 14th lap of the 358 feature and rolled to his second win of the season.
Nouse, Eric Tomecek, Cory Haas and Amy Ott completed the top five.
Heats for the 33 limited sprint cars went to Cannon, Tomecek, Kyle Moody and Nouse.
The consolation race was won by Nate Snyder.
Williams Grove Speedway Feature Finishes – May 21, 2010
Sprint Car Feature – 25 laps – 1. Mark Smith, 2. Fred Rahmer, 3. Don Kreitz, Jr., 4. Chad Layton, 5. Greg Hodnett, 6. Doug Dodson, 7. Aaron Ott, 8. Alan Krimes, 9. Lance Dewease, 10. Adam Wilt, 11. Brian Montieth, 12. Justin Henderson, 13. A. J. Michael, 14. Chris Meleason, 15. Brian Leppo, 16. Doug Esh, 17. Steve Buckwalter, 18. Chris Shuttlesworth, 19. Tyler Walker, 20. Rick Lafferty, 21. Mark Coldren, 22. Ryan Bohlke, 23. Brent Marks, DQ: Danny Dietrich. DNQ: Daryn Pittman, Jim Siegel, Buzz Wilson, Troy Fraker
358 Sprint Feature – 20 laps – 1. Pat Cannon, 2. Kevin Nouse, 3. Eric Tomecek, 4. Cory Haas, 5. Amy Ott, 6. Steve Fannasy, 7. T. J. Stutts. 8. Todd Rittenhouse, Jr., 9. Logan Schuchart, 10. Scott Geesey, 11. Glenndon Forsythe, 12. Rich Eichelberger, 13. Danny Massey, 14. Chad Criswell, 15. Kyle Moody, 16. Blane Heimbach, 17. Nate Hammaker, 18. Jason Shultz, 19. Ted Thomas, 20. Jordan Frontz, 21. Jessica Anderson, 22. Matt Boland, 23. Brie Hershey, 24. Nate Snyder. DNQ: Chad Trout, Nicole Bower, Jay Galloway, Jimmy Reppert, Mike Ressler, Tim Berkheimer, Derek Frohlich, Brian Garland, Austin Reed