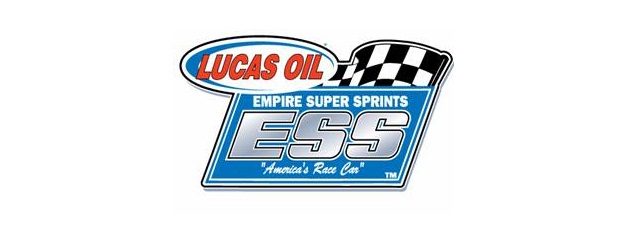 By Dean Reynolds
SYRACUSE – For the fourth consecutive season, Glenn Styres and his Ohsweken Speedway will be backing the nightly A-Main winner's bonus for the Lucas Oil Empire Super Sprints (ESS). Styres who owns the 4/10ths mile oval in Ohsweken, Ontario, Canada and also several sprint cars loves to sponsor many sprint teams as well as the successful 360 sprint car organization.
With the added funding, the base purse for each ESS full point A-Main will be once again $1,600 to win, $400 for 10th and $250 to take the green. The total nightly cash payout continues to be the largest of any 360 organization in the area. Most events however do carry adding bonuses as well as tow money which swells the cash payout for the night.
Add to that point funds that are rapidly approaching $40,000 cash for 2010, the 27th Anniversary Tour is looking to be a year long celebration from opening weekend this weekend to Super Dirt Week in October.
The stars and cars from the Lucas Oil tour will take on the best from Ohsweken's Corr-Pak Sprints on Friday, July 16th for a big full point event. ESS has been one of the first outside sanctions to compete at Styres' facility and will do so once again in 2010. Then ESS' best will return Sept. 17th and 18th for the $10,000 to win Arrow Express Canadian Sprint Car Nationals. ESS stars has had tremendous success in the event celebrating its Sixth Anniversary. Two-time ESS champion Steve Poirier has claimed two Nationals (2006 and 2007) while Jeff VanDusen (2005) and Chuck Hebing (last year) claimed runner-up finishes.
Styres along with teammate Keith Dempster will be at a few ESS shows during the Summer Months and are welcome additions to the field. They will taking on the very best ESS has to offer such as defending champion Justin Barger, Lance Yonge, Jeff Cook, Poirier, Michael Parent, Tommy Wickham, Hebing and many, many more.
The exciting tour of "America's Race Cars" starts this weekend at the Fonda and Utica-Rome Speedway's to celebrate Memorial Day Weekend. For the latest up to date information on Canada's capital of sprint car racing please log on to www.ohswekenspeedway.com and for the Lucas Oil Empire Super Sprints visit www.empiresupersprints.com where it will be excitement guaranteed!
The Lucas Oil Empire Super Sprints are brought to you by: Lucas Oil, Northwood 2 Construction/LaSalle Motorsports, SUNY Canton, 730 Truck Stop, Hoosier Racing Tires, Les Constructions Ultra, Cooks Contracting Services, Fondations 4 Saisons, Car Mate Trailers, The National Parts Peddler Newspaper, WestFront Construction, Cobra Coaches, The Ohsweken Speedway, Mohawk Racing Parts, Engine Research, Brodix Cylinder Heads, Total Race Supply, Riverside Bar and Grill, Coffrage Daniel Lampron, FX Chevy and many, many associate sponsors.