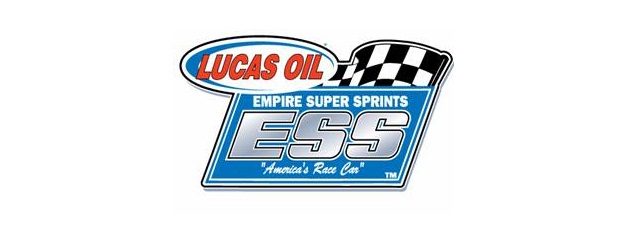 From Dean Reynolds
SYRACUSE, NY – It's been many months since the crowning of Lucas Oil Empire Super Sprint (ESS) champion Justin Barger at the annual awards banquet, his title defense starts this weekend. The 27th Anniversary Tour starts on Saturday night with the seventh annual Earl Halaquist Memorial at the Fonda Speedway and then the next night its east on I-90 to the Utica-Rome Speedway.
Not only does the opening weekend become the first two rounds of the overall Lucas Oil championship, but it also kicks off the SUNY Canton Series as well. All the stars and cars of ESS will be out in force with fields over the 30 mark expected for both nights.
Barger is set to defend the title but with the likes of Lance Yonge, Jeff Cook, Steve Poirier, Michael Parent, Tommy Wickham, Chuck Hebing, Alain Bergeron, Lee Ladouceur and many others, a repeat will be a tough task. For the Montrose, NY star, Fonda is a perfect way to defend the title as he calls the "Track of Champions" one of his favorites on the tour.
The talent doesn't stop there…Add Jessica Zemken, Anthony Cain, Tim Kelly, Mike Stelter, Shawn Donath, Cory Sparks, Dan Kaszubinski, Jim Porter, Jason Barney, Rick and April Wilson, Chris Jones, James Hanson, Jared Fink, Dave Wickham, Floyd Billington, Joe August, Fonda modified champion Bobby Varin and many more than will be on hand both nights.
This will also mark the first night for many of the ESS "Young Guns" that will embark in many events for the 2010 season. Names such as Tyler Rand, Jami Russell, Dylan Swiernik, Matt Tanner, Devon Caron, Tyler Rice, Kory Gurney, Kevin Ward, Zach Weigand, Dale Gosselin and others.
Fonda and Utica-Rome work closely with the Thunder on the Thruway Series for their modifieds and is also a perfect way to start another history making season with ESS. Fans will get to see three or four Car Mate Custom Built Trailer heat events followed by the Cobra Coaches Dash Series and the KSE Racing Products B-Main. All events leads up to the 25 lap A-Main where the winner will take home over $2,000 in cash and prizes.
The Fonda event will honor National Sprint Car Hall of Fame inductee Earl Halaquist. The driver from Sidney, NY was a many time United Racing Company sprint car champion and on this night the true great will be celebrated. At Utica-Rome, ESS will be a part of TrackWide Thunder which will see the ESS portion of the show televised on Time Warner Cable. The Thomas Video Productions show air every Thursday and runs an hour in length. Televised dates will be released shortly.
New for 2010 will be live Twitter updates right on the home page of the ESS website. Fans do not need a Twitter account to get the latest updates happening at the track in real time. Results and photos will be sent and updated every minute. All you have to do is log on to www.empiresupersprints.com and while you are there, take some time to brose the site where you can view past history of ESS, visit our sponsors, photos and so much more.
Its time to throw some mud around! Opening weekend for the Lucas Oil Empire Super Sprints. Fonda, Utica-Rome, the winged warriors…It will be excitement guaranteed!
For more information: