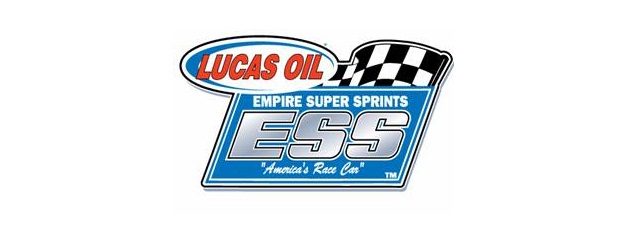 From Mike Mallett
CANTLEY, PQ – Chuck Hebing hasn't had much to worry about early on in the 2010 Lucas Oil Empire Super Sprint schedule. The veteran driver had a second and a pair of third place finishes under his belt prior to Friday night's action at Autodrome Edelweiss.
After finishing runner-up in the dash, Hebing, of Ontario, N.Y., went out and dominated the Engine Research 25-lap A-Main event collecting the $2,000 win and valuable points in the Lasalle Motorsports/Northwood 2 Construction Canadian Invasion series in only his third ever appearance at the track.
"It's good getting an ESS win right off the bat," stated Hebing after his 11th career series win. "We are running good and consistent right now we got to keep it rolling. This is a lot more fun when things are going like this. The year is going fantastic."
Hebing and Justin Barger started on the front row for the main, just like they did in the dash. Barger got the jump on Hebing at the start of the dash event but for the feature it was Hebing gaining the edge at the green.
"The start to that race was the key," commented Hebing. "Justin (Barger) got me on the start in the dash when he went a little early. He did his job and this time I did my job. That allowed me to run my own race."
The pair battled at the front of the field for the first five laps when the caution was displayed for Anthony Cain as he spun and stopped in the second turn. The single file restarted allowed Hebing to again get a jump on the field.
As the laps clicked off, Hebing found himself in slower traffic by the ninth circuit with his Roush/Yates powered Triple X car. He quickly made moves to get through traffic while Barger battled with Lance Yonge and Steve Poirier for the runner-up position.
The final caution of the race slowed the field on lap 15 when Tommy Wickham and Sylvain Erickson came together in the second turn. Wickham lost a wheel and came to a stop.
Again Hebing was flawless on the ensuing restart charging away from Yonge, Barger and Poirier. Yonge made a brief run at Hebing off of the second turn but his car popped high in the air after he hit a implement tire on the inside of the speedway.
Hebing's raced away with his final test coming on the final lap of the feature. As Yonge closed in, Hebing made a daring three wide move in slower traffic into turn three to get by both lapped cars. He came off of turn for his first checkered flag of the season.
"You never know how close anybody is out there," said Hebing. "So you are hoping they don't turn down and tear the wheel off you but you kind of got to go."
Yonge, of Penn Yan, N.Y., brought his Castner Performance powered Maxim home in the runner-up spot. It was Yonge's second consecutive runner-up finish in ESS competition.
"I'm happy but disappointed at the same time," said Yonge. "I knew if I could keep my cool the bottom would prevail here. The first few laps after a caution they would get by me on the top but once we got rolling I knew the bottom was the place to be. I'm happy but I think we had a car that could've won."
Yonge's bobble at the lap 15 restart took any chance he had of catching Hebing for the win. It nearly cost him a runner-up finish as well as he had to work to get back by both Barger and Poirier.
"We had the right setup in the car tonight for sure," stated Yonge, who collected $1200 for his runner-up finish. "That restart on lap 15 I caught that tire on the inside and I did a wheelie. I was being patient sitting there in second and waiting for lapped traffic to get to Chuck (Hebing). When I lost all that ground I didn't have enough time to get back to him."
Barger ran most of the event in the top five and was able to bring his No. 32 Rider powered Maxim home in the third position at the checkered flag. A hard earned podium finish for the Montrose, N.Y., pilot. which was worth $1,000.
"We had some bad luck here in the past so it is pretty good to get a top three here," said the defending series champion. "We had a rocket all night and I didn't keep up with the track and that's my fault. I can tell you that we won't have the problem again. Usually this place the moisture comes back a little and makes you really tight but tonight it didn't do that."
Dan Kaszubinski was in the right place at the right time on the final lap to earn the fourth place finish while Alain Bergeron, of St. Pie, PQ., crossed the line to complete to the top five. Rounding out the top ten were Poirier, Michael Parent, Jeff Cook, Brian McDonald and Chris Jones.
ESS/Edelweiss Notes: 20 cars entered into competition for this evening's competition…Sylvain Erickson, Kyle Fraser and Paul Pekkonen made their first ESS A-Main starts of the season…After engine woes in warm-ups, Steve Poirier was forced to go to his back-up car for the rest of the night…Kaszubinski had a second place finish in his heat race event even though the right front shock had come off his No. 20 machine…The next event for the Lucas Oil Empire Super Sprints is scheduled for next Friday at the Glen Ridge Motorsports Park in Fultonville, N.Y…Then it's the big 4th of July Weekend with two events at Can-Am and finishing up on Sunday at Utica-Rome. If a driver can sweep the weekend he/she will take home over $8,000
Lasalle Motorsports/Northwood 2 Construction Canadian Sprint Car Series Event:
Engine Research Empire Super Sprint A-Main (25 laps): Chuck Hebing, Lance Yonge, Justin Barger, Dan Kaszubinski, Alain Bergeron, Steve Poirier, Michael Parent, Jeff Cook, Brian McDonald, Chris Jones, Normand Beaudreault, Devin Caron, Anthony Cain, Daniel Lampron, Kyle Fraser, Zach Weigand, Tommy Wickham, Sylvain Erickson, Paul Pekkonen, Dale Gosselin
Car Mate Custom Built Trailer Heats:
Heat 1 – Normand Beaudreault, Justin Barger, Steve Poirier, Brian McDonald, Devin Caron, Chris Jones
Heat 2 – Alain Bergeron, Chuck Hebing, Michael Parent, Tommy Wickham, Daniel Lampron, Kyle Fraser, Dale Gosselin
Heat 3 – Lance Yonge, Dan Kaszubinski, Anthony Cain, Sylvain Erickson, Zach Weigand, Jeff Cook, Paul Pekkonen.
Grampa's Garage Appraisals/Cobra Coaches Dash – Justin Barger
Lap Leader – Hebing 1-25
Engine Research A-Main – Hebing $275, Yonge $75, Barger $75, Kaszubinski $45
Ohsweken Speedway Winners Bonus – Hebing $100
Cook's Contracting Services Halfway Bonus – Hebing $100
WestFront Construction Hard Charger – Cook (9 pos.) $50
MVCC Aviation Extra – Parent $50
HG Associates Fast Time – Barger (13.241) $25