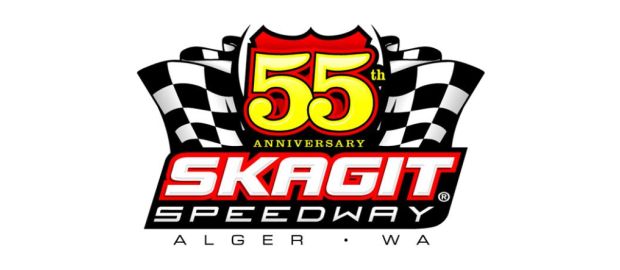 From Skagit Speedway
Three previous winners graced Skagit Speedway's victory lane on Saturday night on round 10 of the Foothills Toyota Tundra Series. In the Budweiser 360 Sprints, Jared Peterson had an immaculate setup on his racecar that he used to propel him to an elusive clean sweep of the evenings action and second main event victory of the season. After setting quick time and winning his heat race, Peterson moved forward rapidly in the A Main then took the led from Kelsey Carpenter on lap 12 to secure the win in his Speedmart #9p Rocket. Carpenter was second in the Dri Eaz #27c XXX and Rod Perkins was third in the Classic Rock 92.9 fm #69 XXX. Carpenter won the second of two heat races.
Matt VanDerSys has been in victory lane more than any other driver this year at Skagit Speedway as he won his fourth feature of the year in the Cook Road Shell Sportsman Sprints. Glen Reinstra led the first twelve laps of the main until VanDerSys caught him, and then used Glen's teammate Eric Thibert as a basketball style pick to trap Glen on the bottom and storm around the high side to take the lead and eventual win in his Timber Trax #30 XXX. Reinstra held on to second in the Rightway Plumbing #13 XXX. Curtis Clark was third in the Curtis C Plumbing #2. Heat race wins went to Dave Mead and Devin Barnes. Clayton Sibley was quick time.
Freddie Vela visited victory lane for the second time on the year as well, as he took his Evelyn's Tavern sponsored #20 to the victory after leading all 17 laps with teammates and good friends Ben gunderson and Greg Hibma hot on his heels the whole race in the Pull A Part Outlaw Hornets. Gunderson and rick Young won the heat races.
In two weeks, Skagit Speedway in conjunction with the northwest Les Schwab stores present Mid Season Championship Night along with the huge fireworks extravaganza! For ticket information, log on to www.skagitspeedway.com
Cook Road Shell Sportsman Sprints
Fast Time – Clayton Sibley
Heat 1 – Dave Mead, Matt VanDerSys, Cory Swatzina, Steve Parker, Curtis Clark, Sibley, James Bundy, Eric Thibert
Heat 2 – Devin Barnes, Glen Reinstra, Rob Schroder, Cale Brooke, Marc Schutte, Dylan Dunham, Michael Hodel, Bill Rude
Main – Matt VanDerSys, Reinstra, Clark, Parker, Barnes, Brooke, Mead, Schroder, Sibley, Schutte, Dunham, Bundy, Thibert, Hodel, Swatzina
Lap Leaders – Reinstra 1-12 VanDerSys 13-20
Pull A Part Outlaw Hornets
Heat 1 – Rick Young, Greg Hibma, Tyler Ketchum, Mike Powers Jr, Ashley Lewellen, Mike Ploeg, Wade Swatzina, Brigham Mirabelli, Brian Michelson, Tina Thibert
Heat 2 – Ben Gunderson, Ken Higby, Freddie Vela, Jon Edwards, Howard Vos, TJ Campbell, Tyler West, JR Schuh, Wendy Johnson, James Sims
Main – Freddie Vela, Gunderson, Hibma, Ketchum, Young, Ploeg, Sims, West, Edwards, Mirabelli, Stacy Day, Vos, Higby, Thibert, Schuh, Lewellen, Campbell, Michelson, Powers Jr, Swatzina, Johnson
Lap Leaders – Vela 1-17
Budweiser 360 Sprints
Fast Time – Jared Peterson
Heat 1 – Peterson, Devin Madonia, Bud Ashe, Danny Kirkpatrick, Mack Brown, Steve James
Heat 2 – Kelsey Carpenter, Rod Perkins, Alan Munn, Evan Funk, Jake Mann, Cam Smith, Tyler Anderson
Main – Jared Peterson, Carpenter, Perkins, Brown, Mann, Munn, Ashe, James, Anderson, Smith, Madonia
Lap Leaders – Carpenter 1-11 Peterson 12-25oHo