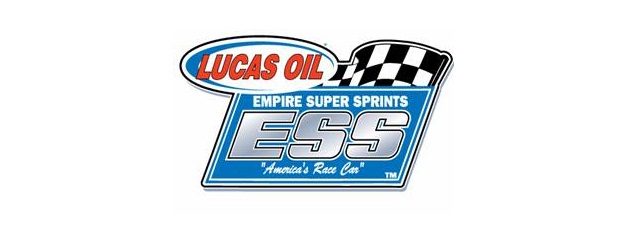 By Dean Reynolds
SYRACUSE, NY – As the temperatures heat up in July so will the action this weekend (July 23 & 24) at the Rolling Wheels Raceway Park with the first annual Fast Track 360 Sprint Car Summer Shootout. The stars and cars from the Lucas Oil Empire Super Sprints (ESS) will be on hand to see if they can take home the $2,000 first place prize on Friday and the $3,000 pot of gold on Saturday.
The very best from the 28 year old sprint car sanction body will battle the top drivers from the United Racing Company (URC) and the ASCS Patriots to see who will have bragging rights on the fast 5/8th mile oval.
Leading the ESS contingent will be defending Lucas Oil champion and current point leader Justin Barger, he will be joined by two-time champs Lance Yonge and Steve Poirier along with the "Cobra" Chuck Hebing, 1998 Challenge winner Dan Kaszubinski, Jessica Zemken, Jeff Cook, Alain Bergeron, Tommy Wickham, Mike Stelter, Michael Parent, Shawn Donath, Jason Barney, Doug Emery, Brian McDonald, James Hanson, the Breen's Blake and Bobby, Jami Russell, Dave Wickham and many other ESS stars.
The ESS "Young Guns" will also be in the field such as Kevin Ward Jr., Dylan Swiernik, Zach Weigand, Devin Caron, Tyler Rand, Tyler Rice, Shayne Ely and more.
ESS has a long history with URC at the "Wheels" with the first ever URC/ESS Challenge event held there in 1994. Combination shows have been a tradition at Super Dirt Week right up until 2008. Now the action switches to the summer.
URC's brigade from the south will be made up of current point leader and defending champion J.J. Grasso along with Justin Collett, many-time champion Curt Michael, Josh Weller, Randy West, Robbie Stillwaggon, Chris Coyle, Kevin Nouse, Kyle Purks, past URC/ESS challenge winner Trevor Lewis, three-time URC/ESS challenge winner at Rolling Wheels Kramer Williamson and others.
Leading the Patriot charge will be their current point leader Jared Zimbardi, many-time champ Bryan Howland, Bubba Broderick, Tim Kelly, Don Adamczyk, Vern Wasson and more. In all a field towards 50 sprints are expected.
A special two-day package is set up for fans who will also see the CRSA Sprints, DIRTCar Sportsman, DIRTcar Stock Cars and Midstate Vintage Car Club during the weekend. Race times are 7PM on Friday and 6PM on Saturday.
It's the Fast Track 360 Sprint Car Summer Shootout at the Rolling Wheels Raceway Park…Thousands of dollars are up for grabs, the Lucas Oil Empire Super Sprints take on the best from five states and two Canadian provinces. It will be excitement guaranteed!
For more information:
www.rollingwheelsraceway.com
www.empiresupersprints.com
www.urcsprints.com
www.ascspatriotsprints.com
Past Empire Super Sprint Winners at Rolling Wheels Raceway
Aug. 21, 1984
Craig Keel
Aug. 23, 1987
Gordy Button
May 27, 1990
John Brutcher
Sept. 29, 1992
Bobby Parrow
Sept. 25, 1993
Lance Yonge
Sept. 24, 1994
Craig Keel
Sept. 25, 1995
Craig Keel
Oct. 12, 1996
Kramer Williamson
Oct. 11, 1997
Kramer Williamson
Oct. 10, 1998
Dan Kaszubinski
Oct. 9, 1999
Kramer Williamson
Oct. 7, 2000
Becca Anderson
Oct. 6, 2001
Rick Wilson
Oct. 12, 2002
Kyle Drum
Oct. 11, 2003
Pete Green
Oct. 9, 2004
Trevor Lewis
Oct. 7, 2006
Chuck Hebing
Oct. 7, 2007
Chuck Hebing
Oct. 11, 2008
Curt Michael
The Lucas Oil Empire Super Sprints are brought to you by: Lucas Oil, Northwood 2 Construction/LaSalle Motorsports, SUNY Canton, 730 Truck Stop, Hoosier Racing Tires, Les Constructions Ultra, Cooks Contracting Services, Fondations 4 Saisons, Car Mate Trailers, The National Parts Peddler Newspaper, WestFront Construction, Cobra Coaches, The Ohsweken Speedway, Mohawk Racing Parts, Engine Research, Brodix Cylinder Heads, Total Race Supply, Riverside Bar and Grill, Coffrage Daniel Lampron, Mohawk Valley Community College, FX Chevy and many, many associate sponsors.